Aloha Friend

In today's "Nugget",
we
continue
our long awaited and oft-requested series on
"Alternate Energy For Your Aquaponics System"
. If you want to be more energy self sufficient (even if you don't have an aquaponics system yet), this information will be extremely valuable to you. You might like to read
Part 1 of this series
and
Part 2 of this series
first to catch up, if you haven't yet done so.
Our "In The Farmily" column today
is about feeding the fish: all 11,234 of them!
Aquaponics Nugget #133, Part 3: Alternate Energy Systems For Aquaponics

Before you ever purchase an alternate energy system, it's in your best interest to figure out how to reduce the energy needed by your greenhouse and aquaponics system as much as possible. Our last newsletter, Part 2 in this series, explained how to use a Kill-A-Watt, a little electronic meter that tells you how much power a piece of equipment is actually using. When you know how much power each bit of equipment in your proposed installation uses, you can add it all up, and get an installation that is just the right size (instead of 50% too big!). This is your biggest potential cost saver; and it only costs $39 or so for the Kill-A-Watt.

You can design your system to use a cheap Ace Hardware store timer to turn electrical equipment (fans, pumps, air blowers) on and off at preset times to save a lot of energy. The one I'm thinking of costs $25 and has six outlets, and can have up to five or six on/off cycles during any 24 hour period. There's also a cheaper one with only one outlet.

The only problem with these is if the power goes off for any reason, the timer stops, then starts again when the power goes back on; and your timing cycle is messed-up as a result. We use these on fans in the daytime, and on aquaponics system water pumps, because the water circulation only needs to be on during the 12 or so daylight hours; it does the plants no good at night time, and this helps reduce the amount of electricity needed, which reduces the size and cost of the alternate energy system accordingly. We like these toughy little timers.
Programmable timers are nice, but more expensive. They range from the simple 24-hour, 7-day timers such as Aquatic EcoSystems catalog number HSOT and HDOT, $17.96 and $19.96, 877-347-4788; to the more complex and expensive types that are usually used in the hydroponics industry for controlling lights, pumps, and so on. Just remember Murphy's Law applies!
(Next newsletter will be Part 4 of Alternate Energy Systems For Aquaponics. Thanks for listening!)

(Below) Tim with part of the Hawaii Aquaponic Solar Greenhouse's alternate energy system; the PV panels are outside (in the sun, yeah!). You can see the charge controller (black box at top), the inverter (black box below that), the combiner box (upper right, where the multiple cables from the PV panels combines into a single set of larger cables leading to the charge controller), battery charge indicator (little flat black rectangle), and DC breaker panel (black box to the right of the inverter). Roll-up white plastic cover is so that all this BLACK equipment doesn't cook inside the greenhouse. See why we say: "Hire a professional!"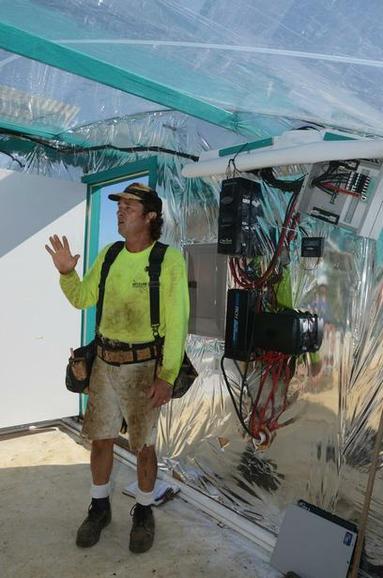 For smaller home backyard and apartment systems, please read on:

Purchase Construction Plans and Operating Info for 4 Different Sizes of Table Top Aquaponics Systems $49.95
Our TableTop System package includes easy-to-understand building instructions and operating information for 4 different sizes of small aquaponic systems based on our years of experience. Anyone can build a system out of plastic barrels or IBC totes, but operating one successfully without good
and
easily-understood information can be frustrating. You simply use the "Daily O
perations Checklist" in the manual and follow the step-by-step
instructions on your way to success. We also cover how to make aquaponics systems out of weird things like old refrigerators and door frames; this makes aquaponics
much more
economical to get started in, and fun too!
We spent hundreds of thousands of dollars, hundreds of hours, and built our first commercial aquaponics systems with FAR less information than this manual contains. We included all the information learned from that experience in this manual so you don't need to make any of the same mistakes we did.

Friendly September 2013 Commercial Aquaponics Training Schedule: Tennessee:

These Tennessee trainings are $1,495 per person for five days of the most comprehensive and profitable Commercial Aquaponics and energy efficient Solar Greenhouse technology on the planet. If you can't wait until September to learn about profitable commercial aquaponics, check out our Personal Intensive trainings in Hawaii.

SPECIAL OFFER: First 25 registrations will receive 50 tilapia fingerlings, a $100 value (shipping not included). Register before September 1st and you are automatically entered in a drawing to win a COMPLETE 64 square foot backyard Micro System. This includes everything you need to get started (just add fish, media and seeds; shipping not included). This is an $1,800 value, and the course only costs $1,495.
(Below) Tim drinking water from one of Randy and Katie's aquaponics systems at a previous Tennessee training. "I've been drinking this for six years; it's the reason I absolutely know the food from these systems is safe and healthy" (Tim).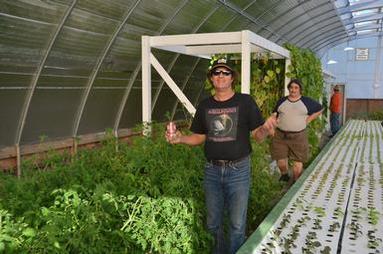 First 5-day training: September 23rd-27th (register here for first Tennessee training). Second 5-day training: September 30th-October 4th (register here for Tennessee second training).

(Click here for more information on Tennessee trainings).

These five-day trainings allow you to travel during the weekend so that you only need to take a week off your busy life to attend.

Both of these five-day trainings include our $999 DIY Commercial Aquaponics package, $998 DIY Farmer's Market Aquaponic Solar Greenhouse package, and new $295 DIY Commercial Tilapia Hatchery manual as course materials, plus our Plywood/Epoxy/ Tank manual, CAD construction drawings for all greenhouses and aquaponics systems, and much more!

(Below) Randy and Tim showing attendees at the Tennessee training how easy it is to use a DO (dissolved oxygen) meter to measure oxygen levels in the vegetable troughs.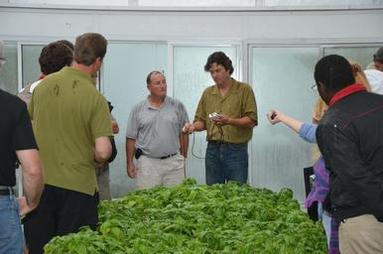 If you're located near Tennessee, Randy and Katie give regular free farm tours of their aquaponics systems and greenhouses to introduce the public to the benefits of aquaponics and energy-efficient greenhouse growing. Call Randy and Katie at 256-679-9488 or email Randy to find out when the next farm tour is scheduled.
Our Affiliate Program:

For those of you who aren't yet aware of our Affiliate programs, here's the deal: we're the ONLY aquaponics professionals who teach our students how to teach aquaponics, AND let them use our manuals (under license) to teach others with. In fact, there are two Micro System trainings being given by our affiliates right now (see sidebar). If you read below the turquoise box in the middle of the newsletter, you'll see that we also encourage and work with "Commercial" level affiliates to teach our Commercial Aquaponics and Solar Greenhouse Trainings. No other aquaponics teachers offer this, but you can partner with us to do so if you wish!
More details of the Aquaponics Technology course here.
More details of the Aquaponic Solar Greenhouse course here.
More details of the Commercial Aquaponics course here.
(Below) Randy and Katie's Chinese-style Aquaponic Solar Greenhouse in Tennessee in the February snow, 2013. 70 degrees inside and you had to take your coat off when working with the vegetables!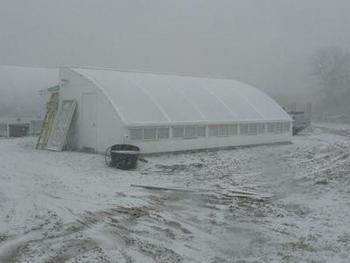 (Below) Our Farmily with our product in a "Big Box" store; the first time ever that a little mom and pop (Aquaponics!) farm took an account away from a multimillion dollar agribusiness. You'll see more of this, because you as consumers will demand it!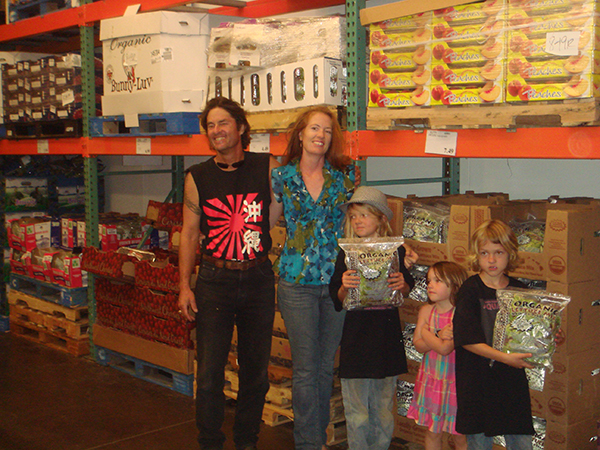 The Friendly Aquaponics Way Video!
.......................................................
Back Issues Of Newsletters Now Available, Click Here!
.............................................
Trough Liner Distributors:
West Coast USA
East Coast USA

Click here for Trout fry and fingerlings directly from the hatchery to you!
Free Farm Tours
..............................................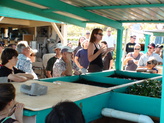 Aquaponics tour at the Friendly farm!
We hold a free workshop on our farm the FIRST Saturday of every month at 10:00, focused on growing food with aquaponics and permaculture.
Click here
for information. See you there!
If you are a school, a non-profit organization, an organization working with the poor, Native Hawaiians, or ex-inmates, or if you are a church, we will hold a free farm tour for you anytime. You DO need to email us first to schedule, or we might be out on errands!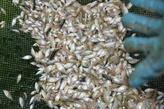 Thousands of inch-long "fifty-cent" baby tilapia from our "backyard" hatchery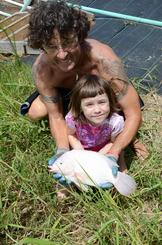 What they turn into about a year later: a beautiful 2-pound white tilapia grown in the fish tanks of our aquaponics systems
SPECIAL OFFER: For a FREE MICRO SYSTEM! (yes, the whole SYSTEM, an $1,800 value!):
Sign yourself up for the FIRST
Or sign yourself up for the SECOND

TENNESSEE September 2013 Commercial Aquaponics and Solar Greenhouse Trainings
NOW, and enter the drawing for the FREE $1,800 Micro System. Plus, you ALSO receive a free Micro System DIY package so you can begin studying aquaponics, as soon as you register! ($99.95 value)
Also: Micro System Classes!
Join Ben and Alicia Godfrey at Sand Creek Farm in Cameron, Texas for a Micro System training! Call Ben or Alicia directly at 254-697-2927
, or
email them to sign up for this course
. You can
visit their website here
to see a list of all the other cool classes they offer!
Join
David Lindemann in Melbourne, Florida, in one of his Micro System classes:
Call David directly at 321-604-6684
, or
email him to sign up for this course
. You can
visit David's website here
for details of the class and to see all the other cool things he's doing!
These
Texas
and
Florida
one-day
live
trainings use our $100 Micro System DIY manual as coursebook, and are a real deal!
The Farmily of Fish:

Working with the farmily harvesting today, I realized that
it was time to feed the fish. So, bucket of Rangen 1/8" floating catfish food in hand, I went around to the various tanks and fed everyone.
This involves calling out "Hello, delicious fishes", and banging on the side of the tank with the scoop can. The fish actually start feeding behavior as soon as they hear the can, and sometimes even at "that time of day" when they hear a person's footsteps on the ground outside the tank.
There are seventeen different fish tanks on the farm, holding inhabitants from 1" long up to 7 pounds in weight. The smallest biomass is in one of the nursery tanks, where we have a tank with about 2,000 1 to 1-1/2" long tilapia that hatched in June. This tank, of course, gets the smallest scoop of fish food.
The tank with the largest amount of biomass has about 700 fish with an average weight of 2-1/2 to 3 pounds. This is where the seven-pounder lives! This tank gets 2/3 of a five-gallon bucket of fish food. And the other 15 tanks get everything in between.
I don't know them all by name, but once I tried to show one of the interns how much to feed each tank so he could take over the job of feeding the fish, and it was a total mess.
Even with a "feeding map" of all the tanks, and measurements of how much to feed each tank, it's difficult, because some days it's a little colder, or the fish were just moved from another tank, and you know they won't be eating much for a day or two.
So this is very much a case of "the farmer's shadow". If you're out there with your aquaponics system every day, you will become intimate with its moods, its ins and outs, and come to understand its workings on a very sophisticated level.
Now, you could be wondering, "why is he going on about fish when this is supposed to be the "Farmily" column?". OK, think about that for a second: how well would the farm work if you removed the fish? And where would our Farmily be then? Good think, huh?
I was walking down the street the other day, feeling sorry for myself about some insignificant thing that had occurred that day, when I walked past a man with no legs getting out of a car into his wheelchair. This put it all into perspective.
I was WALKING, and my whole day changed. I had forgotten to be appreciative of everything I have, and to remember and appreciate the simple fact that I have legs.
This is why it's not hard for me to think about the fish as members of the Farmily. They are the foundation for everything else we do at the farm, and the whole Farmily. Maybe we should give them names, and get to know them better (all 11,234 of them!).
Aloha, Tim....