Aloha Friend,
Our January 20-26th training
was
full
within three weeks of announcing it. Our
second
training is
more than half full,
ten days after announcing it
.
So we've opened a
third
7-day training in Tennessee, from Monday February 4th through Sunday February 10th.
We are
honored
and
thankful
for your trust, especially for those coming from Colorado and Florida (who have"commercial" aquaponics courses in their backyards). For those of you who have done your due diligence and chosen us, we promise to deliver
far more value
than this training costs you, and to continue to support you after the training is over (were you aware we supply
free, ongoing support
to all our Commercial course attendees as part of the deal?).
I know, I know, in last week's newsletter I said
"
We have committments, and can not schedule another one right after the second one!". I talked with my wife, and agreed with her that if this many people were interested, we had a responsibility to take care of them. We've rescheduled those committments (which were mostly for dental work for Tim) and make this new one, to you, to hold the
third 2013 Tennessee Commercial Aquaponics and Solar Greenhouse training
from February 4th through the 10th.
Although our normal price for this complete training is $2,495 we offered $1,000 off (or only $1,495 for all 7 days) until December 25th on the first training.

We are extending this $1,000 off offer to everyone who signs up for both the second (January 27th-Feb 2nd) and third (February 4-10th) 7-day trainings.
We are limiting
all
the trainings to 35 persons, so everyone gets a chance to have all their questions answered. Sign up early if you want to come!
When you click a link to sign up for one of these trainings, you will be offered
both
the second and third training dates, until the second is full. When it's full, it will disappear off the shopping cart and you will only be able to register for the third training.
These trainings include our $995 DIY Commercial Aquaponics package, $998 DIY Farmer's Market Aquaponic Solar Greenhouse package, and new $295 DIY Commercial Tilapia Hatchery manual as course materials!
If you're located near Tennessee, Randy and Katie give regular free farm tours of their aquaponics systems and greenhouses to introduce the public to the benefits of aquaponics and energy-efficient greenhouse growing. Call Randy and Katie at 256-679-9488 or email Randy to find out when the next farm tour is scheduled.

1. The four days of the Aquaponics Technology training is everything we know about the techniques and methods of growing with aquaponics. Each day has hands-on segments. In addition, you will spend all of Day Four building several 12-square-foot TableTop Systems from scratch (under our expert eyes, of course). More details of the Aquaponics Technology course here.
2. You can take one of these 12-square-foot TableTop systems home, assemble it there, and begin growing with aquaponics immediately, even in the middle of winter! The cost of this kit is only $450; much smaller "kits" from others start at $1,295 and go up from there, not including shipping.

3. The two-day Aquaponic Solar Greenhouse course is everything we know about energy-efficient greenhouses, including information and complete CAD plans showing how to build a Chinese-style aquaponic solar greenhouse; and how to convert existing greenhouses to be as energy-efficient as possible. We even show you how to purchase, move, and erect a good used greenhouse for ten cents on the dollar! More details of the Aquaponic Solar Greenhouse course here.

4. The one-day Commercial Aquaponics Training is everything we know about all the different ways of making money with aquaponics, from CSA's to Costco, from wholesale to retail, from selling simple produce to producing value-added products, including Health Department Certified Processing Facilities, Food Safety Certification and Organic Certification. We also include our commercial-scale tilapia hatchery and nursery information, so you can raise your own tilapia and make money selling the fry and fingerlings to others also. More details of the Commercial Aquaponics course here.
Click Here To Find Out More About The 2013 Tennessee Trainings!
The free information in these three newsletters: last week's, the week before last week's and two weeks before last week's newsletter will meet most people's needs for tilapia breeding. However, if you want the complete story in 72 pages, with highly descriptive photos of the process and equipment we use, our new commercial tilapia hatchery manual is finished and ready for you. There's even a "micro-video" that my gorgeous biologist wife Susanne shot with her treasured Leica Microscope that explains why the techniques we use work so well.
For smaller home backyard and apartment systems, please read on:


Purchase Construction Plans and Operating Info for 4 Different Sizes of Table Top Aquaponics Systems $49.95
Our TableTop System package includes easy-to-understand building instructions and operating information for 4 different sizes of small aquaponic systems based on our years of experience. Anyone can build a system out of plastic barrels or IBC totes, but operating one successfully without good
and
easily-understood information can be frustrating. You simply use the "Daily O
perations Checklist" in the manual and follow the step-by-step
instructions on your way to success. We also cover how to make aquaponics systems out of weird things like old refrigerators and door frames; this makes aquaponics
much more
economical to get started in, and fun too!
We spent hundreds of thousands of dollars, hundreds of hours, and built our first commercial aquaponics systems with FAR less information than this manual contains. We included all the information learned from that experience in this manual so you don't need to make any of the same mistakes we did.

Aquaponics Nugget #104: What's Necessary For Success With Aquaponics, Part 2:
In light of our sellout 7-day courses in Tennessee, we realized there is a huge demand for accurate and useful information about commercial aquaponics. We think you deserve the best information and advice available as you start your business in aquaponics, from people who are actually operating a commercial aquaponics farm.
In last week's newsletter, we covered the do's and don't-do's that make success in commercial aquaponics ventures possible. This week we cover some of the more "difficult to measure" factors that ensure success (since we did "1,2,3..." in last week's, we'll do "A, B, C..." in this week's):

A. Check It Out First!

Read, read, read; but with your nonsense detector turned to its "High" setting. There's a lot of nonsense about "commercial" aquaponics out there. It's easy to get references for people who "enjoyed the course", or thought it was "the best workshop I've ever attended. Unfortunately, it's easy to get references such as these from people who never put the knowledge to the test by actually doing something with it. Get three references of successful students, get phone numbers, then call and check up.

If all you do is verify that the systems you're looking at do work, and that someone is actually growing and selling produce from them to make a living, you've been more careful than many!

B. Get Hands-On Experience!
Build and operate a small aquaponics system now! Build whatever you can afford, and be inventive if you don't have money; we've had students who built aquaponics systems from old dead refrigerators they got for nothing at the dump! They took all the shelves and stuff out, sterilized the fridges, calked any corner joints with food-grade silicone, then used them for both fish tanks and raft troughs. They made rafts out of bamboo because it was free!

The food you grow with your small system will save you money. But the confidence you gain and the experience you get from operating your small system are the most important factors in whether or not you will be successful with commercial aquaponics. You can't buy the experience, and with aquaponics in its early development, you can't just hire an aquaponic system operator off a street corner the way you can hire a carpenter (or a mortgage broker!).

C. You Don't Need Money!
My wife Susanne talked to a guy in Oregon once at a party, a friend of a friend, and told me the story. Before she met him, he had been going through a difficult divorce, had lost his house, wife, and kids, and was on the street with $12 in his pocket. He was in a convenience store, and was looking at a cheap bottle of wine. You know the rest of the story, right?
Well, instead he took his $12 and bought a bucket, a squeegee, and a bottle of Windex, found some rags, and went around to businesses in the area offering to wash their windows. When Susanne met him at the party he had 65 employees and a multimillion dollar a year window washing business doing windows on skyscrapers in Portland.
This is why we can say "you don't need money". You need something that in my parent's time was called get-up-and-go. This man had it, and he got up and went!

D. You Need Business Experience!

This doesn't mean you need a Harvard MBA. You can start out with that backyard aquaponics system simply finding out what you and your friends like the best. This is "market research". When you are growing the things most in demand, and you have excess, simply trade them for something you do not grow yourself, such as honey, cheese, or milk, from another small producer (remember to follow all the IRS rules and regulations regarding "barter" when you do this!).
As you gain experience, you'll try things that are a little more involved, like building a bigger system (or a second smaller one) and going to the local Farmer's Market or grocery stores with the produce. This in turn will give you more experience, and you'll be ready for the next step. Everyone has to start somewhere, and unless you have an uncle or aunt with a going aquaponic farm for you to take over and run, you need to generate your own business experience!

We can help point out all the to-do's and to-avoid's in our courses, but it's up to you to take the advice and put it into practice!
E. You Need To Work At It!


Commercial aquaponics is real work. It's not a desk job, in fact it's not even a job! We often see problems when a student expects to just show up and do something 8 hours a day at their aquaponics, then be guaranteed a paycheck. It doesn't work the way the job they got fired from during the downsizing used to work.

In fact, the whole world doesn't work the way it used to. For example: college used to be the pathway to "a better life". Now, 48% of college graduates cannot find work at all upon graduation. Of the 52% that do find work, only 1 in 5 said their job put them on a career path. What that means is that 5 out of 10 graduates are unemployed, and 4 out of the 5 who do have jobs are washing cars and flipping burgers to pay off their huge student loan debts.
What does this mean for the new aquaponics operator? You can't just go on automatic; you need to use every opportunity to get better and more efficient at doing your aquaponic business if you want to survive and prosper.

F. Opportunity Knocks!
The best news for Commercial aquaponics growers is that food never goes out of style! People don't stop buying it when things get tight the way they stop buying new cars and houses. In fact, there is a guaranteed need for it. But it's up to you to take advantage of the opportunity here, and to craft your aquaponic business so it fits into your community and way of life.
Guess what? The best part about this is that you get to eat what you produce also! This is the only way we know to get produce that is guaranteed not to have pesticides or other toxins on it, and that is as fresh as possible! You also make money doing this, because you're paying yourself retail dollar for food you grow and eat (that's what you'd have to pay at the store, right?) but when you sell the same produce to a wholesaler, you only get half that.

(We'll have something interesting and useful about aquaponics in next week's "Nugget", thanks for listening!)
The photo below is our Solar Greenhouse. It's cool when it's hot, and warm when it's cold (hope that makes sense to you, it's the best greenhouse we've ever seen!).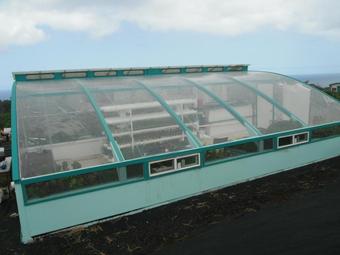 Friendly Aquaponic's FIRST Aquaponic Solar Greenhouse in full bloom, Honoka'a, Hawaii, March 2012, (on a grey rainy day) showing PV panels and growing plants.
Click Here To See Our New Aquaponics Video!
.......................................................
Back Issues Of Newsletters Now Available, Click Here!
.............................................


Purchase Trough Liner Directly From Manufacturer!

Free Farm Tours

..............................................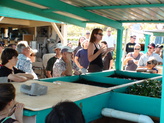 Aquaponics tour at the Friendly farm!
We hold a free workshop on our farm the FIRST Saturday of every month at 10:00, focused on growing food with aquaponics and permaculture.
Click here
for information. See you there!
If you are a school, a non-profit organization, an organization working with the poor, Native Hawaiians, or ex-inmates, or if you are a church, we will hold a free farm tour for you anytime. You DO need to email us first to schedule, or we might be out on errands!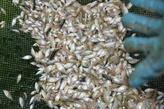 Thousands of inch-long "fifty-cent" baby tilapia from our "backyard" hatchery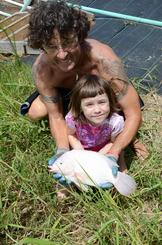 What they turn into about a year later: a beautiful 2-pound white tilapia grown in the fish tanks of our aquaponics systems
Special Offers!

Sign up for our TENNESSEE January 20th-26th Commercial
Aquaponics and Solar Greenhouse Training
and receive a free Micro System DIY package so you can begin studying aquaponics! ($99.95 value)
"Bulldozer Blues, Part 2"

Katy (our 1948 D4 bulldozer) went great until we got down through the "potato rock" on the pad and into the larger pieces of more solid rock comprising our hill. One day, I was pushing rubble down a 45 degree hill; I had just set a corner of the bulldozer's blade into a big piece of rock and had started pushing it when the rock rolled suddenly, the dozer bucked, teetered, and went up on one tread.

In the frozen moment that followed (I had a lot of experience making split-second decisions while surfing) I "kicked out", or dove off the bulldozer in the direction of the most safety. I kicked again, and landed mostly upright about twenty feet away from the dozer, with only minor contusions.
Looking back from my now-safe spot, Katy seemed totally steady on that one tread, with the other one up in the air, so I studied the situation for a half a minute before climbing back on, in exactly the right place to maintain the balance just the way it was.

Then I put her in gear and applied just the right amount of force to bring that one airborne track back down, straightened her out and took the load of rock down to the bottom of the hill, to be moved out later to make more pad.
I dropped the blade, throttled her back to idle, climbed off, found a nice shady spot, and shook for about thirty seconds while my nerves all fired at once. Having had a good cry, I then relaxed and started thinking rationally about the situation.
Realizing that I'd reached a functional limit with the equipment we had, and that it was getting dangerous to try to continue the same way, I decided to try a different tack. I didn't know what that was yet: we could have just purchased a whole bunch of trucked-in fill rock to finish our pad with, but that would have cost another $8-10,000 or so that we didn't have.
And so, one day as we're visiting a friend in another town, we noticed a big backhoe sitting under an ironwood tree. It looked in good shape, and it was huge! So, nothing was to be lost by going over to the nearby house, knocking and asking the owner if it was theirs, and if it was for sale.
It was, it was, and they wanted $7,500 for it. Upon finding out it didn't run right then, and had no brakes, and being quite confident in my ability to fix broken stuff (machines like me), I talked it over with Susanne, got her blessing, then offered the owner $5,000 for it.
Of course, we didn't have the $5,000; this was another of those times that we had around $800 in the bank. But I took $400 of that and bought parts, and spent three weekends fixing the stuff that was wrong with the backhoe.

We got it started successfully on the second weekend, and were able to drive it around the guy's lawn on the third. By this time, we miraculously had some income. We paid for the backhoe out of it, then got a local trucker to haul the backhoe to our house for $200.
The backhoe turned out to be a beast! The "hoe" end was 30 inches wide, and could rip 2-ton rocks out of the hill with no difficulty. I'd work for awhile with the hoe, raking big rocks off the hill, then fire up the dozer and push the rocks to where I wanted them; for the dozer could easily move even the biggest rocks on flat ground.
When it came time to dig our cesspool, the backhoe dug a 10-foot wide, 16-foot deep cesspool in a morning's work! I got carried away a little, because the County only required a 6-foot wide, 10-foot deep cesspool. But we were happy that it would never plug up or fill up!

We did some final landscaping grading with the backhoe, then parked it 6 years ago. More on that in a second.
What does all this have to do with commercial aquaponics? We bought our farm 10 years ago on a shoestring, with no evidence that we'd be able to make the payments or even have the money to build a house there.

Susanne and I then built a 2,500 square foot 3-story 7-bedroom, 3-bath house with circular stairways, by ourselves over a period of four years. We poured and finished the concrete, nailed all the nails, hung all the drywall, and tiled and grouted the bathrooms and kitchen ourselves.

Susanne painted the entire exterior and interior of the house.
We often had no money. We often had to slog through what seemed like a sea of mud just to go to the bathroom in the middle of the night, and cooked in what we called "the cook tent".

Our kitchen for several years was a 10 by 20 Costco tent pitched on a plywood platform. During this time, we also ran two businesses and brought in the income that was necessary to pay for all of this. I have no idea how we did it. It seems like we worked a lot.
But we'd do it all over again without a second thought, because now we know what's at the end of the tunnel. We weren't sure about this when we started, but now we are: that beautiful house on the hill was well within our reach the whole time, even in the muddiest and coldest winter.
And, based on successes we've seen from people with similar levels of dedication, committment to their dreams, and willingness to work hard, success in commercial aquaponics is also easily within your reach.
When we relaxed, and simply put our minds to the task, everything fell into place for us: the bulldozer showed up when we needed it, the backhoe showed up when we needed it, the resources to pay for it all showed up when we needed them.

That's the real lesson we take from this experience: to simply believe in ourselves, not worry too much, and know that things are going to turn out all right.
(BTW, I put new batteries in the backhoe last week, after not having run it in 6 years, and she fired right up after 20 seconds of cranking!).