"There's Money To Be Made In Food, Just Not By The Farmer". Part 1:
This is a well-known saying we're committed to changing! Read on to find out how….
Susanne here. I am going to tell you "The Whole Farm Story". This is very much my story, as the plants (and therefore the farm income) have always been my "kuleana". This is the Hawaiian word for accountability or responsibility, but with a deep, almost spiritual connotation.

I will begin at the beginning, and end with where we are now, at the cusp of launching a new, exciting aquaponics "brand", that will be introduced at our New York training in June. This brand (and the growing technology to produce the product easily) will be made available to farmers everywhere who want to join us in making money selling aquaponic produce!
From the beginning of our farming experience in 2007, I was fixated on a Costco account to sell our organic lettuce mix. This was for one main reason: we did not want to displace other local farmers who were already growing lettuce on our island. While our island is rightfully called "The Big Island", this nickname refers to its geography, not its population.
Although "Big", our island is really just a large town (184,000 people on our entire 4000 square mile island). It quickly became apparent that we were growing such a huge quantity of lettuce of such high quality, that had we gone into local stores, we would have displaced the other local farmers. We were unwilling to hinder the success of these people, many of whom were our friends and neighbors.
We discovered that the quality of the lettuce grown in our aquaponics systems is stunning. We put a 15-day freshness guarantee on our Costco bags (the first produce vendor in Costco's history to ever do so), and never had a single bag returned. In addition, it was the sweetest lettuce we'd ever tasted.

(Our biodegradable 1-lb bag showing the 15-day freshness guarantee date on our organic lettuce).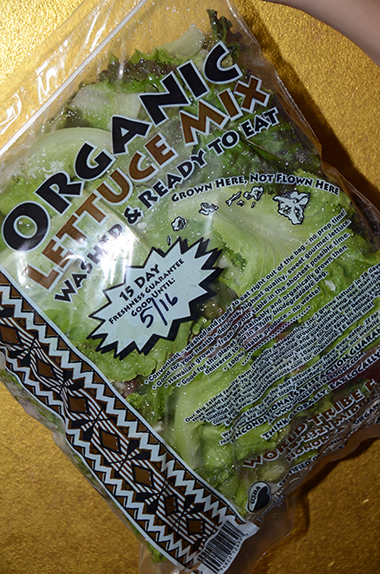 Aquaponic greens are simply a vastly superior product compared to those grown in the ground. In our location, there was no other place on our entire island where we could sell as much lettuce as our systems could grow. In fact, we grew more lettuce on a weekly basis than was sold through all the other stores on our island combined! Costco, with its large volume, was our only option.
When we started the Costco project, it was always with the intention of training other farmers to join us as Costco vendors. At no point did I want to become the Lettuce Queen of Costco (such as Earthbound Farms - which started as a small family farm, but is now a huge organic agribusiness).

We had the idea that we could turn all 550 Costco stores (or at least a good percentage of them!) into purveyors of locally-grown produce (the USDA defines "local" as grown within 250 miles of consumption), with six or eight of the produce items that the Costco produce buyers wanted, and that we knew we could easily grow in AP systems; all of these would be grown by local farmers near each particular Costco (that we had trained).

We were certain that scores of new farmers would jump on this opportunity to grow high-quality produce with aquaponics and sell to Costco (a highly ethical buyer as "Big Box" stores go), at a good price.

The Costco buyers were also excited about this prospect; they told me that whenever a local product went up on their shelves, 20% more of that product sold compared to the shipped-in product it replaced. So, everyone won with the implementation of this project: local aquaponics farmers would make a good living, Costco made more money, and the members were happy with a great quality product.
The main problem was one of scale. To adequately supply a single Costco with a single product required an infrastructure investment in the neighborhood of $500,000 (materials and greenhouses) to one and a half million dollars (materials and greenhouses built turnkey by a contractor).

Although we managed to play the game at this level, 99.9% of the people who came to our trainings and bought our DIY manual simply could not afford to. It was frustrating for us, because we were making money selling lettuce at this scale but couldn't share this success with our students. We never found anyone who could afford to participate at this level, and this was one of the major reasons we left the Costco "lettuce trade" to concentrate on other products.
After we left Costco, I did months of research on the growth patterns of scores of different vegetables. Before landing the Costo account, it had taken me months to figure out how to effectively cycle lettuce so we could reliably harvest 400 pounds per week. I gave literally hundreds and hundreds of pounds of lettuce to our horses and goats to learn the proper planting and harvesting timings, for almost a year. And then I got it down pat, and for almost two years we supplied our local Costco.

After leaving Costco I had to learn this process all over again for multiple species. Starting seven months after we left Costco, we launched a CSA, where we supplied our community with our produce. We used a "Buyer's Club" model, instead of a true CSA, and we assumed the risk that the farmer normally asks the subscriber to assume in a true CSA.
We successfully ran the CSA for several months, until June 2012, when we had a system-wide pest invasion of root-aphids. They primarily attacked our pak choi, kale, and cabbages. I spent hours on the internet, trying to find a solution to combat them that would work for AP. They had colonized the space between the net pots (which are slightly angled) and the sides of the holes cut in our rafts by the holesaw (which is perfectly cylindrical), so IPM (Integrated Pest Management) would not work.

I never found a single thing to combat the root aphids that I could safely use with our fish in the system; not one thing. I simply could not find a solution, except to throw away everything that was in our systems at the time, and then let the empty rafts dry out completely in the sun for a week or two.
Needless to say, I was heartbroken. In the middle of this tragedy, one of our interns here at the time, an incredibly great and honorable man named Don Meighan, shadowed me for several hours as I assessed the extent of the infestation. Don was one of the two people who discovered the root aphids to begin with, and while following me around for two or three hours, said something that restored my soul. At one point, he said very quietly to me, "Watching you over the past few hours has been worth $10,000 to me. If I didn't get anything else out of this internship, this has been completely worth it."

This was odd to me, as I had never felt so close to the edge; I wanted to scream and rage, but what good would that do? But somehow, Don saw grace under pressure, and he acknowledged me for that; and he rescued me from a dark pit of despair into which I could have so easily fallen.
One of the things we have done here on the farm, over and over again, is to turn lemons into lemonade as fast as we can. Luckily, I have had plenty of practice at this in my life, as I am sure you have as well. However, being a farmer has taken this to a whole new level. There have been many setbacks, any of which could have got us down, or even put us out of business - but giving up has never been an option for us.
(Next newsletter I'll share with you the exciting new, value-added product that we'll officially introduce in our New York Commercial Training. I'll invite you to join us in growing what I believe is the highest-profit, lowest labor product I've found in six full years of commercial operation! Thanks for listening, Aloha, Susanne!)

2013 Training Schedule:

3 One-Day Benefit Trainings:One-day Micro System and TableTop System Benefit Trainings taught in person by Susanne and Tim at the following locations and dates:

Oakland, California, Sunday May 26th: To benefit Planting Justice, an Oakland non-profit dedicated to teaching inner-city residents how to grow their own food. Register on this page. Cost: $100

Orlando, Florida, Saturday June 1st: To benefit Feed Hunger Now, an Orlando non-profit dedicated to "feeding the villages" in rural India.
Register on this page. Cost: $100

New York; Saturday, June 8th: To benefit The Point, a Bronx non-profit teaching inner-city residents how to grow their own food. Register on this page. Cost: $100

5-Day Commercial Trainings:

New York Commercial Training; June 10-14 (Monday thru Friday) , the 5-day Commercial Aquaponics and Energy Efficient Greenhouse Training, $1,495 per person (we extended this special $1,000 off discount until the course date).
Click here to register for the New York Training!

Click here to find out more about the New York Training!

Tennessee Commercial Aquaponics and Energy Efficient Greenhouse Training, $1,495 per person (we extended this special $1,000 off discount until the course date). First 5-day training: June 17-21st (register here for first Tennessee training). Second 5-day training: June 24-28th (register here for Tennessee second training).

(Click here for more information on Tennessee trainings).

These five-day trainings allow you to travel during the weekend so that you only need to take a week off your busy life to attend.
All of these five-day trainings include
our $999 DIY Commercial Aquaponics package, $998 DIY Farmer's Market Aquaponic Solar Greenhouse package, $1,998 DIY Commercial Aquaponic Solar Greenhouse package, and new $295 DIY Commercial Tilapia Hatchery manual as course materials, plus our Plywood/Epoxy/ Tank manual, CAD construction drawings for all greenhouses and aquaponics systems, and much more!
If you're located near Tennessee
, Randy and Katie give regular free farm tours of their aquaponics systems and greenhouses to introduce the public to the benefits of aquaponics and energy-efficient greenhouse growing.
Call Randy and Katie at 256-679-9488
or
email Randy
to find out when the next farm tour is scheduled.
More details of the Aquaponics Technology course here.
More details of the Aquaponic Solar Greenhouse course here.
More details of the Commercial Aquaponics course here.
For smaller home backyard and apartment systems, please read on: