Aloha Friend,
In today's "Nugget" we'll discuss Rooftop and Urban aquaponics, and explain why growing the food the city people need,
in the city itself,
might be a
really
good idea.
We still have a few spaces available in our
second
Tennessee training. If it works better for you, you can sign up for the
third
7-day training in Tennessee, from Monday February 4th through Sunday February 10th.
Although our normal price for this complete training is $2,495 we are extending this $1,000 off offer to everyone who signs up for both the second (January 27th-Feb 2nd) and third (February 4-10th) 7-day trainings.
We are limiting
all
the trainings to 35 persons, so everyone gets a chance to have all their questions answered. Sign up early if you want to come!
When you
go to this webpage
to sign up you will be offered
both
the second and third training dates, until the second is full. When it's full, the link will disappear, and you will only be able to register for the third training.
These trainings include our $995 DIY Commercial Aquaponics package, $998 DIY Farmer's Market Aquaponic Solar Greenhouse package, and new $295 DIY Commercial Tilapia Hatchery manual as course materials!
If you're located near Tennessee
, Randy and Katie give regular free farm tours of their aquaponics systems and greenhouses to introduce the public to the benefits of aquaponics and energy-efficient greenhouse growing.
Call Randy and Katie at 256-679-9488
or
email Randy
to find out when the next farm tour is scheduled.
1. The four days of the Aquaponics Technology training is everything we know about the techniques and methods of growing with aquaponics. Each day has hands-on segments. In addition, you will spend all of Day Four building several 12-square-foot
TableTop Systems
from scratch (under our expert eyes, of course).
More details of the Aquaponics Technology course here.
2. You can take one of these 12-square-foot TableTop systems home, assemble it there, and begin growing with aquaponics immediately, even in the middle of winter! The cost of this kit is only $450; much smaller "kits" from others start at $1,295 and go up from there, not including shipping.

3. The two-day Aquaponic Solar Greenhouse course is everything we know about energy-efficient greenhouses, including information and complete CAD plans showing how to build a Chinese-style aquaponic solar greenhouse; and how to convert existing greenhouses to be as energy-efficient as possible. We even show you how to purchase, move, and erect a good used greenhouse for ten cents on the dollar! More details of the Aquaponic Solar Greenhouse course here.
4. The one-day Commercial Aquaponics Training is everything we know about all the different ways of making money with aquaponics, from CSA's to Costco, from wholesale to retail, from selling simple produce to producing value-added products, including Health Department Certified Processing Facilities, Food Safety Certification and Organic Certification. We also include our commercial-scale tilapia hatchery and nursery information, so you can raise your own tilapia and make money selling the fry and fingerlings to others also.
More details of the Commercial Aquaponics course here.
Click Here To Find Out More About The 2013 Tennessee Trainings!
The free information in these three newsletters: last week's, the week before last week's and two weeks before last week's newsletter will meet most people's needs for tilapia breeding. However, if you want the complete story in 72 pages, with highly descriptive photos of the process and equipment we use, our new commercial tilapia hatchery manual is finished and ready for you. There's even a "micro-video" that my gorgeous biologist wife Susanne shot with her treasured Leica Microscope that explains why the techniques we use work so well.
For smaller home backyard and apartment systems, please read on:


Purchase Construction Plans and Operating Info for 4 Different Sizes of Table Top Aquaponics Systems $49.95
Our TableTop System package includes easy-to-understand building instructions and operating information for 4 different sizes of small aquaponic systems based on our years of experience. Anyone can build a system out of plastic barrels or IBC totes, but operating one successfully without good
and
easily-understood information can be frustrating. You simply use the "Daily O
perations Checklist" in the manual and follow the step-by-step
instructions on your way to success. We also cover how to make aquaponics systems out of weird things like old refrigerators and door frames; this makes aquaponics
much more
economical to get started in, and fun too!
We spent hundreds of thousands of dollars, hundreds of hours, and built our first commercial aquaponics systems with FAR less information than this manual contains. We included all the information learned from that experience in this manual so you don't need to make any of the same mistakes we did.

Aquaponics Nugget #107: Rooftop And Urban Aquaponics, Part 1

General Overview:
There are approximately 40,000 acres of rooftop space on the island of Manhattan alone in New York City. This "real estate" has the best sun exposure, is above most or all of the street-level grit and much of the pollution, has excellent security (hard to just "hop a fence" on a 22nd-floor rooftop to steal some vegetables!).

The area is almost completely unused, yet at the same time, the "authorities" complain about how our topsoil and water tables are disappearing, and that the cost of transporting produce into our cities and keeping it refrigerated to feed our city dwellers is going up. Well, why not just produce the food needed to keep the city fed from inside the city itself?
Rooftop aquaponics, and its relative, urban aquaponics (which simply means growing with aquaponics anywhere else besides rooftops that is available in a city), are our best bets for reducing the requirement for city dweller's food to be transported in long distances from outside the city. There is no reason why producing this food in the city is not feasible and technologically manageable.

Fish and vegetables don't smell, as hog and chicken farms do, so they are an ideal candidate for incorporation into a metropolitan area. There are many possible ways that existing buildings can be used to produce food, a role they were never intended for when they were designed, but which now is becoming increasingly important.
There are economical and political forces at play that will make this increasingly attractive to the city dwellers, the building owners, and the politicians, as time goes on. Most of these have to do with the rising cost of oil and the state of America's economy. These are:
One, because the food has little or no distance to be transported (and refrigerated) after harvest, as compared to food shipped in from outside the city, it has the lowest possible cost in terms of energy (and oil resources) of any food source. This is an economical advantage for any farmer growing food inside the city: their transportation cost will be nil, which will allow them to compete well with other farmers outside the city.
Two, because all that rooftop and abandoned parking lot space is empty now, and not bringing in any rent to the owners, the first building owners to take advantage of this opportunity stand to profit from it. This is the real reason people will do rooftop aquaponics: they can make money at it. Those rooftops will be cheap to rent, because even in a fully rented-out building, the rooftop's not rented, and the landlord can make a little more money from it.
Right now, none of it is rented, and it is a buyer's market: the prospective rooftop aquaponic farmer has a huge selection of rooftops available, all at the lowest possible prices. This is simply a supply-and-demand equation: with so much rooftop space available, it will cost the least.

It may turn out at some point, that a building with an aquaponic farm on the roof is a more desirable location to the other tenants than one with none. People like novelty, and most of all, people like food security. Having a farm that close may make the tenants feel more warm and fuzzy, even if it can't completely feed all of them.
Three, the politicians and all those responsible to the people for making the city look like it's working will all look "green", and "sustainable" by promoting rooftop aquaponics initiatives, creating "Aquaponic Opportunity Zones", giving tax breaks, and so on. Jobs will be created, the city economy will be positively impacted by this diversification, and the politicians will look good.
Ultimately, the residents of the city will benefit the most, because they will have fresher food, local farming jobs, and more economic opportunities. There are all kinds of niches for entrepreneurs to explore to make this future a reality; but people will always need food, no matter what the rest of the economy does.
(Next week's "Nugget" will have Part Two of Urban Aquaponics: "Technology, Considerations, And Permitting". Thanks for listening!)

The photo below is our Solar Greenhouse. It's cool when it's hot, and warm when it's cold (hope that makes sense to you, it's the best greenhouse we've ever seen!).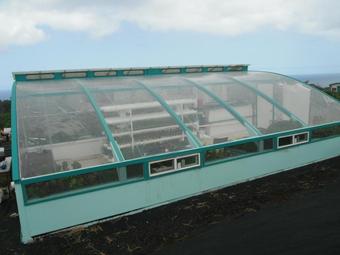 Friendly Aquaponic's FIRST Aquaponic Solar Greenhouse in full bloom, Honoka'a, Hawaii, March 2012, (on a grey rainy day) showing PV panels and growing plants.
Click Here To See Our New Aquaponics Video!
.......................................................
Back Issues Of Newsletters Now Available, Click Here!
.............................................


Purchase Trough Liner Directly From Manufacturer!

Free Farm Tours

..............................................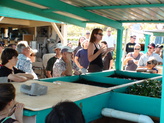 Aquaponics tour at the Friendly farm!
We hold a free workshop on our farm the FIRST Saturday of every month at 10:00, focused on growing food with aquaponics and permaculture.
Click here
for information. See you there!
If you are a school, a non-profit organization, an organization working with the poor, Native Hawaiians, or ex-inmates, or if you are a church, we will hold a free farm tour for you anytime. You DO need to email us first to schedule, or we might be out on errands!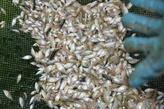 Thousands of inch-long "fifty-cent" baby tilapia from our "backyard" hatchery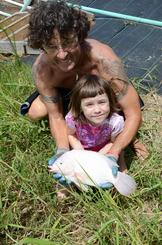 What they turn into about a year later: a beautiful 2-pound white tilapia grown in the fish tanks of our aquaponics systems
Special Offers!

Sign up for the SECOND or THIRD TENNESSEE 2013 Commercial
Aquaponics and Solar Greenhouse Training
and receive a free Micro System DIY package so you can begin studying aquaponics! ($99.95 value)
"The Heart of Our Farm, Part 2"
Because we live by the basic axiom "Anything worth doing is worth overdoing", and because Tim and I had run income/ expense numbers on the potential for a small organic cheese business, I kept looking for more cows, but nothing suitable showed up on craigslist.

Before Christmas, I succeeded in getting ahold of an old friend of Tim's, who runs one of the two remaining dairies in Hawaii (both on this island), milking 700 cows per day. He said, "Sure thing! Come on up after Christmas, and pick out whatever you want!"

He had a whole corral full of springers (first time mothers), about to calve, all half Jersey and half Holstein. We picked out two, and this is where our Cow Experience began to get really interesting, because these two cows had never before been touched by a human being; they were completely wild.
Getting them into the trailer involved several hours and a lot of drama, with experienced cowhands using ropes, chutes, and "head catches" (a spring loaded, rubber lined metal contraption, designed to catch the head and completely immobilize the cow).

These cows were convinced that we were going to eat them alive, bite by bite. Transporting them to our farm and turning them loose on our land did nothing to reassure them that this was not the case, so I began using all the skills learned as a professional animal trainer (seriously - I had two jobs animal training for Hollywood productions, back in the late 80's).

I used food and water as my primary tools, forcing them to approach me to eat cubes and drink from the water tank. It took several days, but they were soon allowing me to scratch their polls (the top of their heads) while they drank, and were both taking cubes directly from my hand.
However, one of the cows remained more wild than the other, and as bad luck would have it, she was the one that was due to drop her calf sooner rather than later. At the dairy, the cowhands told me they thought I had two weeks before the wilder one dropped her calf, and a month for the other.

These guys obviously know a LOT about cows, because she had her calf the night of the 5th, ten days after we brought them home, and we got exactly what we were hoping for, a heifer (female), 3/4 Jersey, 1/4 Holstein, which will give large quantities (the Holstein qualities) of very high butterfat (the Jersey qualities) milk, perfect for cheese making!

Below is seven year-old Rose with the baby heifer that Rose named Milky Way, who is about ten hours old in this photo.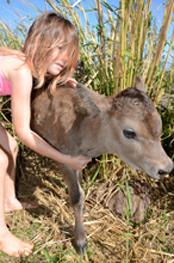 Now the clock was really ticking, as I have a week to get her to the point where she'll let me milk her, and this is a cow that won't let me near her hind end without lashing out at near light speed with a cloven hoof that would break me badly if she connects. Fortunately, my experience with horses, zebras, and even ostriches have taught me to be very fast!
Yesterday I succeeded in getting her into the stanchion that Tim build onto the side of the house, which restrains her head, but nothing else. I was momentarily fooled into thinking that I had made some sort of progress.

However, approaching her from any direction resulted in her angling her hind end toward me, with cloven feet flashing. I worked with her for over an hour, and nothing changed. She eventually managed to get out of the stantion, and dived through a tiny gap between the plywood of the stanchion and the bars of the round pen that I thought was far too small for her to get through.

She ran off in triumph, the gleeful winner of our long contest.
Below is Betty Boop, our 18-month old springer, who's looking for a boyfriend!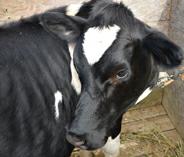 Today Tim and I have spent several hours designing a chute that we'll make out of our round pen panels, and a milking chute that will allow me to immobilize the cow while I milk her, from head to hind end. It's basically strong enough to hold a pickup truck in place (if you ever needed to milk a pickup truck!). We'll see if it holds.

Even with this infrastructure in place, I am not fooled into thinking that this will be easy, but the reward will be five or six gallons of fresh milk each day, just in time to allow Vanilla her dry time, before the birth of her next calf is due in March.

We've all become completely addicted to our own fresh organic milk, cream, butter, yogurt, cottage cheese, buttermilk, and mozzarella, all of which are the most delicious I have ever tasted.
I'll let you know how it goes!
Aloha, Susanne.....