Aloha Friend,

Today's "Nugget" revisits prawns, Part 2. Not the kind you saw in the movie "District 9", but the kind you eat with garlic butter.
We just finished giving our August trainings: the 3-day Aquaponics Technology course (which is
everything
we know about aquaponics); the 2-day Aquaponic Solar Greenhouse course (about
energy-efficient
greenhouses); and our 1-day Commercial Aquaponics course, (which is
everything
we know about making money with aquaponics).
Now, we're working on a new aquaponic product (one that no one else has thought to grow for sale yet). We've been test growing for almost a year to perfect methods for growing this product; and Susanne is working on perfecting processing techniques to take the minimum possible time necessary to turn it into a $18-28/pound product.
We successfully grew and processed an organically certified lettuce mix and shipped it to Costco for two years before we collided with politics and had to go in a different direction. What we noticed while we taught "the Costco model" during those two years to our students was that, although they were all excited about the idea of selling to Costco,
not one
of them had the funds necessary to build and operate a farm that could supply a Costco store with even a
single
produce item.
Costco goes through a
lot
of produce in a week, and an aquaponic farm big enough to supply even one item costs from $500,000 to $1,400,000 to build! You also need to have $50-150,000 of operating and contingency capital on hand for an operation of this size. This is a serious barrier, and if you enter the commercial aquaponics marketplace with a farm of a smaller size, you need to figure out what you can grow profitably, and where and how to market it. This can be difficult if you don't already have business experience.
So Susanne thought and thought, and came up with a "formula" for a commercial aquaponics operation that can be entered at the $20,000-$100,000 investment range, with all the "bugs" worked out so that all you do is follow instructions to produce a valuable crop; there's no guesswork about what to plant, when to harvest, and what to do with it afterwards to make money.
While everyone else in the "commercial aquaponics" world is showing you how to grow lettuce and basil (and won't we all be competing to sell cheaper lettuce and basil soon, if this continues?), we can show you how to get into a profitable, turn-key aquaponics business model for a reasonable investment in time and energy, even with no previous farming experience. We can also show you how to grow almost 30 other profitable aquaponic crops, and how to market them most effectively, even if there are already 20 CSA's in your neighborhood.
If you want to earn a living from aquaponics (or just learn the best aquaponics technology available) , we have two trainings scheduled in the balance of 2012:
Training 1: In Tennesee, from September 16th to the 22nd, we hold our 3-day Aquaponics Technology Training, plus the 2-day Solar Greenhouse Training, plus the 1-day Commercial Aquaponics Training. Attend one or more trainings to suit your needs. Trainings are at Randy and Katy Campbell's farm, Ellibell Farm, in Elora, Tennesee. You can sign up now for these trainings on our webpage here or using the "Special Offer" buttons in the right sidebar of this email. You can also call Randy directly at 256-679-9488, or email Randy for information.

Training 2: The same six days of training, October 21st to the 27th in Hawaii.

For smaller home backyard and apartment systems, please read on:

Purchase Construction Plans and Operating Info for 4 Different Sizes of Table Top Aquaponics Systems $49.95
Our TableTop System package includes new and easy-to-understand building instructions and complete operating information for 4 different sizes of small aquaponic systems based on our years of experience operating a commercial aquaponics farm. Anyone can build a system out of plastic barrels or IBC totes, but operating one successfully without good
and
easily-understood information can be frustrating. You simply use the "Daily O
perations Checklist" in the manual and follow the step-by-step
instructions on your way to success. We also cover how to make aquaponics systems out of weird things like old refrigerators and door frames; this makes aquaponics
much more
economical to get started in!
We spent hundreds of thousands of dollars, hundreds of hours, and built our first commercial aquaponics systems with FAR less information than this manual contains. We included all the information learned from that experience in this manual so you don't need to make any of the same mistakes we did.

Aquaponics Nugget #90, Prawns Revisited, Part 2:
Prawns are sexy. Prawns are expensive! Everyone loves prawns! You should read last week's newsletter (Prawns Revisited, Part 1), to get the first bit of information on this, and make sure you also read Larry and Patty Yonashiro's Aquaponics Blog to learn about a quite different experience they had with their prawns.

As we mentioned last week, the prawns are raised in the hydroponic troughs under the vegetables to keep the tilapia from eating them. We have never seen any damage to vegetable roots caused by prawns, or any decrease in system vegetable production after we introduced prawns, in our systems.

However, this is in direct contrast to Larry and Patty's experience, which indicates that the prawns massacred their plant roots; stunting and killing the plants. After reading Larry's account, the only difference I was certain of between our systems was the stocking density. Larry apparently used a stocking density of 10.5 to 14 prawns per square yard (he had a "minimum" order of 600 prawns to house), while we used a stocking density of 3 per square yard. This difference in stocking density may be the difference between failure and success with prawns; it also may be due to some other factor neither of us is aware of yet.


What we can safely say now about prawns is that they may grow just fine in the aquaponics system troughs without impacting the vegetables or system negatively in any way, and that there might be a problem with raising them at higher densities; but even this is not certain. More research is needed to understand the conditions under which you can safely raise prawns in aquaponics systems; and the conditions under which they will massacre your plant roots!

When we raised prawns in our aquaponics troughs, we stocked 300 or so PL's into a total of 864 square feet of hydroponics troughs in a commercial system (a stocking density of 3 per square yard), and 4 months later harvested 20-30 lbs of prawns from that system. These prawns can be sold off the back of the truck for $10/lb in Hawaii. So this would total 60-90 lbs of prawns a year (or $600 to $900 of gross income) from a system that produces 4,500 lbs of organic lettuce at $5.92 a pound ($26,732) and 600 lbs of tilapia at $5/pound ($3,000), per year. You can see that the prawns are not the largest or even the second largest system output.

If you do try raising prawns, you need to keep them out of the fish tank because the fish will definitely make them disappear. So you need a filter smaller than the prawns on the outflow of your final trough(s). If you never had a filter there before you put prawns into your system, you will notice that it sometimes clogs and overflows the trough; you now have one more check-point to inspect and clean when you do your daily rounds on your system.

Freshwater prawns require a brackish water phase in their breeding cycle; they will not hatch out in freshwater only. Because of this, a prawn hatchery is somewhat involved. We figure we can build a basic small capacity prawn hatchery for about $1,000 or so, and learn how to run it successfully in two to three months of trial-and-error (but we have a head start on this: we're successful aquaculturists already). Because we don't have a prawn hatchery yet, the only way we can obtain baby prawns to stock our troughs with now is to buy PL's (for Post-Larvae, a very small prawn about 1/4" to 1/2" long) from a local breeder.

Most of the commercial breeders have minimum orders of 100,000 or so ($2,500) and high shipping costs, so unless you can find a local prawn breeder that will sell you small amounts, you can't raise prawns easily or affordably. Don't expect to make a lot of money on prawns or grow a lot of them unless you can figure ways around all these problems that no one else has figured out in 50+ years of commercial prawn farming.

A GREAT source of information on breeding, hatching, and growing prawns can be found at the following down-loadable link; this is a reference work on breeding and rearing freshwater prawns at the United Nations Food and Agriculture Organization's website at http://www.fao.org/docrep/005/y4100e/y4100e00.htm#TOC. Look for, then click on "PDF Version" in little blue print at the top right of this document to get the down-loadable version in PDF format, then save it into a folder on your computer. The prawn hatchery in this publication would cost around $150,000 to build in the US and is not feasible for most of us, but the techniques described are solid and well-tested.

The photo below is our Solar Greenhouse. It's cool when it's hot, and warm when it's cold (hope that makes sense to you, it's the best greenhouse we've ever seen!)
.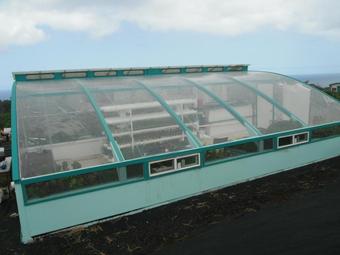 Friendly Aquaponic's FIRST Aquaponic Solar Greenhouse in full bloom, Honoka'a, Hawaii, March 2012, (on a grey rainy day) showing PV panels, and growing plants.
Next week: Something interesting and valuable to know about aquaponics. Thanks for listening!
Click Here To See Our New Aquaponics Video!
.......................................................
Back Issues Of Newsletters Now Available, Click Here!
.............................................


Purchase Trough Liner Directly From Manufacturer!

Free Farm Tours

..............................................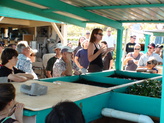 Aquaponics tour at the Friendly farm!
We hold a free workshop on our farm the FIRST Saturday of every month, focused on growing food with aquaponics and permaculture.
Click here
for information. See you there!
If you are a school, a non-profit organization, an organization working with the poor, Native Hawaiians, or ex-inmates, or if you are a church, we will hold a free farm tour for you anytime. You DO need to email us first to schedule, or we might be out on errands!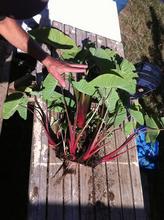 3-1/2 pound kalo (taro root) grown in a 2" net pot (little bump at bottom)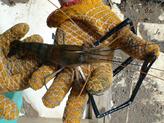 4-month old prawn (macrobrachium rosenbergii) grown in hydroponics troughs of our aquaponics systems
Special Offers!

Sign up for our HAWAII October 25th-26th
Aquaponic Solar Greenhouse Training

or our


HAWAII October 21-23 Aquaponics Technology Training

,

or our
TENNESSEE September 20-21
Aquaponic Solar Greenhouse Training

or our


TENNESSEE September 16-18th Aquaponics Technology Training

,
and receive a free Micro System DIY package so you can begin studying aquaponics! ($99.95 value)
More Information on Aquaponic Solar Greenhouse Trainings
"In The Farmily"
I fell in love with my wife Susanne a little over eleven years ago in a health food store on the Big Island. I remember standing behind this woman at the checkout counter who had this gorgeous red hair down to the back of her knees and thinking "any woman with hair like that has got to have a face like a horse, they never get
both
", then she turned around and totally changed my world. She was beautiful!
I had just taken my dog to the vet, and had gotten a depressing diagnosis of epilepsy. "Dog" is kind of misleading; Max was my 145-pound male Rottweiler who had been having convulsions for a week or so. I'd never seen anything like this and was scared.
The day I met Susanne, I had Max and my female Rotty, "Honey Girl" in the back of my pickup truck, and after we met at the checkout counter and walked outside the health food store, still talking, Susanne just walked right over to 250 pounds of Rottweiler saying "I love Rottweilers!" and stuck her hand out for them to lick. Which they did, with lots of rear-end butt-wagging activity. Needless to say, I was impressed.
I talked to Susanne about the epilepsy, and she said she was going to Chinese Acupuncture College, and that acupuncture was a treatment for epilepsy, and that it
should
work on dogs, and that she'd treat Max for me if I brought him over to her house where she had her medical kit and needles.
So I go in the truck and followed her Mazda Millenia (with the gold trim package) over to her house, thinking things like "She's too pretty to be useful" and "she's probably a real estate agent". She was going into the house to get changed so she could work on the dog (she was wearing a silk skirt, blouse, and vest with high heels), when the dog went into an epileptic fit in the back of my truck.
Susanne instantly climbed into the bed of the truck and cradled Max's head so he wouldn't hurt himself. Max was flinging himself from side to side and throwing spit all over the place, and just as Susanne grabbed him, he lost control of his bladder and began urinating all over her. She just held onto him tight and waited until the fit was over before she left to clean up.
My estimate of her immediately went up several notches. It went up several more when, as she headed for the front door of her house, a little guy burst out of the door and came running up, yelling "Mom!" (this was her five-year-old, Victor). At the time, I had two kids of my own, and didn't have much time to spare for people who "didn't like" kids.
I obviously needed to re-examine preconceived ideas I had about this woman. Fortunately, this only took me about ten seconds. It was ten days later when she moved in to my luxurious converted garage. I was recovering from a difficult divorce and had lost everything, so I
knew
she couldn't be attracted to my money! (LOL!).
It's a little more complex than that, as I had my two kids two days a week, and she had her 75-year-old Mom in addition to Victor. How she tells it is: "I moved in and never left!".
Somehow we fit all these people into a 400-square foot apartment with a small sleeping loft, and became the happy family we've been ever since. The house has gotten bigger; now we have about 2,500 square feet with raw plywood floors that she knows I
will
cover "some day" with beautiful varnished hardwood.
See why I love her so much?