Aquaponics Nugget #52:
Hybrid Aquaponics/Permaculture Sustainable Food Production Systems
An aquaponics system, in its simplest terms, is a system for growing things: fish and vegetables. If you have an aquaponics system or are planning one, there are many opportunities to include other systems for growing things along with it. We'll describe a couple of the simplest ones in this series, and explain how they work so you can see all the different possibilities for sharing system inputs and products.
But first, we'll show you how someone who doesn't understand systems would do the same thing: our example will raise fish, ducks, and a field crop. First, our fish will be raised in a stagnant tank with no water flowing through it; this will severely limit the amount of fish that can inhabit the tank at any one time, and also their growth rate will be extremely slow; there will be little or no production from this tank. Next, we'll have a duck pond that is stagnant like most duck ponds: it will grow a few fish quite slowly, and will provide a home for the ducks (which we'll have to feed to get any eggs or other value out of them) but other than that won't do you much good.
Finally, we'll have a field crop: taro or sweet potatoes, that we water with our cheap or free ag water from a spring, stream, or irrigation ditch. Now, we need to make or purchase, and spread,
some kind
of fertilizer on this field or this crop won't grow very well. So we have a few fish, a few ducks and eggs, and the produce from our field crop to pay the operating costs of these unrelated operations and earn us a living. This is a "system" put together by someone who doesn't understand systems.
Now we'll cover the "real" system using the exact same ingredients in a different recipe. We'll use the same source of cheap (or preferably free, such as a stream or spring) agricultural water that our previous example used, and take exactly the same amount of water from it. Only this time, we'll first flow the water through a decent-sized fish tank (say a 24-foot diameter lined galvanized steel round tank, about $1,500) and stock it with tilapia. Because you have constantly flowing aerated water coming into this tank, you don't need to provide mechanical aeration or pumping for your fish (a cost savings). Also, the flow of water through the tank removes fish poop, ammonia, nitrites and nitrates, keeping the fish water clean so the fish stay healthy and grow quickly.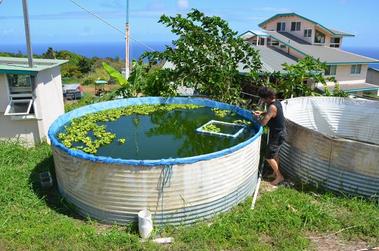 Your flow-through fish tank will look like this; just not so green because the water flowing through it will take any algae out with it to your crops, so that any algae that does grow in the tank will add more nutrients to the water that flows out of the fish tank to the next phase of our system.
The water exiting the fish tank now has nutrients included; now it flows to a duck pond. The duck pond is in the shape of a donut: it has an island in the middle for the ducks to nest and hatch their young on, and a little bridge going over to the island with a gate on the bridge. This "moat" around the duck pond keeps predators (such as rats, and the mongoose we have in Hawaii) away from the duck nests, eggs, and young ducks. The ducks poop in the pond, and rainwater washes more duck poop into the pond from the pond banks. Oh, I almost forgot to mention: because you now have relatively clean aerated water flowing through your duck pond 24/7, you can stock it with fish, feed them there, and get additional fish harvests out of the duck pond.
The water exiting the duck pond now contains tons of nutrients from the fish poop and duck poop, plus assorted algae and micro critters it picked up on its way through the fish tank and duck pond. All this beautiful, nutrient-filled water now goes onto the field crops; because the irrigation water is now filled with nutrients instead of being just plain water, you don't have to spend any money or time on fertilizer for these crops. You also save a ton of time that you used to spend spreading fertilizer on this field, because the irrigation water does it for you. You can spend this money and/or time on fish food and duck food to make more of those valuable commodities.
You feed the fish in the tank from the taro or sweet potato leaves, plus a commercial fish food; this way you're re-using some of the system produce that would normally go to waste to make more fertilizer
for the system from the system
. Harvest the fish when they're market size; this is one stream of income from this system. You also feed the ducks in the duck pond the same way, from system produce that doesn't go to human consumption, and you let them roam the sweet potato or taro field; they are your natural pest control, because they will eat any bug out there. You now have mature ducks, duck eggs, and baby ducks to sell for three additional streams of income from this system.
Here'e the best part: because the irrigation water is now filled with nutrients from the fish tank and duck pond, your field crops mature in
half the time
they used to take when fertilized with either organic or conventional fertilizers. We don't know WHY it works this way, but we've observed this phenomenon time and again with fish water and in-ground crops. Is this valuable? Just ask any farmer if he or she'd like to grow twice as much produce in the same time in the same area; they'll look at you like you have two heads. Understanding and implementing a system such as this correctly can double the output of your farm!
Here are the results of implementing this system: first, you've doubled the produce output of your farm, and because you now have NO fertilizer costs, you can put some of the money you used to spend on fertilizer into buying or making fish and duck food so you can feed them at a higher rate and produce more of them. Second, you now have a good production of fish because you have good water quality in your fish tank and duck pond, you can afford to feed the fish more, and you're supplying part of the fish food from on-farm waste products which cuts your costs for feeding them. Third, you have a good income from your increased production of duck eggs, baby ducks, and mature ducks because you can afford to feed the ducks more, AND you're supplying part of your duck food, reducing your feed costs for the ducks.
You now have twice the vegetable produce from your field crops, three to ten times the fish production, and four to ten times the duck production you had before you implemented this system as a result of simply combining the ingredients
you already had before
in a different way with a different understanding.
(Next week, more system thinking: "Hybrid Aquaponics/ Permaculture/Sustainable Food Production Systems" Part 2)