Aloha Friend,
It finally happened: even in Hawaii, the weather can shut you down! Susanne and I had been working on prefabricating the walls and other parts of our Aquaponic Solar Greenhouse in our shop, but today we had to stop. The wind and rain was so intense it was sending horizontal rain throughout the usually well- protected shop, where we are building the individual pieces of the greenhouse. It soaked everything inside, and made painting (or even cutting pieces of wood) a fantasy. So I finally found time to write this newsletter.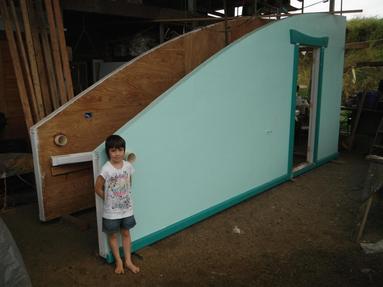 Rose with two of the prefabricated end walls of the Hawaii Aquaponic Solar Greenhouse in the shop. The walls have been wired, insulated, vapor barriered, sheathed both sides, painted, doors hung (they're off for painting now), trim installed, and are ready for trucking to site (200 feet away) as soon as the mud swamp we're living in dries up enough so the truck doesn't slide down the hill sideways (I can't even get the D4 to drive a straight line now; it just slides sideways too!)

I missed a week of the newsletter because, as they say "You have to build your greenhouse when the weather is bad". Well, it's no longer bad, it's MISERABLE. As I mentioned, we've done everything we can inside the shop, and are stuck now with waiting for better weather to take it outside and assemble all the pieces. We thought we were developing the Aquaponic Solar Greenhouse for those who live in more difficult climates than ours in Hawaii, but we've realized (based on the weather we've had for the last three weeks) that we NEED one here in Hawaii to grow effectively year-round.

It's December 21st, the shortest day of the year in the Northern Hemisphere (the day with the least amount of sun of the whole year). The growth of plants in our aquaponics systems has slowed down to almost nothing over the last four weeks. It's been cold, with little sunshine, and LOTS of cold, beating rain (we've had 30 inches of rain or so over the last month).

We've found that even simple and cheap Modified Environment Agriculture (MEA) structures make a big difference in how well your vegetables grow when conditions are like this. Next I'll show a picture of a hoop house we use to protect our youngest plants. Even this simple and cheap structure has a huge effect on plants growing inside it: they're growing far, far better than the same plants that are growing outside in the open. As an example, we have mature bell peppers and chocolate peppers inside the hoop house on plants that are two feet tall; we have the same pepper plants in our outside aquaponics systems that are OLDER than these, but are only a few inches tall now, with NO peppers.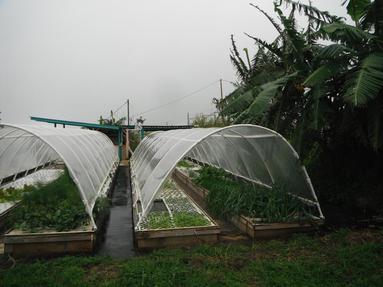 Our simple and cheap hoop house over our "nursery" aquaponics system. Even this small an amount of protection from the elements can have a huge effect on system productivity in inclement weather. Strangely enough, vegetables ALSO grow quite well in these hoop houses in the heat of the summer. This is "high noon" during the kind of weather we've been having lately.
As I mentioned, we're building our own Aquaponic Solar Greenhouse using a modular, prefabrication method inside our shop. If you read on, you'll understand why we're using the prefab method. We include two economical construction methods in the training manuals that we will present at the "Aquaponic Solar Greenhouse Training". One is conventional Western-style, concrete floor, 2x4 framed walls (wood or steel studs), with insulation in the walls and house-type exterior sheathing. A big benefit of this method is that there are out-of-work carpenters all over the country who know how to build this way; the second one is that it is understood and approved by Building Departments everywhere. The drawback? It actually costs MORE than the modular construction style, which we're using for our own solar greenhouse on the Friendly farm, and which I'll describe next:

The modular construction style can ALSO be built with the standard skill set possessed by out-of-work carpenters; but there are several advantages over conventional construction methods. The first advantage is that if you're in a cold winter climate, you don't have to wait until the ground is unfrozen in the springtime to start excavating, pouring your concrete, and so on; the modular style greenhouse can be built one wall assembly at a time inside a barn or warehouse-type building (no matter WHAT the weather is outside), then trucked to your site and assembled all at once as soon as the weather allows. All construction, wiring, conduits, vents, windows and doors, even exterior trim and painting, can be installed and completed in the wall assemblies before they ever leave the shop.

Another big advantage is that the modular construction style DOESN'T require a concrete foundation to hold it down in high winds: the weight of the water in the fish tank and front and rear troughs provides TONS of hold-down ability. You do want to check with your local Building Department to make sure this type of construction is acceptable. This may simply require an architect's stamp on the plans we provide with the training.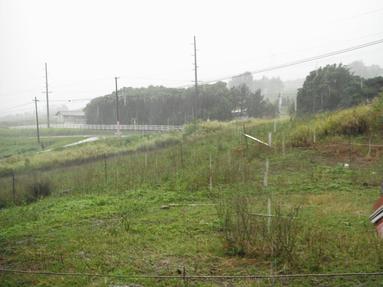 Another "high noon" picture that demonstrates why WE need an Aquaponic Solar Greenhouse, even in Hawaii. It ISN'T raining in this picture, these are just low clouds that are licking us as they ooze by. When it actually rains, you can't even see the buildings and trees on the other side of the road.

We've decided to extend the 50%
discount on ALL the February trainings for the entire registration period (until the courses start). The purpose of this is to make it as affordable as possible for as many as possible to attend these courses. If you've already registered, thank you for helping support this work. Next winter we'll have OUR Aquaponic Solar Greenhouse to grow in, and won't have the problems with lower system productivity and income due to inclement weather that we're having now.


If you're interested in learning about our new Solar Greenhouse technology,
please take a look at our
Aquaponic Solar Greenhouse Training
(Special Offer in right sidebar of this email), where you will learn more about how to grow affordably using aquaponics in greenhouses than you can anywhere else in the world. The FIRST training is in Hawaii in February 2012. For smaller home backyard and apartment systems, please read on:

Purchase Construction Plans and Operating Info for 4 Different Sizes of Apartment/Condo Aquaponics Systems $49.95
Our Apartment/Condo System package includes new and easy-to-understand building instructions and complete operating information for 4 different sizes of small aquaponic systems based on our years of experience operating a commercial aquaponics farm. Anyone can build a system out of plastic barrels or IBC totes, but operating one successfully without good
and
easily-understood information can be frustrating. You simply use the "Daily O
perations Checklist" in the manual and follow the step-by-step
instructions on your way to success. We also cover how to make aquaponics systems out of weird things like old refrigerators and door frames; this makes aquaponics
much more
economical to get started in!
We spent hundreds of thousands of dollars, hundreds of hours, and built our first commercial aquaponics systems with FAR less information than this manual contains. We included all the information learned from that experience in this manual so you don't need to make any of the same mistakes we did.

Aquaponics Nugget #66:
A Primer On Sustainable Energy-Efficient Greenhouses, Part 8 (Please read parts 1-7 again, new "Nugget" next week).
This column is an ongoing series on how to understand, build, and operate energy-efficient greenhouses. If you missed any of the previous newsletters in this series, you can click here:
"Back Issues Of Newsletters"
to read them first, because understanding all the concepts presented previously is essential to understanding the Aquaponic Solar Greenhouse.
Our Aquaponic Solar Greenhouse (ASG) is a combination of
systems
that form a complete, operating whole. It's important that you understand all the concepts presented in the previous "Nuggets" in this series in order to understand that implementing just one or two of them doesn't do you that much good. As an example, we've had a lot of people requesting information on how and where to purchase Asahi ETFE film (we're working on it!); but just installing this film on your greenhouse only brings a couple of the potential benefits the ASG supplies.
By itself, the Asahi ETFE film doesn't insulate the greenhouse, doesn't heat or cool the greenhouse, doesn't function as a thermal mass, and doesn't put more plants into your greenhouse. It's kind of like taking one wheel off a bicycle and expecting you'll have something that transports you just as well, but only costs half as much. Ever try to ride a unicycle? (See what I mean?).
(Next week: more about passive solar and geothermal heating and cooling! Isn't Nature great? There's already a solution out there for almost all our problems. It's called Biomimicry. Look that one up if you want to give yourself an education between now and the next newsletter)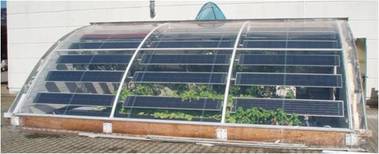 Franz Schreier's FIRST Aquaponic Solar Greenhouse in full bloom, Heppenheim, Germany, 2011, showing lamellae PV panels and growing plants!
(Next week: More on energy-efficient greenhouse technology, and how you can build your own! Thanks for listening!).
Click Here To See Our New Aquaponics Video!
.......................................................
Back Issues Of Newsletters Now Available, Click Here!
.............................................


Purchase Trough Liner Directly From Manufacturer!


.......................................................


Free Farm Tours
Aquaponics tour at the Friendly farm!
We hold a free workshop on our farm the FIRST Saturday of every month, focused on growing food with aquaponics and permaculture.
Click here
for information. See you there!
If you are a school, a non-profit organization, an organization working with the poor, Native Hawaiians, or ex-inmates, or if you are a church, we will hold a free farm tour for you anytime. You DO need to email us first to schedule, or we might be out on errands!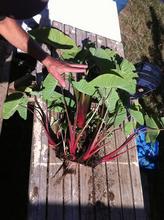 3-1/2 pound kalo (taro root) grown in a 2" net pot (little bump at bottom)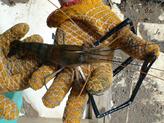 4-month old prawn (macrobrachium rosenbergii) grown in hydroponics troughs of our aquaponics systems
Special Offer!

We've decided to extend the 50% discount for our February 16th-17th

Aquaponic Solar Greenhouse Training

and ALL of our Aquaponics Trainings for the entire registration period, right up to when the courses start.

Sign up now, and receive the 50% discount, plus we will email you our Micro System package so you can begin studying aquaponics! ($99.95 value)

More Information on Hawaii Aquaponic Solar Greenhouse Training
In
The Farmily
We were still living in our old house, paying the new owner $1,100 a month rent on top of the $1,500 per month mortgage on the new land, so we were under a lot of financial pressure to get something built that we could move into.
When we bought our land we had gotten a $15,000 quote for grading a flat pad for our house to sit on. We didn't have $15,000, in fact we had $800 at the time, but Grandmother Friend (Susanne's Mom) generously donated $6,700 so we could buy a 54-year-old Cat D4 bulldozer of our own.
The rationale was: spend the money on the bulldozer, which we'd still have after the pad was done. We also needed a road and other improvements, and this was long before we knew we had aquaponics in our future.
I'd never operated a bulldozer before, but I had run a backhoe (and driven a car) and figured "how hard could it be?". Well, it wasn't difficult to operate, in fact it was fairly easy to run. You had to be careful on hills, though, because tipping a bulldozer over on a hill isn't as minor as taking a spill on your bicycle.

It turns out it was one of the best "tools" we'd ever bought; able to do a lot of work in a short time for a very reasonable cost. And almost ten years later, we STILL have the bulldozer, after doing tens of thousands of dollars worth of grading with her. Yes, the D4 is a her; her name's Katy, she's a member of the Farmily now.

Early on, when I was in the middle of grading our house pad, I took the bulldozer over a pile of rocks and dirt; on the far side of the pile, the front of the bulldozer's chassis just went down onto the ground at an odd angle and stayed there. I put her into neutral and got down on my hands and knees to see what was wrong.

A broken main spring was what was wrong. This was the spring that held the entire front of the bulldozer up off the track assembly. It had sheared through all four leaves of the massive spring. We weren't going anywhere until it was replaced.
I had been bulldozing in the rain and mud, trying to get the pad ready so we could build a house to move into with money we hadn't even earned yet; because the rent on the old house and mortgage on the new land was straining our finances to the limit.

I was wet, cold, muddy, and I knew we had; $800 in the bank. I sat down on the muddy, cold steel track of the bulldozer and had a good cry, then called Susanne on my cell phone and told her what had happened. I went home and had a hot shower, then got on the phone.

I found a parts dealer in Oregon who had a new mainspring for only $600 plus another $350 shipping (4 weeks delivery), or $850 airfreight (two days delivery). Every month's delay cost us $2,600 in mortgage and rent, and with only $800 in the bank, both these options were out of our reach We would have more money coming in soon: Susanne and I were also working full-time earning the money to pay for the new house and land.

Then I started calling my "coconut wireless", my network of friends and people I'd worked with or for. After five or six calls, I'd found a D4 that had a good mainspring, that even ran, in a town only twenty miles away. The owner wanted $500 for it, and hauled it to our property for another $150. We still had $150 left over from our $800; we were OK!

Getting the 200-pound mainspring off the parts bulldozer and onto our broken D4 in the mud and rain was an entirely different kind of experience, but I eventually got it installed, with NO pinched fingers, and started bulldozing again. We did great until I ran into the rock layer, and the D4 started bouncing off it rather than pushing it. But that's next week's story. Thanks for listening!