Aloha Friend
In today's "Nugget", we continue with Part 10 of our series on
"Energy-Efficient Greenhouses For Aquaponic Growing"
.

Our "In The Farmily" column today
is Part 2 of the story of our son
Lucky
, and why he got the nickname "Lucky". He really
is
lucky, as you will understand when you read it!
We have a new
"mini-column" called
"Fish Bites"
with technical information and supplier information we recently developed.
Aquaponics Nugget #144, Part 10: Energy-Efficient Greenhouses For Aquaponics
(You can catch the first 9 of this series on our "Back Newsletters" page, starting with #135, if you wish!)
Geothermal cooling ditch and heat exchanger for active cooling:
We talked about how to get rid of hot air from the greenhouse, and bring in cool air from the "cold side", but there's a much more energy-efficient way to keep your greenhouse cool: cooling your aquaponics water. To cool it, you utilize the biggest, coldest thermal mass in the area: the ground four to ten feet down below the surface.

In most of the US, the ground six feet down is at a nearly constant temperature all year long, ranging from 45 degrees up to 70 degrees F. We will make use of this huge "reservoir of cold" to construct a geothermal cooling system for your aquaponics water.
This is really simple: you dig a trench or series of trenches (depending on the size of your installation), and run lines of type "L" copper tubing (GOOD heat exchanger but expensive, you need LESS of it), or lines of Pex tubing (cheaper, but a lot MORE of it because it's a POORER heat exchanger) in the bottom of your trench. Then you pump water through your pipe in this cool dirt, then back up through your heat exchanger in your fish tank or separate tank to cool your aquaponics system water.
Do your research first before you dig an expensive trench: dig as small as possible a hole ten feet deep, put four pieces of 1-1/2" PVC pipe in vertically, one with its bottom at 4 feet below the surface, one with its bottom at 6 feet below the surface, one at 8 feet, and one at 10 feet, with a cap glued on the bottom end of each pipe and a threaded cap on the top of each pipe. Fill the hole back up, wait a day or so for the temperature to stabilize, then put a thermometer with a 10-foot probe down each piece of PVC in the hole to check the temperature at each respective depth below ground.
This thermometer can be purchased from Aquatic EcoSystems; it's their catalog number 8040, $18, or catalog number TH99, $20.99, 877-347-4788. If you find that it's 68 degrees F 10 feet down, this does not give you much cooling power; if you find that it's 55 degrees F 6 feet down, you definitely have a valuable geothermal cooling resource! This test will give you an idea how deep you need to dig to get some cold before you commission or dig an expensive but possibly useless trench.
The copper cooling coil, with ¼-inch thick polyethylene sheet "spacers" (the white things) to hold the copper pipes the correct distance apart while being buried in the bottom of the ditch.

IMPORTANT! If your area is rock, or otherwise difficult or impossible to dig in, this trench system of geothermal cooling may not feasible. If you hit rock soon after starting to dig your test hole, you are stuck, but not completely!

You may be thinking you are limited to shading, passive hot air venting, water walls, and energy-efficient fans on your cold side as your only sources of cooling; but you haven't thought about drilling a geothermal well yet. (Covered in our next newsletter!).
An Aquaponic Solar Greenhouse with the participants in our second June 2013 course in Tennessee!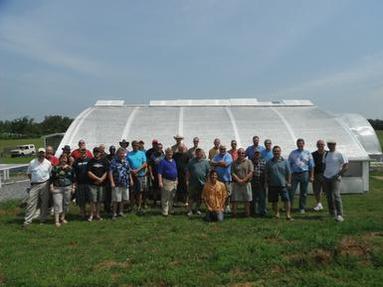 (Next newsletter in this series will cover additional methods to achieve energy-efficient cooling for the aquaponic solar greenhouse. Most important for those of you who are "lightly funded", a bit later in this series we will explain how to purchase and erect your own energy efficient greenhouse for pennies on the dollar, even if you never purchase any of our offerings! Thanks for listening!)
For smaller home backyard and apartment systems, please read on: