Aloha Friend

In today's "Nugget",
we
continue
our long awaited and oft-requested series on
"Alternate Energy For Your Aquaponics System"
. If you want to be more energy self sufficient (even if you don't have an aquaponics system yet), this information will be extremely valuable to you. You might like to read
Part 1 of this series
,
Part 2 of this series
and
Part 3 of this series
first to catch up, if you haven't yet done so.
Our "In The Farmily" column today
is about martial arts in the Farmily!
Aquaponics Nugget #134, Part 4: Alternate Energy Systems For Aquaponics

Wrapping It Up And Tying It All Together:
Remember how in Part 2 of this series, we defined that the "most important" thing about electricity is what it costs you? Well, the most important thing about an alternate energy system is also what it costs you, both in money and time to maintain and repair. Here's a look at what some common alternate energy systems cost, compared to each other, with pros and cons of each type.
When we did a "thumbnail cost comparison" of the different types of alternate energy systems available for our farm, we looked for a system that could provide a minimum of 4 kilowatts, 24 hours a day; this is about what we're using now (we normally have 15 people living on the farm plus 5,500 square feet of aquaponics system to power, plus walkin fridges, icemaker, etc).

We settled on a system that would provide a steady 10 kilowatts, 24 hours a day; or 240 kilowatthours per day; this system would be certain to provide the 4 kw we needed plus some room for expansion in the future. In Hawaii, simply purchasing this amount of electricity from the electric utility costs about $106 per day, or $38,540 per year; so this was no small system.
You can use these approximate numbers and "scale" them up or down to get an idea of what your system might cost. Example: if you need a system of 3 kw total capacity, just multiply our numbers by 30% (ours is a 10 kw system). These are the approximate costs we found for the different types of systems:
1. A grid-tied PV panel system costs $122-225,000 (depending on how you purchase or lease it, and who does the installation work; us or a professional installer). Add from 25-40% to this cost to turn this into an off-grid system.
Pros: Clean, no moving parts, longevity (usually come w/ 25-year guarantees), low maintenance (except if it's an off-grid system, then the batteries need careful maintenance to last) and somewhat of a status symbol.
Cons: Most expensive of all alternate energy systems, and the grid-tied version is totally dependent on, and cannot function without the grid. If the grid goes off, you have no power! Somewhat vulnerable to hail, completely vulnerable to tornadoes and hurricanes (can often be totally destroyed by them!).
2. A grid-tied wind generator costs $65,000 with no installation costs included (this could easily run another $20,000 for the contractor).
Again, add from 25-40% to this cost to turn this into an off-grid system.
Pros: Provides power in locations with poor sun but good wind.
Cons: No wind, no power. Too much wind, turbine blows up. In between? Noisy: whap whap whap alla time. You don't want to install them near the house because of the noise, but also because they occasionally "blow up" and come apart quite impressively, throwing shrapnel for hundreds of feet. They're the most maintenance, the most cranky, the most problem-prone alternate energy systems I've worked with (a long time ago, in another galaxy, I used to design electric wind turbines). If you want to see something impressive, look at "wind turbine disasters" on YouTube.
3. An off (or on-grid) biogas-powered diesel generator (biogas is methane, made from manure, etc.) costs around $25,000, with another $6-8,000 in installation costs from a professional (this is the system we are installing, and we will have more complete information available on it this winter).
Pros: It doesn't matter if there is no sun or no wind; you can still generate electricity. The methane is going to be generated anyway by the manure decaying out in the field, and when it makes its way up into the atmosphere, that methane has from 50 to 120 times the greenhouse effect of carbon dioxide. When you burn the methane in a diesel generator, it emits carbon dioxide, carbon monoxide, and water vapor; and the greenhouse effect from these exhaust gases is only 25% of that the original methane would have had simply by evaporating out of the cow poo in the field. Funny, that you can burn something and things get cleaner!
Cons: To generate 10 kw on a steady basis, you need to source about 2 tons of some kind of decaying organic matter per week. We'll need almost a ton a week just to make our 3 kw on a consistent basis. You need to transport the "stuff" to your biodigester from a distant location if you do not "make" it on your farm, then it needs to be ground up to as small a size as possible to make it work in the digester.

Then there's the smell. You need to have (or be) a diesel engine mechanic; you also need to put a new engine into the generator about every 5 years of running 24/7, as well as regular maintenance on the electric generator part of the unit. There is not much information about small installations such as this; most existing installations are large, and start in the $300,000 and up range.
4. Hydroelectric generators had hugely variable costs from around $3,200-18,000, depending on manufacturer and whether or not it came with a grid-tie inverter. Small hydroelectric generators are a relatively new phenomenon, and there is not as much information available about them as about PV panels and wind generators.
Pros: It is possible to source them inexpensively, especially if you are a do-it-yourselfer. Makes tons of electricity for very little maintenance and original investment.
Cons: You must be on a year-round stream (with sufficient water flow all the time) to have year-round power. If the stream stops or slows down, the power stops or slows down. Do you ever have droughts in your area? That could be a problem.
(Next newsletter series will revisit our Aquaponic Solar Greenhouse Technology, with tips on how to make your own greenhouse more efficient, even if you never purchase any of our offerings! Thanks for listening!)

(Below) Tim with part of the Hawaii Aquaponic Solar Greenhouse's alternate energy system; the PV panels are outside (in the sun, yeah!). You can see the charge controller (black box at top), the inverter (black box below that), the combiner box (upper right, where the multiple cables from the PV panels combines into a single set of larger cables leading to the charge controller), battery charge indicator (little flat black rectangle), and DC breaker panel (black box to the right of the inverter). Roll-up white plastic cover is so that all this BLACK equipment doesn't cook inside the greenhouse. See why we say: "Hire a professional!"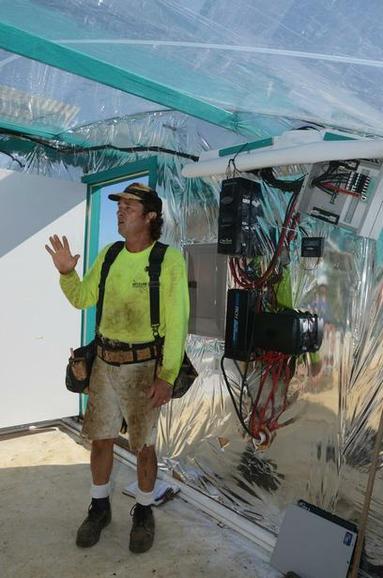 For smaller home backyard and apartment systems, please read on: