Aloha Friend,
Time to play! If life isn't fun; if it isn't played as an enjoyable game, what's the point? Yes, you get bruises sometimes. I broke two ribs "going over the falls" at Waipio Valley one day when I misjudged a wave and my surfboard attacked me. But I was out in the lineup there again the next week, listening to two other surfers talk about their recent $4,000 surf trip to Bali: "yeah, you know the waves are better in Waipio today...". They were referring to where we were sitting, waiting for the sets. I wouldn't trade that moment, broken ribs and all, for anyone elses life anywhere on the planet!
And right now, we wouldn't trade our life on the Friendly Aquaponics farm for anyone elses! We have our problems, but we're growing FOOD, which people never stop buying even when the economy's bad. We have our own food security right on the farm, and are teaching others how to grow their own food and make a living from it. We wouldn't trade for anything!
Our FIRST EVER mainland training is scheduled for March 2001! The training will be held in Florida from March 21st to March 24th, 2011.
The training will be held
at the Community Center of Ridge Manor, 34240 Cortez Blvd, Ridge Manor, Florida. Susanne Friend and Tim Mann of Friendly Aquaponics will be teaching the course with Friendly Aquaponics affiliates Tonya Penick and Gina Cavaliero, who own and operate Green Acre Organics, where the hands-on sessions will be held. These Florida affiliate trainings will be held at Green Acre Organics on a regular basis from now on.
We are ALMOST done with the Friendly Aquaponics backyard technical support forum. It is operational and I have about half of the discussions "populated", or filled with the technical information and tips the forum offers. I should have this completely done within a week or so. The basic read-only section is open to the public at NO CHARGE, and covers subjects and questions applicable to ALL aquaponics systems. We are offering an additional technical support forum geared to the needs of those doing aquaponics commercially. Users of the commercial forum will be able to post questions to us (which will be answered within three business days). The Commercial Forum will be $29.95 per month, with a discounted yearly subscription at $250.
This commercial forum provides answers specifically geared to efficient commercial production on fish and vegetable operation, system design and construction, farm design and construction, product processing, water quality, organic and food safety certifications, permits; and will be added to as users indicate areas of interest and problems they're having with their systems. It is intended to be useful to anyone doing commercial aquaponics whether you've built our systems, someone elses, or are designing your own.
If you're interested in commercial scale aquaponics, please take a look at both the
Hawaii and Florida Commercial Aquaponics Trainings
(Special Offer in right sidebar of this email), where you will learn more about real-life operation of a commercial aquaponics system than you can anywhere else in the world. For smaller home backyard and apartment systems, please read on:

Hands-on Live Micro System Trainings planned for Hawaii locations in February:
If you want to learn aquaponics easily and inexpensively, these Micro System trainings may be perfect for you. They show you how to build AND operate a stable, durable, and productive 64 OR 128 square foot backyard aquaponics system in two weekends for less than $900 (for the 64), or $1,200 (for the 128) worth of materials you can buy locally.
The training includes our standard Micro System manual and construction information ($99.95 value), plus six hours of hands-on instruction in building and operating these small affordable systems.
Anyone can build a system out of plastic barrels, but operating one successfully without good
and
easily-understood information such as included in this course and manual can be frustrating. Complete operating information, including troubleshooting, is given in the form of a "Daily O
perations Manual" where you simply use the checklist and follow the step-by-step
instructions on your way to success with aquaponics.
These LIVE Micro System trainings are now available on the Big Island of Hawaii from two Friendly Aquaponics Affiliate trainers. John and June Greenfelder are giving Micro System trainings in the Hilo/Hamakua coast area; and Alexis and Chris Smith of Coastview Aquaponics are giving Micro System trainings in the Kona area. The Hamakua training is six hours and is scheduled for Saturday February 12th from 9 to 4; the Kona training is Saturday February 19 from 4 to 5 hours long, and begins at 12:15 pm. Susanne and Tim will be co-teaching both of these trainings with our affiliates.
To register for either of these trainings, just click on the links below or sign up for the Hamakua course by calling John and June at 962-0515; or the Kona course by calling Alexis and Chris at 325-7665.
Enroll in the February 12th Hamakua Micro System course

Enroll in the February 19th Kona Micro System course

Aquaponics Nugget #25:
"If It Works, Don't Argue With It" (Part 2)
Why Do We Say That?
We often find that intelligent and experienced people decide to build/operate our aquaponics systems differently from the way our plans and manual specify: "I'm going to adapt it a little and it will work better my way". If these people were learning to use hand grenades, the situation would be self-adjusting. They call us and say "everything is dying in my system". Period, long silence. We're the experts, so we MUST know what's happening, eh?.
At first, we mistakenly assumed they all built and operated their systems
exactly
according to our plans and manual, and were perplexed as to why these systems, which always work so well and respond the same way for us, were working so poorly and responding so differently for others.
The unfortunate thing was that, rather than build a small, cheap aquaponics system to use in experiments (which everyone is given plans for in their packages), some operators tried their "good idea" out in their large commercial system. Here's an example: one operator had excellent vegetable growth in his system, but noticed fish poop floating on top of his solids settling tank. A well-meaning person advised this operator that he should add "Effective Micro Organisms", or "EM" to his system to solve this "problem", and get these "nutrients" out into the system.
The operator not only added EM to the system, he added a gallon a week for four weeks. When we were asked to visit (after the fourth addition), his plants all seemed to be dying, his pH had shot up to 7.6, nitrates were between 80-160 ppm. He had added calcium carbonate to his system to buffer pH (as our manuals specify for organic systems), and his pH had been rock-steady before adding the EM. His nitrates had been in the 10-15 ppm range (normal for an organic system) before this. His vegetables, which had been beautiful, now all looked sick or dying!
Now, it is two weeks after our last visit and we're hoping he just had a close call. The vegetables seem to not be getting worse; his system nutrients and pH have come down into a normal range for an organic aquaponic system. We were concerned that he would have to dump his system and start over, but it looks like things will be OK. Although it's too early to tell, we are hoping for a complete recovery from the vegetables, which are a long bearing fruit variety that will be expensive to replant and regrow.
We know of a commercial operator who first tried gravel-bed aquaponics in their whole system, then went to flood-and-drain gravel bed, then finally to deep-water raft aquaponics (what we use). They spent a lot of energy building and rebuilding their system three times just to be able to grow effectively. This operator had been on three of our free farm tours; we'd given them our Commercial Aquaponics Training manual and plans at no charge to help them out shortly after they finished building their system. There's no "I told you so", or blame here, we're simply reiterating how simple "If it works, don't argue with it" is.
(Next week will be Part 3 of "
Gammarus
and Organic Aquaponics Systems", including information on where to get
gammarus
and how to introduce them to your system).
Click to see our new Video!
............................................
Free Farm Tours

..............................................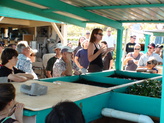 Aquaponics tour at the Friendly farm!
We hold a free farm tour on our farm the FIRST Saturday of every month, focused on growing food with aquaponics and permaculture. These tours start with a one-hour focus on aquaponics from 10-11 am, then we cover a permaculture topic from 11-12. Sample topics include: "How to grow"; bananas, sweet potatoes, taro, green onions, tomatoes, and so on. Each workshop will cover a different vegetable and include a handout with instructions covering that vegetable for you to take home.
Click here
for information. See you there!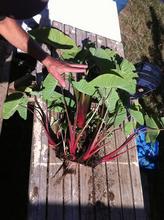 Taro grown in a 2" net pot (little bump at bottom)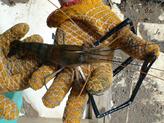 4-month old prawn (macrobrachium rosenbergii) grown in hydroponics troughs of our aquaponics systems
Special Offer!

Sign up for our April 4-7th, 2011 Hawaii Commercial Aquaponics Training OR our March 21-24th Florida Commercial Aquaponics Training now, and we will email you our Micro System package so you can begin studying aquaponics! ($99.95 value)



Sign up for Hawaii Commercial Aquaponics Training
Sign up for Florida Commercial Aquaponics Training
In
The Farmily

I've been to three Brazilian Jiu Jitsu practices since the last newsletter, and boy, am I sore! I asked my 15 year old son Victor (who's been going for over a month now) how long the soreness lasted, and he said "the first month". So I have that joy to look forward to.

In addition to lightly pulling a few muscles, I seem to have lightly broken my left big toe in sparring with a purple belt student about 20 pounds heavier than me.

Jack (9), Lucky (8), and Rose (5, almost 6), are all going to the children's afternoon BJJ class. Rose calls it "Bazilian Jiu Jitsu", and we laugh over that.

Brazilian Jiu Jitsu is one of the most effective martial arts for physical conditioning I've seen. If you are interested, google videos of "Gracie, jiu jitsu" in quotes to see some of the world's most impressive Brazilian Jiu Jitsu artists in action.

If you are interested in a martial art with less ferocious contact and little risk of physical damage, but that is still very good for mental and physical conditioning, I can't recommend Aikido highly enough.

If you are lucky enough to be in an area that has a kendo dojo, this ancient Japanese art of the sword allows practitioners to execute fully, just as if you were using a real sword, with no risk of injuring themselves or their opponents beyond an occasional bruise on the elbow.
This is difficult to do in karate, tai kwon do, or judo, where injuries can frequently occur.