Aquaponics Nugget #26:
Gammarus and Organic Aquaponics Systems (Part 3 )
Gammarus in Aquaponics Systems
In this week's Nugget, I'm going to explain our current understanding of organic aquaponic systems and their relationship to
gammarus .
To recap and bring some of you up to speed first: the first year we operated our original systems (these were an adaptation of the UVI-type systems optimized for construction and operational economy), the fine solids capture tank filled up with crud and required regular cleaning. After about 15 months of operation, we had
gammarus
(common name water flea) show up in one of the two systems on our farm, with no discernible transmission vector.
After we got over our initial scare that we had a new system pest to deal with, we noticed the net tank wasn't filling up with fish poop as fast, then noticed it wasn't getting deposits of fish poop at all! It's been two years since the first
gammarus
colonized that system, and we haven't cleaned the net tank once since!
When we first put the
gammarus
in system #2 to help them colonize it, this system's net tank had a 3-inch thick solid mat of fish poop floating on the top that you could set a coffee cup down on (AFTER you'd finished the coffee, and make SURE to wash it well afterwards!). Over the next month and a half, the mat of poop gradually disappeared; neither was there any fish poop on the nets in the tank as there always was before
gammarus
.
The net tank was full of
gammarus
, as if they had decided it was the promised land. As we seeded
gammarus
into our other systems, they took up residence throughout each system: in all the tanks, in the hydroponics troughs, and in the roots of all the vegetables. The vegetable roots seem to be much cleaner, as the
gammarus
clean crud off them almost before it is deposited; this freedom from crud would increase the root's ability to take up nutrients. But where did the fish poop go? The
gammarus
didn't magically transport it to another dimension.
There's another as-yet-unexplained phenomenon in our organic aquaponics systems that we think may be attributable to the presence of the
gammarus:
the fact that our pH is ALWAYS rock-steady within 0.2 or so of 7.0, has been for over two years, and hasn't had ANY adjusting in that time. I'll restate that, because it's completely impossible by what everyone else teaches about aquaponics: we've added NO pH adjusters to ANY of our aquaponics systems in over two years and our pH is stable at 7.0..
We needed a hypothesis explaining both these things: where the fish poop disappeared to; and why the pH is so rock-steady. What we KNOW is this: the
gammarus
came and the fish poop disappeared. We added calcium carbonate to each system to buffer the pH every four to six months before the
gammarus
appeared. We are still feeding the fish the same amounts of food, so they MUST be pooping the same amount of poop.
We think the
gammarus
are breaking down the fish poop at such a microscopic scale that it passes out into the systems and is stored there in some sort of "buffering" arrangement. We think the nutrients are there, but in a form that doesn't show up with conventional ammonia/nitrite/nitrate tests. There hasn't been a rise in ammonia or nitrite/nitrate levels as one would expect if the
gammarus
were simply breaking the crud from the net tank up and it was going out into the troughs to decompose. There was so much poop in the net tank that we formerly needed to clean it every couple of weeks.
Calculations indicate that we may have a total biomass of 120 to 200 kg of
gammarus
in our systems. There's a lot of calcium in these little guy's shells (calcium carbonate, remember?), and we think that somehow the calcium carbonate we added to buffer the systems pH has ended up in the
gammarus
shells. The
gammarus
recycle calcium endlessly as they die and their decomposing shells liberate calcium back to the system. This STILL doesn't explain why we don't need to add additional calcium. Vegetables take calcium out of the system when you harvest them; it's been two years now, and the vegetables aren't showing ANY calcium deficiencies and the pH is rock-steady right around 7.0. What gives?
The only way to definitively understand what's going on is to address these questions with experiments that collect data about these systems at a molecular level; so we can understand where the various components of the fish food and the calcium carbonate we add to the systems end up. There may be several "waypoints", because any single mineral, compound, or element may appear in the system at multiple different points depending on what process it is involved in during its travels to its final disposition in the system.
If we had $80-125,000 for operating expenses, salaries, spectrometers and other laboratory equipment, we could design a useful experiment that would measure and quantify the chemical and molecular processes occurring in these systems so we understood their workings better.
If you like the idea of having
gammarus
in your aquaponics system, the easiest way to get them is to find someone with an aquaponics system who has them already and bring a few home with you in a bucket. If you don't know someone like this, you have to go hunt the
gammarus
in the wild.
Here's what you want to look for:
gammarus
need well-oxygenated water, which generally means moving water, because moving water usually contains more dissolved oxygen than stationary or stagnant water. So, find a stream, or a location where a stream feeds into a lake or pond. Turn over rocks and logs if you can find them, and look underneath them, and under any mats of vegetation (especially decaying vegetation) that you find. You will need a small net with small mesh like window screen or smaller to scoop them up with, and a bucket of water to carry them home in. If it's a long trip to home from the lake, you will need a little battery-powered bait bucket aerator to bubble the water, because these little people need lots of oxygen!
Here's a line drawing to show you what to look for: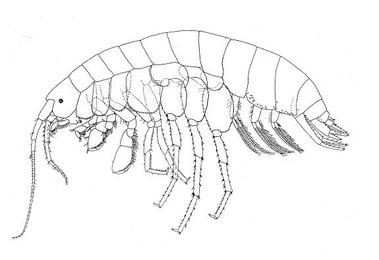 They can get up to 20 mm (3/4 inch) in length but adults usually average about 15 mm (1/2 inch) in length. Ours seem to be about 7mm (1/4 inch) maximum size, with most of them about 5/32 of an inch to 3/16 of an inch long.
(Next week: "
Gammarus
and Organic Aquaponics Systems" Part 4, with information on what an organic aquaponic system is and how they work).