Aloha Friend,
Our DIY Aquaponic Solar Greenhouse package is ready to go!
Those of you who haven't followed the development and construction of our Solar Greenhouse and our
back newsletters #'s 60 through 72
(together comprising "A Primer On Energy-Efficient Greenhouses") may be asking yourselves: "What's a Solar Greenhouse?". Here it is:
Our Solar Greenhouses are the most energy-efficient designs on the planet for difficult weather conditions and year-round growing. They use passive solar heating in the wintertime, plus insulation, to keep warm; and use passive hot air venting, geothermal cooling, and evaporative coolers in the summertime to keep cool. There are cheaper greenhouses, but they won't handle difficult conditions without using up a lot of expensive energy. You pay for the greenhouse once, but you pay for the energy forever.

We have two series: the "Farmer's Market Greenhouse" series, with greenhouses of 550, 1,100, and 1,650 square feet in size; and the "Micro Greenhouse" series, with greenhouses of 192, 288, and 384 square feet in size.

These are second generation Aquaponic Solar Greenhouses which incorporate all the improvements we learned from our first ASG, and come complete with aquaponics system construction and operating information so you don't have to purchase separate aquaponics system manuals and courses.

The

Farmer's Market

DIY Solar Greenhouse course is shipping now, and I'm working like mad now to finish the

Micro Greenhouse

DIY drawings; because I've promised that will be ready on July 25th.
Both of these DIY courses include free ongoing email support for student's questions while building and operating, from Susanne and Tim.
You may think: "But I'm not a builder. I'm just going to buy a greenhouse and an aquaponics kit from someone, then I won't have to build anything".

Even if you buy a kit greenhouse and a kit aquaponics system, you still have to build the greenhouse and assemble the aquaponics system. Surprise! (this part of it is just like our DIY packages; there are no self-erecting greenhouses and self-assembling aquaponics systems available that we know of).

The sad part of this is that you will have paid two to four times as much for the common materials bundled into their package as if you bought our DIY instruction and plans package and purchased the materials yourself. According to data published in their courses and on their websites, their technology holds one-third or less the plants ours does in twice the greenhouse space! Does that make sense to anyone? Making an intelligent comparison before you buy can save you a lot of grief in years to come.

Whose "Commercial Aquaponics Training" To Take?

We've
operated a commercial aquaponics farm for five years.
We've been USDA organically certified for four years, and were the first in the world to achieve this certification (we also teach you how to get certified).
Our
students are profitable, and we can give you contact information for them so you can confirm this for yourself.



One

of our students built and is running what we think may be the largest aquaponics operation in the world: 34,000 square feet of greeenhouse space.



We're

willing to share our financial data: it and our business plans are included in our courses.



We will

help you be successful in the world of commercial aquaponic food production.


If you're interested in earning a living from aquaponics, we have three trainings scheduled in the balance of 2012:
Training 1: In Hawaii August 26-28, and August 30th- September 1st. Our Aquaponics Technology Training, plus the Solar Greenhouse Training, plus the Commercial Aquaponics Training. Attend one or more trainings to suit your needs. More information on those trainings on our webpage here.

Training 2: In Tennesee, the same six days of training from September 16-18, and 20-22nd at Randy and Katy Campbell's farm, Ellibell Farm, in Elora, Tennesee. You can sign up now for these trainings on our webpage here. You can also call Randy directly at 256-679-9488, or email Randy for information.

Training 3: The same six days of training, October 21-23, and 25-27th in Hawaii.

In Today's Newsletter:


We have part 2 of a good article on biosecurity, with our latest experiences and advice in this area, for our Aquaponics "Nugget" #83.
If you're interested in our Solar Greenhouse technology,
please take a look at our
Aquaponic Solar Greenhouse Training
(Special Offer in right sidebar of this email), where you will learn more about how to grow affordably using aquaponics in greenhouses than you can anywhere else in the world. The next training is in Hawaii in August 2012 and in Tennessee in September 2012. For smaller home backyard and apartment systems, please read on:

Purchase Construction Plans and Operating Info for 4 Different Sizes of Apartment/Condo Aquaponics Systems $49.95
Our Apartment/Condo System package includes new and easy-to-understand building instructions and complete operating information for 4 different sizes of small aquaponic systems based on our years of experience operating a commercial aquaponics farm. Anyone can build a system out of plastic barrels or IBC totes, but operating one successfully without good
and
easily-understood information can be frustrating. You simply use the "Daily O
perations Checklist" in the manual and follow the step-by-step
instructions on your way to success. We also cover how to make aquaponics systems out of weird things like old refrigerators and door frames; this makes aquaponics
much more
economical to get started in!
We spent hundreds of thousands of dollars, hundreds of hours, and built our first commercial aquaponics systems with FAR less information than this manual contains. We included all the information learned from that experience in this manual so you don't need to make any of the same mistakes we did.

Aquaponics Nugget #83, Part 2: Biosecurity Update: Snails, More Snails, And Catfish
As we mentioned last week, we now have two types of aquatic snails in our aquaponics troughs. The first is a round snail up to a half inch in diameter; and it showed up about a year and a half ago. The second is a snail with a pointed shell, it showed up about six months ago.
Today, we'll talk about the methods we found to
control
and minimize these snails in our systems. They're
natural, relatively easy to use, and have given us an additional system income item.
Fortunately the snails were not the type that fed on our vegetable roots, and were also not vectors for any human diseases. This left us annoyed, however, we realized that our produce and our livelihoods were not threatened by the snails. As an experiment, we tried to get rid of the snails with standard organic sterilization procedures:
we tried sterilizing systems by dumping water, drying out the troughs, then spraying hydrogen peroxide solution in high concentration on the snail eggs and snails until they were all dead, then drying out the troughs in the hot sun for a couple of days before refilling.
We were finally able to rid one of our 64-square-foot Micro Systems of snails after three tries (we kept trying, because we needed to see if it even
could
be done!) but spending this much time and effort on the additional thousands of square feet of aquaponics systems that comprise our farm was out of the question; it was financially unfeasible.
So, we put on our "systems thinking"
caps and started considering how to control or eliminate the snails using our understanding of the aquatic ecosystem that exists inside our aquaponic systems. A chemical or mineral? We realized that the chances of finding a chemical or mineral that

only

affected the snails and did not kill or damage anything else in the system was slight, especially since anything we considered also had to be non-toxic to our fish as well as organically certifiable. We didn't even find any reasonable candidates for this.



How about something to eat the snails or the snail eggs (or both!), but did not interfere with the system in any other way? We'd noticed that there were never any snails inside our fish tanks, and that gave us an idea. We harvested all the vegetables out of one of the troughs in a system that was infested with snails, and put in eight tilapia about six inches long. On purpose, we did

not

feed these tilapia anything. After two weeks, we checked back, and the snails were gone!

This was a good start, but the problem was that although it was easy to put the tilapia

into

the trough, it took a fair amount of labor to get the darn tilapia back

out

. Also, tilapia eat the plant roots, so we had to keep the trough out of our normal planting rotation for two weeks while the snails were controlled; this cost us in lost productivity. So we kept looking for a better solution.

Luckily, Susanne had this idea that catfish might eat the snails. She bought 100 catfish from a local catfish farmer, put them in a spare fish tank we had, and set up two experiments before she turned them loose in the troughs: in one experiment she put six catfish and about 200 snails in a 40-gallon tank with an airstone; she didn't feed these catfish anything. In another experiment, she put four catfish into a 5-gallon bucket with an airstone and a single aquaponic lettuce plant floating in a small raft on top of the water;
she also fed these catfish nothing
.

After two weeks, the catfish in the 40-gallon tank had eaten all but about 15 of the snails, and they were fat and noticeably larger than when the experiment started; the catfish in the 5-gallon bucket were about the same, except the roots of the lettuce plant hadn't been touched, in spite of the fact that it was the only conceivable thing in that bucket for the catfish to eat.

Our conclusion was that it would be safe to put the catfish into our troughs to control the snails, and that's what we've done, subject to the local availability of catfish (we're not breeding them ourselves yet; that will be another newsletter). We did find one slight problem with introducing the catfish to the troughs: they jump out. This tends to ruin the catfish, so we solved this by lowering the height of the water in the troughs by 2 inches.

According to our local catfish expert, Jerome Sasaki, who has been breeding and raising catfish for many years, if we keep the water level in the troughs low until the catfish get used to it and realize they can't jump out, they will stop trying. At that point (he guesses about a month), the water level can be raised back to normal, and the catfish will stay in the trough. At some point, the catfish will be harvestable size, and we simply drag a size-grading harvester through the trough after we harvest the vegetables from the trough and remove the rafts.

We will be monitoring the catfish in our system troughs on an ongoing basis. One thing we're curious about is if they will breed without intervention. One thing we're sure of: we now have a new

income item

on our farm that we don't have to buy any food for; the catfish from our troughs.
The photo below is our Solar Greenhouse. It's cool when it's hot, and warm when it's cold (hope that makes sense to you, it's the best greenhouse we've ever seen!)
.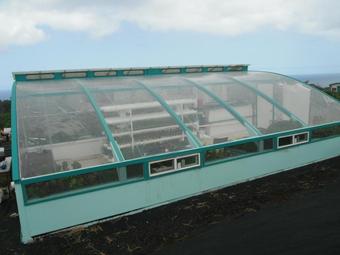 Friendly Aquaponic's FIRST Aquaponic Solar Greenhouse in full bloom, Honoka'a, Hawaii, March 2012, (on a grey rainy day) showing PV panels, and growing plants.
Next week: Something interesting and valuable to know about aquaponics. Thanks for listening!
Click Here To See Our New Aquaponics Video!
.......................................................
Back Issues Of Newsletters Now Available, Click Here!
.............................................


Purchase Trough Liner Directly From Manufacturer!

Free Farm Tours

..............................................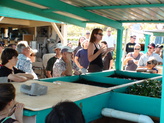 Aquaponics tour at the Friendly farm!
We hold a free workshop on our farm the FIRST Saturday of every month, focused on growing food with aquaponics and permaculture.
Click here
for information. See you there!
If you are a school, a non-profit organization, an organization working with the poor, Native Hawaiians, or ex-inmates, or if you are a church, we will hold a free farm tour for you anytime. You DO need to email us first to schedule, or we might be out on errands!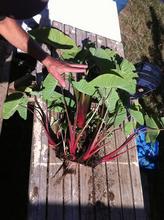 3-1/2 pound kalo (taro root) grown in a 2" net pot (little bump at bottom)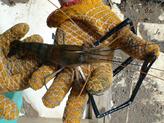 4-month old prawn (macrobrachium rosenbergii) grown in hydroponics troughs of our aquaponics systems
Special Offer!

Sign up for our HAWAII August 30-31st
Aquaponic Solar Greenhouse Training

or our


HAWAII August 26-28 Aquaponics Technology Training

,

or our
TENNESSEE September 20-21
Aquaponic Solar Greenhouse Training

or our


TENNESSEE September 16-18th Aquaponics Technology Training

,
and receive a free Micro System DIY package so you can begin studying aquaponics! ($99.95 value)
More Information on Hawaii Aquaponic Solar Greenhouse Training
"In The Farmily"

Aloha All!

In this week's "In The Farmily"Column, I'd like to introduce you to one of the most wonderful, grounded, literal, REAL people I've ever met. Our oh-so-recently (July 2nd) turned 17-year-old son, Victor.
It was Tim's idea to make this column about Victor. As much as I adore him, it had not occurred to me to introduce him in our newsletter...perhaps I am too close to him to see the magnificence of him, that I am honored to now share. He left home at the age of 16, and just turned 17 (the first birthday I did not get to spend with him!), while fishing off Kodiak Island, in Alaska.
Victor left on 5/26/12, surrounded by his best friends, who descended en masse to see him off.
The photo below shows him being lifted (all 6'2", 220 pounds!) to the ceiling of our kitchen by his wonderful friends, at his going away party the night before. Most of these kids have worked here on the farm for several years, spent the night here dozens of times, and we consider them all part of the "Farmily!"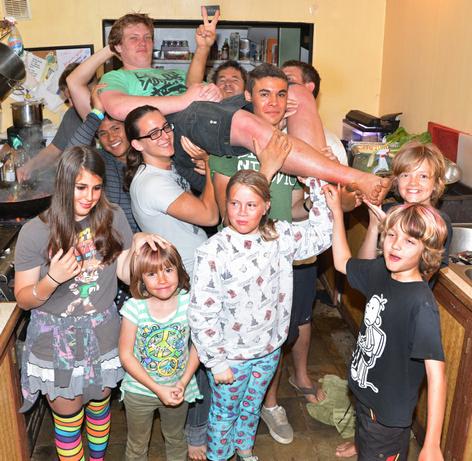 Below is Victor at the airport, surrounded by and almost smothered by his friends, in a last minute group bear hug. That's him, up at the very top of the photo, gasping for a breath. What you can't see are all the other people on the back side of this massive pile of kids!
Victor left to fish for the four-month summer season on a good friend's (and fellow aquaponicist's) boat. I spent two years finagling to get Victor on our friend's boat, never fully understanding the conditions up there. Victor has discovered the life in the Great White North is harder than we expected, but for some rather unexpected reasons. Below he is standing to the right of the "Kaiwik", which is as I understand, is Alutiq for "wife"....says a lot, doesn't it? She's a 48'. 33,000 pound capacity working vessel, and Victor is lucky to get a chance to work on her for a season!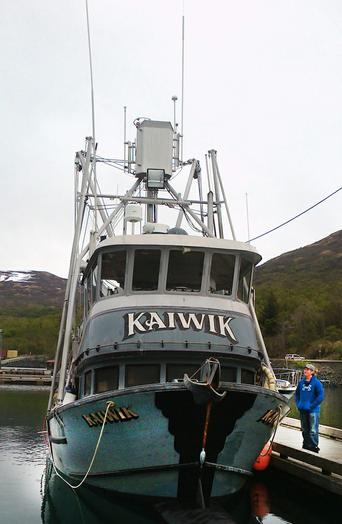 Turns out that daily life on a fishing vessel in Alaska is REALLY different than his life here in Hawaii. And NOTHING I could have done would have prepared Victor for the challenges beginning the moment they set sail, aside, perhaps, from sending him to public school in Hawaii.
Hazing is the proper term for what he has endured, and it's how every "greenhorn" is treated for at least the first part of their first season. Victor is willing and able to endure it. He tells me "Mom, it's unpleasant, but I can handle it." I think it's the way they filter out the ones who aren't tough enough to endure the harsh conditions up there, in an age-old tradition. And he's done well enough in his first month that he says things are getting a lot better. It's been a big challenge for a home-schooled kid.
The work is not as hard as he expected, nor is the cold, grey weather, though he finds it deeply depressing. He realizes that this is growing up, in all it's grit and glory, and that nothing worthwhile in life is easy. And the really good news is, he's going to come home with a far deeper appreciation for how wonderful his life is in Hawaii, with warm, sunny days!
I love you, Victor. You are my Hero.
**Mom**