Aloha Friend,
Today we wrap up our series on our Verticalis system! A year ago, we developed a vertical growing system that holds up to 80 plants per square foot of greenhouse space, that can be built by amateurs from common, readily-available materials.

This is the Verticalis, and it will revolutionize growing in greenhouses and inside warehouses in the city, especially when artificial lighting is used. If you missed the first newsletters that described the Verticalis, here's Number One, here's Number Two, (with photos) and here's Number Three, also with photos.
Our "In The Farmily" column today tells you how to buy a $5,000 washing machine (not!). It's really a tool that will give you a sense of how to find accurate information about aquaponics (I read it on the internet, it must be true!).

We will continue our two complementary regular columns on Thursday of this week (they are covering why the combination of aquaponics and energy-efficient greenhouses is an excellent solution to many of the worlds problems today), but will finish covering the Verticalis information first, so you can benefit from it (down below the turquoise band in the middle of the newsletter).

One-day New York Benefit Training: Saturday, June 8th: TableTop and Backyard Systems (this is a BENEFIT, by donation). Registration is open NOW! Click here to go to our "New York Trainings" page to register for this one-day benefit training. Cost: $100

New York Training; June 10-14 (Monday thru Friday) , the 5-day Commercial Aquaponics and Energy Efficient Greenhouse Training, $1,495 per person (this special $1,000 off discount only applies until April 25th).
Click here to register for the New York Training!

Click here to find out more about the New York Training!

Tennessee Commercial Aquaponics and Energy Efficient Greenhouse Training, $1,495 per person (this special $1,000 off discount only applies until April 15th). First 5-day training: June 17-21st (register here for first Tennessee training). . Second 5-day training: June 24-28th (register here for Tennessee second training).

(Click here for more information on Tennessee trainings).

These five-day trainings allow you to travel during the weekend so that you only need to take a week off your busy life to attend.
All of these five-day trainings include
our $999 DIY Commercial Aquaponics package, $998 DIY Farmer's Market Aquaponic Solar Greenhouse package, $1,998 DIY Commercial Aquaponic Solar Greenhouse package, and new $295 DIY Commercial Tilapia Hatchery manual as course materials, plus our Plywood/Epoxy/ Tank manual, CAD construction drawings for all greenhouses and aquaponics systems, and much more!
If you're located near Tennessee
, Randy and Katie give regular free farm tours of their aquaponics systems and greenhouses to introduce the public to the benefits of aquaponics and energy-efficient greenhouse growing.
Call Randy and Katie at 256-679-9488
or
email Randy
to find out when the next farm tour is scheduled.
More details of the Aquaponics Technology course here.
More details of the Aquaponic Solar Greenhouse course here.
More details of the Commercial Aquaponics course here.
For smaller home backyard and apartment systems, please read on:

!
Purchase Construction Plans and Operating Info for 4 Different Sizes of Table Top Aquaponics Systems $49.95
Our TableTop System package includes easy-to-understand building instructions and operating information for 4 different sizes of small aquaponic systems based on our years of experience. Anyone can build a system out of plastic barrels or IBC totes, but operating one successfully without good
and
easily-understood information can be frustrating. You simply use the "Daily O
perations Checklist" in the manual and follow the step-by-step
instructions on your way to success. We also cover how to make aquaponics systems out of weird things like old refrigerators and door frames; this makes aquaponics
much more
economical to get started in, and fun too!
We spent hundreds of thousands of dollars, hundreds of hours, and built our first commercial aquaponics systems with FAR less information than this manual contains. We included all the information learned from that experience in this manual so you don't need to make any of the same mistakes we did.

The Amicus Verticalis, Or Friendly Verticals, Part 4:
4. Lighting The Verticalis
The Verticalis can be lit using either natural or artificial light. As you can see in the photo below, if you use natural light (sunlight) with your Verticali, and you imagine several Verticali stacked side by side, the ones on the outside will block the sunlight to the ones on the inside. Thus, you need to separate the Verticali by three or more feet in order for the sunlight to adequately reach the inner plants.
Wait, wait! You said three or more feet apart; don't you have an absolute number for this? No, we don't, and it's not even possible. This is because the available sunlight in your location is not an absolute number; it varies from season to season, and even from day to day. How far apart you station your naturally lit Verticali will be based on your experience growing with them in your location.
For growing indoors, or to provide supplemental artificial lighting in locations where there isn't sufficient natural light for good growth, the Verticalis is designed with energy efficient T8 flourescent lighting that is incorporated into its support structure.

In this one-layer, five-rack Verticalis (see photo below), you can just barely see two T8's between two of the Verticalis pipes in the rectangle in the photo. An enlargement of this "rectangle" follows, so you can see what's happening better.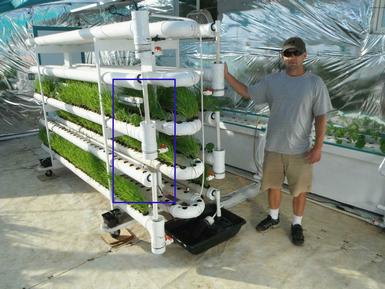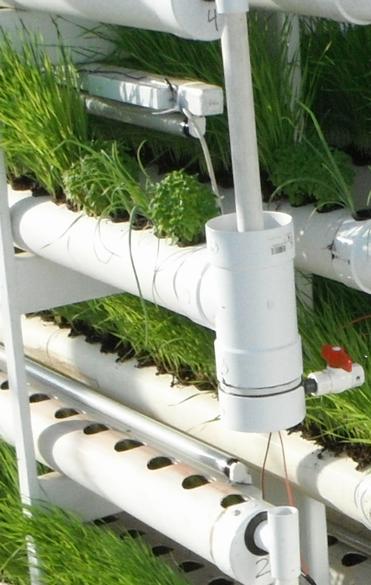 You can see two T8's in this enlargement of the rectangle: the lower one, which is mounted on top of one of the 2X4 crosspieces; and the upper one, which is mounted below one of the 2X4 crosspieces. You can see how both of these locations will shine light on the plants to each side, as well as the plants above and the plants below to either side. This way, the light is much more efficient, because it gets used by plants all around the bulb instead of a single "layer" of plants that are only located below the bulb, as in conventional artificial lighting scenarios. We like the "upper" location better; we feel it gets more light to the plants.
5. What's Not Completely Right With The Verticalis:
The Verticalis was terrific at first: Plants grew fast, were healthy, and we got several crops through it before we started seeing some drawbacks. We're presenting the Verticalis to you in the current form and noting these drawbacks, so you can suggest and try out modifications to overcome them.
Drawback #1: After we'd been using the Verticalis about 3 months, we noticed green algae growing on the inside of the PVC piping used for the racks. There was also a lot more algae in the water passing through the Verticalis, as some of this algae growing inside the pipes seemed to be sloughing off into the water. This passing algae (which didn't even exist for the first few months of operation) got caught on the roots of the plants; the plants, now having their roots clogged with this algae, grew less well and more slowly.
Here's what happened: the thin, white PVC tubing let enough light through that the algae in the system water had light to grow on. Normally, there is very little light in aquaponic system water, since the rafts cover the troughs and there is a shade cover over the fish tank to prevent just this phenomenon from occurring. This thin PVC let light in, and although it took several months for the algae to grow on the inside of the pipes to the point where there was excess algae, it did grow, and there was enough "excess" that it was sloughing off into the passing water, and clogging the roots of the plants.

There's a real easy fix: paint the PVC black, then white again (so it doesn't get too hot in summer), and you're good. The problem with this "fix" is that new PVC pipe is glossy and paint doesn't stick to it; also, there is going to be a lot of labor in two (or more, one coat of each may not be enough!) coats of paint on the outside of the piping. So, if you come up with a fix, your "fix" needs to work, and also be cheap, easy, and labor-efficient to deploy, in order to really solve this problem.
Drawback #2: We didn't notice this one until we tried a plant species that was fast-growing, and most important, had huge root masses after only a couple months of growth! The root mass filled the pipe; and the clogged pipe then overflowed down the side and onto the ground. The problem occurred because the plant is one we harvest using the cut-and-come-again method, which means that the roots will stay in the pipe forever. So this plant is either not a good candidate for the Verticalis, or we need to use 6-inch or larger piping (we used 4-inch thin wall drainpipe white Schedule 40 PVC).

Thanks for listening! Our next newsletter will resume our series on why we think the game's over for "Big Ag", and just beginning for the small diversified farmer.
The photo below is our Second Generation Solar Greenhouse, at ten in the morning in the Tennessee winter. It's growing plants inside right now, and you have to take your jacket off because it's so warm! It's cool when it's hot, and warm when it's cold (hope that makes sense to you, it's the best greenhouse we've ever seen!).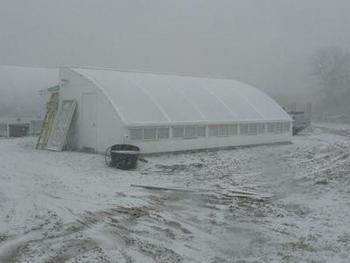 Watch The Friendly Aquaponics Intro Video!
.......................................................
Back Issues Of Newsletters Now Available, Click Here!
.............................................
Purchase Trough Liner Directly From Manufacturer!
New Source! Trout Fry/Fingerlings Shipped Directly From the Hatchery To You!
Free Farm Tours
..............................................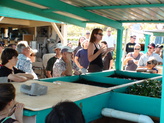 Aquaponics tour at the Friendly farm!
We hold a free workshop on our farm the FIRST Saturday of every month at 10:00, focused on growing food with aquaponics and permaculture.
Click here
for information. See you there!
If you are a school, a non-profit organization, an organization working with the poor, Native Hawaiians, or ex-inmates, or if you are a church, we will hold a free farm tour for you anytime. You DO need to email us first to schedule, or we might be out on errands!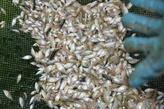 Thousands of inch-long "fifty-cent" baby tilapia from our "backyard" hatchery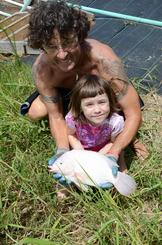 What they turn into about a year later: a beautiful 2-pound white tilapia grown in the fish tanks of our aquaponics systems
Sign up for New York!



Sign up for the New York June 10-14th, 2013 Commercial

Aquaponics and Solar Greenhouse Training

NOW, and get a $1,000 discount, plus you receive a free Micro System DIY package so you can begin studying aquaponics! ($99.95 value)


ORSign yourself up for the FIRST

Or sign yourself up for the SECOND


TENNESSEE June 2013 Commercial

Aquaponics and Solar Greenhouse Training

s

NOW, and get a $1,000 discount, plus you receive a free Micro System DIY package so you can begin studying aquaponics! ($99.95 value)



The $5,000 Washing Machine:
There's so much information out there on aquaponics that it can be daunting to sort out the useful and good information from the nonsense.

We know you know how to do your due diligence. But to help you, we've constructed a "ruler" which you can use to "measure" aquaponics information with:

This what someone finds when looking for aquaponic knowledge now:
1. There's a $5,000 washing machine for sale; it's cold-water only, and has a hand-wringer to get the clothes partially dry before hanging them out on the line. But it's a washing machine!

It's way better than banging those clothes on a rock down by the creek and wringing them out by hand, isn't it?

This is how "aquaponics consultants", "kit sellers", and other shysters make their livings. People just haven't realized yet that something better is available.

2. But wait! Right across the street (if you'd thought to look) is a washing machine store that offers $500 washing machines with hot, warm, and cold water wash and rinse; that have five different wash modes for delicates, normal, dirty, etc; and a spin cycle that gets the clothes almost dry enough to wear!

The best thing about this washing machine is that you can build it yourself using a $50 DIY manual and $450 worth of parts you can buy at Home Depot or Lowe's. This is the Friendly Aquaponics washing machine.
The reason people get away with selling all kinds of poop as "aquaponics systems" or even as "commercial aquaponics" is that there isn't a generally competent level of knowledge about aquaponics in our society as there is about washing machines.

No one would buy a $5,000 washing machine, but people who don't know any better routinely buy $5,000 aquaponics systems all the time, when they could have built them themselves for $500.
As the general level of knowledge about aquaponics increases in our society to the point where people know about aquaponics the way they know about washing machines now, the shysters will be able to sell less and less of their poop, because people will be able to see it for what it is.
Susanne and I both broke out laughing the other day when someone sent us a link about a "competitor" who is selling mosquito fish at 15 for $50! They were also selling tilapia fingerlings at 15 for $50!

Susanne read this to me, and we both cracked up! We sell tilapia fingerlings for $1 each when someone buys 50 or less (because of the labor involved), and in quantities over 50, sell them for fifty cents each!

You know what really made us laugh? When anyone buys tilapia fingerlings from us, we give them a couple hundred mosquito fish at no extra charge! That's so funny: $50 for mosquito fish that you can go catch yourself down at the creek!

So, learn all you can about aquaponics. Teach it to your friends, community, and your kid's class at their school; as you spread the word, you'll be creating the day when aquaponics is commonplace, and the shysters are all history!

Aloha, Tim.....