Aloha Friend,
In today's "Nugget",
we profile our Tennessee commercial aquaponics affiliate, Randy Campbell.
(Editor's note: this is all in Randy's own words. I have added some definitions and clarifications to help out those readers who don't know Randy and Katie as well as I do. Any errors are mine, Tim......)


Our "In The Farmily" column today
is another little sea story by Tim.
(By Randy:) Hey Tim,
As they say... "The hurrier I go the behinder I get!" It seems as if I get one thing off my list and 2 others are taking its place. I'm excited though because that means spring is just about here and I will eventually get caught up.
Anyway, about the newsletter, I'm fine with it and I enclosed a few pics of the greenhouses. I really don't have the capability of sending many more because of our Internet issues. But if you think of a specific one let me know and I'll try to send it. I trust that what ever you write will be fine.

Randy and Katie's Chinese-style Aquaponic Solar Greenhouse in Tennessee in the February snow, 2013.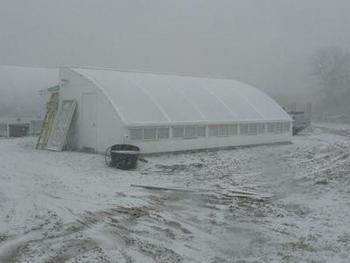 I'll share my brief story with my convictions and let you work your magic from there. I strongly believe what my wife taught me... "the quality of your life is directly related to the quality of your food." I have known, since the day I stumbled across aquaponics 7 years ago, that I would learn it, apply it and help to perpetuate it. As a 20-year-plus organic Gardener and Master Gardener, I immediately recognized the many benefits that aquaponics has over in-ground growing. So the future of our farm was firmly set.
Randy and Tim showing attendees at the Aquaponic Solar Greenhouse Training how easy it is to use a DO (dissolved oxygen) meter to measure oxygen levels in the vegetable troughs.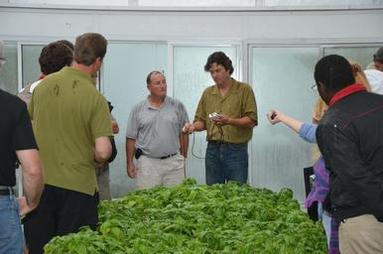 As we began our journey into learning aquaponics we quickly realized that if properly applied, it has the capability of solving the "quality food" issue that challenged us personally and haunts our country. Back in the dark ages, 7 years ago, there was little awareness and limited resources to turn to for educational input.
I searched and found S&S Solutions out of Missouri and UVI (the University of the Virgin Islands aquaponics program). With my wife's illness I could not, both from a time and financial aspect get to the UVI training. (Editor's note: Randy, Bobby (Randy's wife and Katie's Mom) and their daughter Katie valiantly fought Bobby's cancer together for seven years while it was in Stage 4. Stage 4 means the cancer has metastasized, requires drastic treatment, and usually has a poor prognosis; so this part of their "journey" was pretty miraculous. Bobby passed away in May of 2012, and Randy and Katie are still recovering from that loss).
Fortunately S&S (Tom and Paula Speraneo of S&S AquaSystems) offered a DIY course. I became a student of the game, applying what I was learning with a relentless search for more information. I was hooked to say the least! For the next several years I researched aquaponics and cancer. I continued to apply what I was learning in the limited time I had available.
When they came on the scene, I purchased everything written that Nelson Pade would sell. I would speak with Joel (Backyard Aquaponics) and take his course. I watched when Murray entered the picture and I applied his videos and training. When Friendly Aquaponics entered the picture, I began taking their DIY courses and ultimately took them all. I continued to apply what I was learning while balancing (not really balancing, more like juggling) my wife's care and a full time business.
I begin to see what I thought was a hobby and maybe a part time income producer quickly turning into a business for many. I watched some people in the game (who were acting like predators) pounce to make a quick profit off of the growing interest in aquaponics with books and expensive systems. I watched Will Allen create national awareness with his community supported operation.
I knew that I needed to be significantly more involved and that I could not remain on the sidelines any longer. I took a big step back and methodically reviewed every encounter that I had throughout my aquaponic educational journey. Finally, 2 years ago, as I carefully reviewed this input (from the past 5 years) from all of the sources, I concluded that the "Friendly Way" was the best way.

Not only from functional, efficient, scalable, profitable system building, also from a personal standpoint. I learned that Tim and Susanne actually provide everything they know to everyone they train every time. No strings, no up sale later, and complete ongoing support with any problems at no additional cost.

Tim drinking water from one of Randy and Katie's aquaponics systems (I've been doing this regularly for six years; it's the reason I absolutely know the food from these systems is safe and healthy).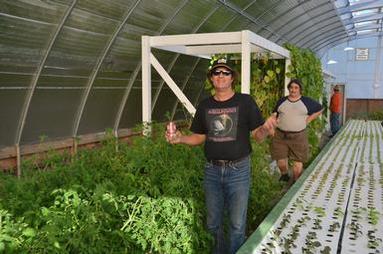 I felt like I could choose any of them to be affiliated with. Heck, I was raised by all of them. I wanted to share our passions to perpetuate this growing method, and after discussing this with Tim and Susanne, they agreed and here I am.
Take Care and give a hello to everyone from Katie and I.
***Randy***
For smaller home backyard and apartment systems, please read on: