Aloha Friend,
Today we'll talk about "the farmer's shadow". This is a simple concept that makes the difference between success and failure on a farm, and is the
only
thing we know of that makes it possible to do profitable commercial aquaponics.
We got such
a positive response to the September 6-day aquaponics and solar greenhouse training in Tennessee, we've already scheduled the next Tennessee training for January 20th to the 26th in 2013, at Randy and Katie Campbell's "Today's Green Acres", in Elora, Tennessee.
The hands-on parts of the course were everyone's hands-down favorite, so we added a whole day to the January course to include hands-on construction of small aquaponics systems by all the attendees. Here's the day by day description of the course, which is now seven days long:

1. The four days of the Aquaponics Technology training is everything we know about the techniques and methods of growing with aquaponics. Each day has hands-on segments. In addition, you will spend all of Day Four building several 12-square-foot TableTop Systems from scratch (under our expert eyes, of course). More details of the Aquaponics Technology course here.
2. You can take one of these 12-square-foot TableTop systems home, assemble it there, and begin growing with aquaponics immediately, even in the middle of winter! The cost of this kit is only $450; much smaller "kits" from others start at $1,295 and go up from there, not including shipping. This is a complete kit, with fish tank, water and air pumps, airstones and airstone tubing, growing troughs, prepainted rafts, pots, potting mixture, seeds, bacterial inoculant, and mini water test kit; all you provide is the water and the seeds! You have to pay for your kit when you register, or we cannot guarantee having enough available!

3. The two-day Aquaponic Solar Greenhouse course is everything we know about energy-efficient greenhouses, including information and complete CAD plans showing how to build a Chinese-style aquaponic solar greenhouse; along how to convert existing greenhouses to be as energy-efficient as possible. We even show you how to purchase and erect a good used greenhouse for ten cents on the dollar! More details of the Aquaponic Solar Greenhouse course here.

4. The one-day Commercial Aquaponics Training is everything we know about the various ways of making money with aquaponics, from CSA's to Costco, from wholesale to retail, from selling simple produce to producing value-added products, including Food Safety Certification and Organic Certification. More details of the Commercial Aquaponics course here.


To introduce this expanded training, we're making a "super-saver" offer of $1,000 off the regular cost of the Tennessee Training (this is only $1,495 for all 7 days instead of $2,495). Watch this three minute video and you will be able to sign up at the super-saver rate.
Click Here To Find Out More About The January 2013 Tennessee Training, And Get A $1,000 Discount!
For smaller home backyard and apartment systems, please read on:


Purchase Construction Plans and Operating Info for 4 Different Sizes of Table Top Aquaponics Systems $49.95
Our TableTop System package includes easy-to-understand building instructions and operating information for 4 different sizes of small aquaponic systems based on our years of experience. Anyone can build a system out of plastic barrels or IBC totes, but operating one successfully without good
and
easily-understood information can be frustrating. You simply use the "Daily O
perations Checklist" in the manual and follow the step-by-step
instructions on your way to success. We also cover how to make aquaponics systems out of weird things like old refrigerators and door frames; this makes aquaponics
much more
economical to get started in, and fun too!
We spent hundreds of thousands of dollars, hundreds of hours, and built our first commercial aquaponics systems with FAR less information than this manual contains. We included all the information learned from that experience in this manual so you don't need to make any of the same mistakes we did.

Aquaponics Nugget #97: The Farmer's Shadow And Why It's Important

At the end of our October "Training Week", after doing six days of aquaponics and solar greenhouse training, our final day (Saturday) covers all the ways to make money with aquaponics.

This day's course is called Commercial Aquaponics, and one of the subjects covered is how to build and operate an efficient and economical tilapia fry and egg hatchery. We harvest both fry and eggs from one of our two breeding tanks, then show course participants how to use our new egg-hatching technology.

In addition to the 12-hour course days (because we cater the event ourselves, clean the room afterwards, and manage our kids to boot), we still need to do as much of our normal work at the farm as possible. The day is often not over for us until ten or twelve o'clock at night.

Even though we've given this course fourteen times, at the end of several days of intense concentration for us, we're mentally exhausted. And that is not a good time to make decisions or change things in the aquaponics (can you see this coming?). I wish I could have.
Susanne and I finished up the last talk, the last demonstration about the tilapia egg hatchery system on Saturday, took the requisite class pictures, then I noticed a couple of airstones out of their tank on the ground, hissing. Without thinking, I reached over and turned off the valve that fed air to those two stones, not thinking what else it might be feeding air to. Here's what else it fed air to: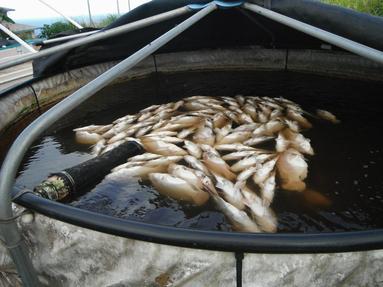 One result of forgetting the need for the "farmer's shadow"

The Disaster That Didn't Need To Happen

I killed about two hundred pounds of our best and biggest white tilapia by not thinking about what else that airline I turned off went to. It seems like a simple thing, but my mind was so fogged with exhaustion at the end of that day I wasn't making even simple decisions well.

And here's where the "farmer's shadow" comes in: if I had gotten up the next day and fed the fish first thing in the morning the way I should have, they might not have died. This is because they're relatively dormant, using less oxygen, at night time. When I turned off the air valve, it was nearly dark, and the fish might have made it through the night, then I would have have noticed that their air was off when I tossed their feed into the tank.
In addition, if I'd fed the fish every day throughout the training week, I would have noticed that the water pump was clogged with bits of grass that had made it through the filter over the past few weeks, and it wasn't pumping any water. I hadn't noticed this because I'd only fed these fish a couple of times, quickly and not paying much attention, during training week.
Why is the water pump factor important? Because if it hadn't been clogged, enough oxygenated water from the vegetable troughs would have been pumped into the fish tank to keep the fish alive, if somewhat uncomfortable. The combination of the air getting turned off and the clogged pump was a lethal one-two punch that there was no way the fish could weather.

I would have noticed both these things if I'd been doing my normal morning routine of feeding all the fish in the aquaponics. But instead of feeding them the next morning and working in the aquaponics, I took the day off and went to the beach with my family. We had a good day at the beach; we really needed some of that.

How To Head This Off At The Pass:

I felt bad; I had fed those fish for a year and a half. I knew them all, and even though they were destined for the barbecue, just as all the tilapia on the "Friendly Ranch" are, sooner or later, I was sad because we could only feed them to the chickens; they had been dead longer than advisable for human consumption, and smelled badly already. This didn't do the fish any good, of course, but it woke me up and made me pay a lot more attention.
This is how it works: you are responsible for everything that happens (or doesn't happen) on your farm, except for the weather. This can be "good news" or the "bad news".

It's good news because it's possible to get things running smoothly and working well, by paying attention, learning your lessons well, and spending the necessary time to make sure everything's right, even if it means going out in the rain or working in the hot sun. It may not be a day at the beach, but your farm will run smoothly and pay you back for your efforts.

It can be bad news if you want results without the necessary investment of time and energy; this is what happened when I killed our fish. I wanted to go to the beach, and didn't check in with the farm first to make certain everything was OK.

I am now a lot more tuned in to what is happening on our farm; I take regular tours of the whole huge place now,sometimes more than once a day, and peek in here and there. I even check in places that it's tempting to assume everything's OK in.
You should too.

The photo below is our Solar Greenhouse. It's cool when it's hot, and warm when it's cold (hope that makes sense to you, it's the best greenhouse we've ever seen!).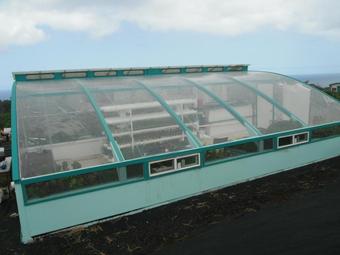 Friendly Aquaponic's FIRST Aquaponic Solar Greenhouse in full bloom, Honoka'a, Hawaii, March 2012, (on a grey rainy day) showing PV panels and growing plants.
Next week: Something else interesting and valuable to know about aquaponics. Thanks for listening!
Click Here To See Our New Aquaponics Video!
.......................................................
Back Issues Of Newsletters Now Available, Click Here!
.............................................


Purchase Trough Liner Directly From Manufacturer!

Free Farm Tours

..............................................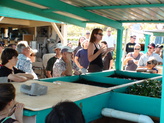 Aquaponics tour at the Friendly farm!
We hold a free workshop on our farm the FIRST Saturday of every month, focused on growing food with aquaponics and permaculture.
Click here
for information. See you there!
If you are a school, a non-profit organization, an organization working with the poor, Native Hawaiians, or ex-inmates, or if you are a church, we will hold a free farm tour for you anytime. You DO need to email us first to schedule, or we might be out on errands!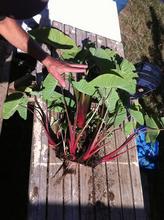 3-1/2 pound kalo (taro root) grown in a 2" net pot (little bump at bottom)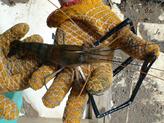 4-month old prawn (macrobrachium rosenbergii) grown in hydroponics troughs of our aquaponics systems
Special Offers!

Sign up for our TENNESSEE January 20th-26th Commercial
Aquaponics and Solar Greenhouse Training
and receive a free Micro System DIY package so you can begin studying aquaponics! ($99.95 value)
The story of black and white
I was walking down the street early in the evening, after a long day at work, when I noticed three guys talking animatedly on the street corner. Although it was a beautiful summer evening in 1971 in Santa Barbara (one of the wealthiest cities in the USA) and the evening air smelled of frangipani and night-blooming jasmine, I was on the wrong side of the tracks (literally!).
At the time I was building myself a 37-foot sailboat in a boatyard that was sandwiched between a feed and grain store and a wrecking yard on the "wrong" side of the tracks. Actually, it was the wrong side of US 101, the north-south artery that passed through Santa Barbara from Los Angeles to San Francisco at that time.
The main line of the Southern Pacific Railroad ran about 150 feet away from where my boat was sitting in the boatyard, and at the end of the boatyard there was a hobo jungle, where "transients traveling by train" would overnight, cook, hang out, and socialize. This made it easy to catch one of the slow-moving freight trains going north or south, as they had to slow waaay down to go through SB town.
This was the poor side of town, where the people that worked for the rich folks lived. I fit right in, since I had no money, poor clothes, no car (I did have a $15 bike), and no house, not even a rented one. I was nineteen, and was happy living in the boatyard on a pile of plywood under a piece of plastic for a roof, since the money saved by doing so was getting me my lifetime dream: a world-cruising sailboat.
I veered a little closer to the three, kind of eavesdropping a bit, but apparently got too close, for one of them reached out and snagged me by the arm. He said "you got to help us solve this question".

OK. Three black guys want me to help them solve a question in the dark night on a street corner on the wrong side of the tracks in 1971. I'm not racist or stupid; I am obviously Caucasian. Not an easy decision to make, but I had my tennis shoes on, was in shape, and didn't pick up any funny vibes coming from them.
So I just said: "Yeah, what?", like I was their best buddy. The middle one, Jason, nicely dressed in a long-sleeved white shirt and a black suit coat, explains the situation: "Mike here thinks there's black people and white people, and I'm trying to prove that there ain't no such thing!". OK, I'm thinking: this is going to be interesting.
Jason grabs my hand and holds it up against his long-sleeved shirt where it sticks out of his coat sleeve. "Now," Jason says to Mike "see this man's hand against my shirt. You say he's white, right?" (and Mike did, even though I had a pretty good tan from working outside all the time).
"Well, you're wrong!" exclaims Jason "My shirt is white; and he ain't the same color as my shirt, so he ain't white!. And I bet you's gonna say that Cam here is black, right?". And of course Mike insisted that Cam was black, and that him and Jason were too.
Now you could almost see Jason curl up for the strike: "But we ain't none of us black. Gimme your hand!" he says to Cam, who was the darkest of the three. Jason puts Cam's hand up next to his suit coat and says "See my suit here, that's black! And you ain't black because you ain't the same color as my suit! Right!".

Jason had hit his stride, and was pretty animated by now; he kept on coming and coming at us. There was just no getting away from this unfolding idea he was proposing.
You could see that Cam and Mike were stalled; they just couldn't go anywhere with Jason's logic right up in their faces like this. And while they were there, Jason struck the final blow: "You know what we are, and what this man here is?" he said. "He's a light brown man. He ain't white. Cam, you's a very dark brown man, and me and you, Mike, is medium-brown men! We's ALL brown."
He went on: "And that's all there is to this racism nonsense, no matter which way you cut it. We're all brown men God put on this earth together, and it's a sin that we fight and discriminate and hate, cause that's not God's purpose for us."
We all went quiet, Cam and Mike and Jason and me, in the sudden presence of this subversively deep, amazingly simple bit of wisdom. I didn't have much to say, for I had just met one of my Masters in life, and had been stunned by the power of his work. We chatted for awhile, then I said my farewells to them, and walked along by myself in the night, feeling a renewed sense of destiny and hope.
(Something fun next week!)