Aloha Friend,
First, thank you for reading this.
This newsletter wouldn't exist without the interest of the subscribers (there are 8,414 of you now, all of whom chose to receive this!). Without the powerful listening you provide, there would be no point in our columns and "Nuggets", and the field of aquaponics would not be developing as quickly as it is.
In today's
"Aquaponics Nugget", we cover the second part of how to do a successful experiment with aquaponics.
We also announce our 2013 training schedule.
Our "In The Farmily" column today, by Susanne, will be Part 3 of "Farm Babies", about our endangered Shires (there are apparently fewer Shire horses in the world today than there are Giant Pandas!). They're a valuable breed we're trying to help save.
Friendly 2013 Training Schedule:
Hawaii Training: 3 days from May 29-31, in Honokaa, Hawaii. $495 per person, register here.

New York Training: Saturday, June 8th: TableTop Systems (this is a BENEFIT, by donation); Sunday, June 9th, Micro Systems (this is a BENEFIT, by donation); and finally, June 10-14 , the 5-day Commercial Aquaponics and Energy Efficient Greenhouse Training, $1,495 per person. Registration will open soon.Tennessee Commercial Aquaponics and Energy Efficient Greenhouse Training, $1,495 per person. First 5-day training: June 17-21st (register here for first training). . Second 5-day training: June 24-28th (register here for second training). (Click here for more information on Tennessee trainings).

We are honoring requests for a five-day training that we received during our last Tennessee training. Our participants suggested this format because it would allow you to travel during the weekend so that you only need to take a week off your busy life to attend.

All of these five-day trainings include our $995 DIY Commercial Aquaponics package, $998 DIY Farmer's Market Aquaponic Solar Greenhouse package, and new $295 DIY Commercial Tilapia Hatchery manual as course materials, plus much more!
If you're located near Tennessee
, Randy and Katie give regular free farm tours of their aquaponics systems and greenhouses to introduce the public to the benefits of aquaponics and energy-efficient greenhouse growing.
Call Randy and Katie at 256-679-9488
or
email Randy
to find out when the next farm tour is scheduled.
1. The three days of the Aquaponics Technology training is everything we know about the techniques and methods of growing with aquaponics. Each day has hands-on segments. In addition, you will spend the latter half of Day Three building several 12-square-foot
TableTop Systems
from scratch (under our expert eyes, of course).
More details of the Aquaponics Technology course here.
2. You can take one of these 12-square-foot TableTop systems home, assemble it there, and begin growing with aquaponics immediately, even in the middle of winter! The cost of this kit is only $550; much smaller "kits" from others start at $1,295 and go up from there, not including shipping.

3. The one-day Aquaponic Solar Greenhouse course is everything we know about energy-efficient greenhouses, including information and complete CAD plans showing how to build a Chinese-style aquaponic solar greenhouse; and how to convert existing greenhouses to be as energy-efficient as possible. We even show you how to purchase, move, and erect a good used greenhouse for ten cents on the dollar! More details of the Aquaponic Solar Greenhouse course here.
4. The one-day Commercial Aquaponics Training is everything we know about all the different ways of making money with aquaponics, from CSA's to Costco, from wholesale to retail, from selling simple produce to producing value-added products, including Health Department Certified Processing Facilities, Food Safety Certification and Organic Certification. We also include our commercial-scale tilapia hatchery and nursery information, so you can raise your own tilapia and make money selling the fry and fingerlings to others also.
More details of the Commercial Aquaponics course here.
Click Here To Find Out More About The 2013 Tennessee Trainings!
The free information in these three newsletters: last week's, the week before last week's and two weeks before last week's newsletter will meet most people's needs for tilapia breeding. However, if you want the complete story in 72 pages, with highly descriptive photos of the process and equipment we use, our new commercial tilapia hatchery manual is finished and ready for you. There's even a "micro-video" that my gorgeous biologist wife Susanne shot with her treasured Leica Microscope that explains why the techniques we use work so well.
For smaller home backyard and apartment systems, please read on:


Purchase Construction Plans and Operating Info for 4 Different Sizes of Table Top Aquaponics Systems $49.95
Our TableTop System package includes easy-to-understand building instructions and operating information for 4 different sizes of small aquaponic systems based on our years of experience. Anyone can build a system out of plastic barrels or IBC totes, but operating one successfully without good
and
easily-understood information can be frustrating. You simply use the "Daily O
perations Checklist" in the manual and follow the step-by-step
instructions on your way to success. We also cover how to make aquaponics systems out of weird things like old refrigerators and door frames; this makes aquaponics
much more
economical to get started in, and fun too!
We spent hundreds of thousands of dollars, hundreds of hours, and built our first commercial aquaponics systems with FAR less information than this manual contains. We included all the information learned from that experience in this manual so you don't need to make any of the same mistakes we did.

Aquaponics Nugget #114: How To Do A Valid Experiment In Aquaponics (Without Losing The Farm), Part 2
If, at the end of the experimental "run", you observe a measurable difference in anything, you have obtained valuable information from an experiment conducted according to good scientific method. If you do not observe a measurable difference, you still have valuable information: changing fish feeding rates as investigated by this experiment does not make any difference in other parameters (not very likely, however, this is all hypothetical and illustrative).
Now, what kind of confidence could you have in your results if you had changed two (or more!) things in the experimental system during this run, say the feeding ratio and the amount of fish in one system? You could not be certain that a result was linked to a single one of them. The result could be linked to either one of them, or to a combination of the two, and you still wouldn't know which one or if it was a combination. You would have an experiment that had failed to give you any useful information because it had not provided you with any results you could accurately and absolutely attribute to a single factor.
So, design your experiments accordingly. Because it takes time and energy to run an experiment, use your noodle and/or intuition to determine what to investigate first; look into things that will benefit you and your aquaponics systems if you obtain more information about them. You must make an intelligent guess, or several, about what to investigate when setting up an experiment.
As we say in our manuals: "If you've changed things from the "standard systems" as shown in the plans, or are starting up or operating the system differently from the way it was explained in our materials, then you are embarking on an exciting experiment in aquaponics, and we can't predict what will happen. We may not even be able to help you, you might be in such new, unexplored territory!
Good luck with your experiment! Thank you for being willing to risk compromise or failure of your aquaponics system to advance aquaponic knowledge. Please let us know how it worked; if it was a success, we will be happy to put it in our manuals with your name as the discoverer. If it was a disaster, we will also put it in our manuals, but we will omit your name and any embarrassment you might experience as a result. Either way, the results of your experiment will be very beneficial to others!".
Fortunately, we've had a lot of students share the results of their "experiments" with us over the years. As a result, we've rewritten our manuals many times to warn people to not do stuff we never even imagined they would try!
IMPORTANT! Because of this possibility of compromise or failure of an aquaponics system in an experiment, we recommend doing aquaponics experiments with small systems that you can afford to sterilize and start over if the result is a total mess. Ideal small system size for such experiments would be our Apartment/Condo systems (maybe a 10 to 12-square-foot system).

The easy way to "start over" after dumping all the water and sterilizing everything would be to simply bucket or pump over enough system water from a healthy operating aquaponics system, plus fish (if you killed them too). This way, the reconstituted experimental system is up and running right away, and you don't have to waste time going through system startup before being operational and ready for another experiment.
(In next week's "Nugget", we'll cover how NOT to do a destructive experiment in Aquaponics, Part 3! Thanks for listening!)

The photo below is our Second Generation Solar Greenhouse, in the snow in the Tennessee winter. It's growing plants inside right now, and you have to take your jacket off because it's so warm! It's cool when it's hot, and warm when it's cold (hope that makes sense to you, it's the best greenhouse we've ever seen!).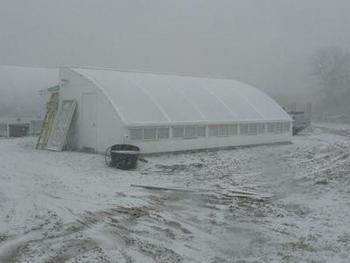 Watch The Friendly Aquaponics Philosophy Video!
.......................................................
Back Issues Of Newsletters Now Available, Click Here!
.............................................


Purchase Trough Liner Directly From Manufacturer!

Free Farm Tours

..............................................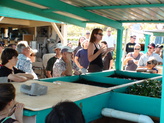 Aquaponics tour at the Friendly farm!
We hold a free workshop on our farm the FIRST Saturday of every month at 10:00, focused on growing food with aquaponics and permaculture.
Click here
for information. See you there!
If you are a school, a non-profit organization, an organization working with the poor, Native Hawaiians, or ex-inmates, or if you are a church, we will hold a free farm tour for you anytime. You DO need to email us first to schedule, or we might be out on errands!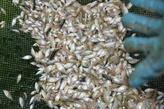 Thousands of inch-long "fifty-cent" baby tilapia from our "backyard" hatchery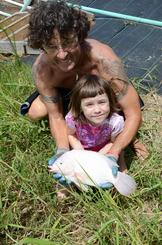 What they turn into about a year later: a beautiful 2-pound white tilapia grown in the fish tanks of our aquaponics systems
Special Offer!
Sign yourself up for the FIRST
Or sign yourself up for the SECOND
TENNESSEE June 2013 Commercial
Aquaponics and Solar Greenhouse Training
s
and receive a free Micro System DIY package so you can begin studying aquaponics! ($99.95 value)
In The Farmily - BABIES!! Part 3
(Tim's introduction to Susanne's Farmily column:
In the process of keeping our little horse alive, my incredible wife Susanne discovered that Shires (he is a full-blooded Shire) are listed in the category of "Endangered Horse And Pony Breeds". This puts his survival in a larger perspective than simply personal, and we are honored to be his caretakers. I know there are some who say "this or that species isn't important". We can never be that certain. Susanne's doing her best to keep him alive and thriving. Susanne's column follows:)
On Valentine's Day, our Shire mare delivered a 175 pound foal and promptly rejected him. The newborn colt's immune system for the first month of his life is entirely dependent upon receiving colostrum, which must enter his gastrointestinal track with the first 24 hours.
We spent the first 16 or so hours trying to get the mare to accept Jet (as Rose named him), but we had no luck. We milked the mare as best we could, and managed to get 30cc of colostrum into Baby Jet, but we needed at least a liter (1000cc) - we were nowhere close.
With time running out, because getting colostrum into him absolutely had to happen within the first 24 hours, we made the decision to transport him up to the veterinarian hospital 20 miles away, for a blood transfusion.
While the vet did not have frozen colostrum, she did have frozen blood from a mare who had recently delivered, which would give the critically needed anti-bodies to Jet that he could not yet make himself.

We brought him home in the back of our 15-passenger van. Seriously.
And then we began feedings every two hours, 'round the clock. In the first week of life, a foal will nurse up to 17 times each hour, so feeding only once every two hours was really the absolute bare minimum.
A too-large infusion of formula
into Jet's system could have easily caused an overgrowth of a certain bacteria that causes colic - which is always threatening to any horse, but for Jet, it would be a death sentence. So, every two hours it was.

For the first several days, I did all the feedings, and operated on a tremendous sleep deficit that left me almost unable to find the proper words when I had to speak to someone (I got a total of 16 hours sleep over the first eight days!) After a few days, our oldest son Victor and two of our interns helped out with the night feedings, so I could sleep (thanks guys!)

Here is Tim, feeding Jet. We have a horse window!
After a few days, it became apparent that Jet had some superficial infections where he he'd hit himself when going down onto the concrete of our makeshift emergency stall. Even though it was covered in a thick layer of straw, it was still causing subcutaneous bruising, which was then becoming infected, because Jet had virtually no immune system.

Back into the back of the van went Jet, for another trip to the vet, with a stop on the way home to buy thick rubber mats. By this point, we'd spent almost $2000 keeping this foal alive, and we were still three weeks away from being out of the woods, as he would not begin to produce his own anti-bodies until he was about a month old.
Jet is almost three weeks old now, and we're still holding our breath as to his chances of survival. We've moved from "slim chances" to "cautiously optimistic". He eats like a champ, his subcutaneous infections are gone, and he races around our parking lot like a - well, like a jet!

Jet, jetting around our parking lot.
He's a lot of fun, and we're doing our best to keep him alive. We have high hopes at this point. We'll keep you updated.
Aloha, Susanne.....