Aloha Friend,
In today's "Nugget" we'll cover Part 2 of Rooftop and Urban aquaponics, and explain why growing the food the city people need,
in the city itself,
might be a
really
good idea. Our "In The Farmily" column today is by Susanne, and is
Part 3
of "The Heart Of Our Farm", which relates her experience starting
a small organic dairy
on our farm.
We still have a few spaces available in our
second
Tennessee training. If it works better for you, you can sign up for the
third
7-day training in Tennessee, from Monday February 4th through Sunday February 10th.
Although our normal price for this complete training is $2,495 we are extending this $1,000 off offer to everyone who signs up for both the second (January 27th-Feb 2nd) and third (February 4-10th) 7-day trainings.
We are limiting
all
the trainings to 35 persons, so everyone gets a chance to have all their questions answered. Sign up early if you want to come!
When you
go to this webpage
to sign up you will be offered
both
the second and third training dates, until the second is full. When it's full, the link will disappear, and you will only be able to register for the third training.
These trainings include our $995 DIY Commercial Aquaponics package, $998 DIY Farmer's Market Aquaponic Solar Greenhouse package, and new $295 DIY Commercial Tilapia Hatchery manual as course materials!
If you're located near Tennessee
, Randy and Katie give regular free farm tours of their aquaponics systems and greenhouses to introduce the public to the benefits of aquaponics and energy-efficient greenhouse growing.
Call Randy and Katie at 256-679-9488
or
email Randy
to find out when the next farm tour is scheduled.
1. The four days of the Aquaponics Technology training is everything we know about the techniques and methods of growing with aquaponics. Each day has hands-on segments. In addition, you will spend all of Day Four building several 12-square-foot
TableTop Systems
from scratch (under our expert eyes, of course).
More details of the Aquaponics Technology course here.
2. You can take one of these 12-square-foot TableTop systems home, assemble it there, and begin growing with aquaponics immediately, even in the middle of winter! The cost of this kit is only $450; much smaller "kits" from others start at $1,295 and go up from there, not including shipping.

3. The two-day Aquaponic Solar Greenhouse course is everything we know about energy-efficient greenhouses, including information and complete CAD plans showing how to build a Chinese-style aquaponic solar greenhouse; and how to convert existing greenhouses to be as energy-efficient as possible. We even show you how to purchase, move, and erect a good used greenhouse for ten cents on the dollar! More details of the Aquaponic Solar Greenhouse course here.
4. The one-day Commercial Aquaponics Training is everything we know about all the different ways of making money with aquaponics, from CSA's to Costco, from wholesale to retail, from selling simple produce to producing value-added products, including Health Department Certified Processing Facilities, Food Safety Certification and Organic Certification. We also include our commercial-scale tilapia hatchery and nursery information, so you can raise your own tilapia and make money selling the fry and fingerlings to others also.
More details of the Commercial Aquaponics course here.
Click Here To Find Out More About The 2013 Tennessee Trainings!
The free information in these three newsletters: last week's, the week before last week's and two weeks before last week's newsletter will meet most people's needs for tilapia breeding. However, if you want the complete story in 72 pages, with highly descriptive photos of the process and equipment we use, our new commercial tilapia hatchery manual is finished and ready for you. There's even a "micro-video" that my gorgeous biologist wife Susanne shot with her treasured Leica Microscope that explains why the techniques we use work so well.
For smaller home backyard and apartment systems, please read on:


Purchase Construction Plans and Operating Info for 4 Different Sizes of Table Top Aquaponics Systems $49.95
Our TableTop System package includes easy-to-understand building instructions and operating information for 4 different sizes of small aquaponic systems based on our years of experience. Anyone can build a system out of plastic barrels or IBC totes, but operating one successfully without good
and
easily-understood information can be frustrating. You simply use the "Daily O
perations Checklist" in the manual and follow the step-by-step
instructions on your way to success. We also cover how to make aquaponics systems out of weird things like old refrigerators and door frames; this makes aquaponics
much more
economical to get started in, and fun too!
We spent hundreds of thousands of dollars, hundreds of hours, and built our first commercial aquaponics systems with FAR less information than this manual contains. We included all the information learned from that experience in this manual so you don't need to make any of the same mistakes we did.

Aquaponics Nugget #107: Rooftop And Urban Aquaponics, Part 2
In Part 1 earlier this week we covered the general background and reasons why the time is now for rooftop aquaponics.

As we mentioned, there are 40,000 acres of rooftop space on the island of Manhattan, which has the best sun exposure, is above all of the street-level grit and much of the pollution, and has excellent security (hard to just "hop a fence" on a 22nd-floor rooftop to steal some vegetables!).

There are many reasons to use the rooftops in the city: food security, employment, energy efficiency, and one I didn't even think of until just now: not a big deal, but with all those vegetables growing there, the city dwellers will get to breathe air with more oxygen in it!

Technology, Considerations, And Permitting:
The technological considerations regarding rooftop aquaponics are quite simple: every existing building has a specific roof loading capacity per square foot. Our deepwater raft aquaponics systems weigh about 60 pounds per square foot, and the "lightest" roof loading capacity is usually around 75 pounds per square foot (depending on how the building code is interpreted in your jurisdiction, and how strongly your specific building was built). Many buildings will have a roof loading capacity much higher than this, sometimes up to 200 pounds per square foot, but most often from 100 to 150.
Items that weigh more than that per square foot, such as fish tanks, can either be situated directly over load bearing members such as beams, columns, and the like, or even located on the ground floor of the building where their weight is not an issue (Don't worry, we've thought of that already: pumping the water back up to the top of the building is accomplished with what's called an "energy-scavenging pump", which is similar to the regenerative braking technology that today's electric cars use to charge their batteries when going downhill).
Even if you install a greenhouse on top of your building to protect your aquaponics and regulate their temperature so you have a year-round growing season, your loading is going to be within the boundaries of most available rooftops.
There will be issues: local building departments will want architects or engineers to certify that your plans meet standards and requirements; this costs money. But you often have to do that anyway, even when just building a greenhouse on land you already own.

Also, there are municipalities that don't allow farming at all: what they're thinking of is the mess they'd have if they let pigs, cows, and chickens be raised inside city limits. These people need gentle lobbying and to be informed about the true nature of aquaponics. Small demonstration aquaponic systems in community centers, church auxiliary centers, and schools will go a long way towards this kind of needed education and introducing community leaders to the benefits of aquaponics.

There have been a couple of epic historic aquaponic disasters inside city limits, with stinking fish reputedly dumped down storm sewers and so on (using other people's system designs); and these incidents are not good for the future of urban and rooftop aquaponics.

That's why when we venture into this area, we need to do so with all our best ethics, well-funded enough to be able to pull it off, and well-armed with the best aquaponic growing and marketing technology available that will allow us to make a profit and stay in business.
The Best Time Was Twenty Years Ago:
The best time to plant a tree was twenty years ago: the next best time is today. There is absolutely no reason this won't work now. If we don't begin now, we will be starting late, possibly with too few resources, trying to feed too many scared people, when we actually need it.

We'd rather have the lifeboats ready a long time before the ship sinks. If the ship doesn't sink, they'll still be a lot of fun, and we can use them to go spend a day at the beach.
(We'll have something interesting and useful about aquaponics in next week's "Nugget", thanks for listening!)

The photo below is our Solar Greenhouse. It's cool when it's hot, and warm when it's cold (hope that makes sense to you, it's the best greenhouse we've ever seen!).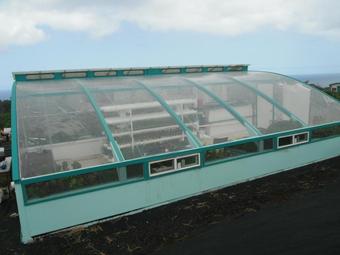 Friendly Aquaponic's FIRST Aquaponic Solar Greenhouse in full bloom, Honoka'a, Hawaii, March 2012, (on a grey rainy day) showing PV panels and growing plants.
Click Here To See Our New Aquaponics Video!
.......................................................
Back Issues Of Newsletters Now Available, Click Here!
.............................................


Purchase Trough Liner Directly From Manufacturer!

Free Farm Tours

..............................................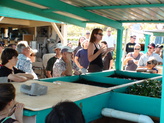 Aquaponics tour at the Friendly farm!
We hold a free workshop on our farm the FIRST Saturday of every month at 10:00, focused on growing food with aquaponics and permaculture.
Click here
for information. See you there!
If you are a school, a non-profit organization, an organization working with the poor, Native Hawaiians, or ex-inmates, or if you are a church, we will hold a free farm tour for you anytime. You DO need to email us first to schedule, or we might be out on errands!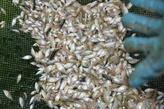 Thousands of inch-long "fifty-cent" baby tilapia from our "backyard" hatchery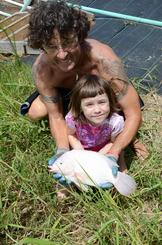 What they turn into about a year later: a beautiful 2-pound white tilapia grown in the fish tanks of our aquaponics systems
Special Offers!

Sign up for the SECOND or THIRD TENNESSEE 2013 Commercial
Aquaponics and Solar Greenhouse Training
and receive a free Micro System DIY package so you can begin studying aquaponics! ($99.95 value)
"The Heart of Our Farm, Part 3"
Miss WIld Cow and Milky Way
After our wild cow's first Big Win, in escaping the stanchion, Tim and I spent a few days, a lot of hours, and about $900 adapting our round pen (formerly used to train our Shire horses) into a holding pen for the milk cows, along with a long chute designed to get them from the pen up to the stanchion.

Version 1.0 proved too wide, and Miss Wild Cow had enough room to turn around in and escape again, for Big Win #2.

So, we being the Humans, with Big Brains, in addition to being Tool Users, decided to narrow the chute, as well as to permanently mount posts into the concrete of the milking parlor, to fasten the round pen panels to, so they could not move.

This added another day, and another hundred dollars or so, for 4"x4" posts and a bunch of hardware. So, now that we've spent almost a thousand dollars, how well would our contraption work?
Tim and our elaborate chute

Three days ago I spent about an hour with a hungry cow eyeing me suspiciously, offering food to her as she travelled down along the chute. Eventually, she ate out of the stanchion, and after several futile attempts, I got her head secured in the stanchion.

Finally, Miss WIld Cow was eating alfalfa cubes, relatively calmly (at least until I tried to touch her). When that happened, she flashed out a hoof and tried to kick me.

So, I pulled out a little purchase made online from Jeffers, called a "Kick Stop". It's a C-shaped device that fits under the cows leg and over her back, does not interfere with milking, and stops her from kicking.

The warning that came with this device said that the cow must be fully supported, because when the cow tries to kick, she can fall over instead, as the Kick Stop presses on a nerve on her back that affects the ability of the weight-bearing leg to hold the cow up.

This is another of the reasons we had to put the 4"x4" posts, to stop Miss Wild Cow from falling over.
The Kick Stop Device

Once I put the Kick Stop on Miss Wild Cow, she tried exactly ONCE more to kick, and she certainly would have gone down had not the chute been supporting her.

After that, she did not lift a leg, even once. Better yet, I have not even used it since the first time, and she has not kicked! In fact, she has behaved so excellently, and tamed down so quickly that she has been given a name now: Miss Wild Cow has turned into Maika'i Loa, which means Great Excellence, in Hawaiian.

And best of all, she's giving us a couple of gallons each milking, and we are grateful to have her!
Maika'i Loa's First Milking, and me.

Aloha, Susanne.....