Aloha Friend,
Thirteen is supposedly an unlucky number, but we survived
newsl
etter thir
teen
(back in August of 2010), which covered system startup. Today we'll cover the first part of a series on how to do a successful experiment with aquaponics in order to try out your "great new idea", without destroying your large commercial system in the process.
Our "In The Farmily" column today will be Part 2 of "Farm Babies", by Susanne, in which she talks about our cows, horses, and goats.
Keep in touch if you're interested in taking one of our commercial aquaponics and greenhouse trainings. We're finalizing the schedule for the balance of 2013 and will be announcing it soon in this newsletter and on our website.
In the meantime, if you're interested in commercial aquaponics and/or energy-efficient solar greenhouses but don't think you'll be able to attend one of our live courses in person, our
DIY commercial aquaponics
and
greenhouse packages
are a good second choice. They contain the complete technical information we use in the live courses, and we support DIY purchasers while they build and operate their systems at no additional cost. These packages also come with a 100% money-back guarantee!
The free information in these three newsletters: last week's, the week before last week's and two weeks before last week's newsletter will meet most people's needs for tilapia breeding. However, if you want the complete story in 72 pages, with highly descriptive photos of the process and equipment we use, our new commercial tilapia hatchery manual is finished and ready for you. There's even a "micro-video" that my gorgeous biologist wife Susanne shot with her treasured Leica Microscope that explains why the techniques we use work so well.
For smaller home backyard and apartment systems, please read on:


Purchase Construction Plans and Operating Info for 4 Different Sizes of Table Top Aquaponics Systems $49.95
Our TableTop System package includes easy-to-understand building instructions and operating information for 4 different sizes of small aquaponic systems based on our years of experience. Anyone can build a system out of plastic barrels or IBC totes, but operating one successfully without good
and
easily-understood information can be frustrating. You simply use the "Daily O
perations Checklist" in the manual and follow the step-by-step
instructions on your way to success. We also cover how to make aquaponics systems out of weird things like old refrigerators and door frames; this makes aquaponics
much more
economical to get started in, and fun too!
We spent hundreds of thousands of dollars, hundreds of hours, and built our first commercial aquaponics systems with FAR less information than this manual contains. We included all the information learned from that experience in this manual so you don't need to make any of the same mistakes we did.

Aquaponics Nugget #113: How To Do A Valid Experiment In Aquaponics (Without Losing The Farm)
We're going to show you how to set up a useful experiment in aquaponics in this section. Most people think of "science" as something which involves millions in research funding, and that is only done by PhDs. Not true; we'll show you how to apply scientific method to your experience with aquaponics. Using our adaptation of scientific method (which we unabashedly admit is somewhat "cowboy"), we have developed many economically successful new aquaponic methods and techniques (as well as a cheap, 100% successful method for hatching tilapia eggs) over the last five years we've been operating our commercial aquaponics farm.
The most important thing about good scientific method is the "control". This usually means that to obtain a valid conclusion about something, you have to have a minimum of two completely separate aquaponics systems to use in your experiment. One system is the "control" system, in which you change NOTHING, and the other system (or systems) are the "experimental" systems, in which you only change ONE thing (or "variable") ONLY during each experimental "run". The control system shows you what would have happened in those conditions without the change, and the experimental system shows you what the results of your change are.
We'll use this experiment as an example: we want to find out what the results of using different feeding rates of fish food is, both on fish growth and aquaponic vegetable growth. We have two IDENTICAL small aquaponics systems with exactly the same amounts of fish of the same total weight in each, and the exact same vegetables that were sprouted at the same time in the same manner in the same sprouting tray and table, AND that are located in the same manner as regards sun, rain and wind exposure, ie right next to each other.
Now, we feed the fish in one system the "normal" ration of food that we have been feeding all along (and we do NOT vary from this amount during the entire time of the experiment), and we feed the other fish at a different feeding rate (and we use the SAME different feeding rate, that is, we don't feed them less sometimes and more at other times) for the entire time of one experimental "run".

In other words, the ONLY thing that would be different about these two systems during this time would be the amount of fish food that will be fed. We run this experiment for a reasonable length of time, say the time that it takes for the vegetables to become mature.
Now, we harvest the vegetables and weigh them, while observing any differences besides weight that we can between the two systems; and we remove and weigh the fish, noting the difference in weight and any other differences in the condition of the fish from one system to the other, and WRITING all this information down clearly and concisely. We may also take photographs if they best help to illustrate the differences between the results in the two systems.
There is other information that may have come to light during the "run"; did one system have a higher mortality and/or fish or plant disease rate? Was there a higher incidence of juvenile delinquency and mouthing off from young fish to their parents in one system as compared to the other?

You get the idea. Keep your eyes open and observe ANY differences that you can; there is no bit of information that you can be certain will NOT be useful at the end of an experiment.

(Next week we'll do Part 2 of this column, then Part 3 showing some examples of what has happened when people experimented with their LARGE commercial-scale systems, then next I'll cover exactly how much fish you DO need in your aquaponics system for good vegetable growth. It's a LOT fewer than you might guess! Thanks for listening!)

The photo below is our Solar Greenhouse. It's cool when it's hot, and warm when it's cold (hope that makes sense to you, it's the best greenhouse we've ever seen!).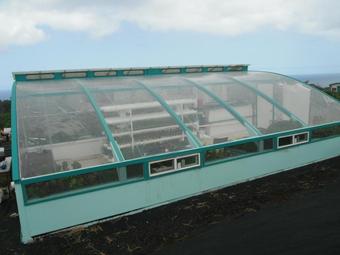 Friendly Aquaponic's FIRST Aquaponic Solar Greenhouse in full bloom, Honoka'a, Hawaii, March 2012, (on a grey rainy day) showing PV panels and growing plants.
Click Here To See Our New Aquaponics Video!
.......................................................
Back Issues Of Newsletters Now Available, Click Here!
.............................................


Purchase Trough Liner Directly From Manufacturer!

Free Farm Tours

..............................................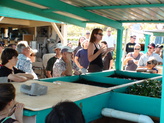 Aquaponics tour at the Friendly farm!
We hold a free workshop on our farm the FIRST Saturday of every month at 10:00, focused on growing food with aquaponics and permaculture.
Click here
for information. See you there!
If you are a school, a non-profit organization, an organization working with the poor, Native Hawaiians, or ex-inmates, or if you are a church, we will hold a free farm tour for you anytime. You DO need to email us first to schedule, or we might be out on errands!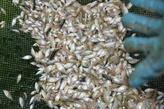 Thousands of inch-long "fifty-cent" baby tilapia from our "backyard" hatchery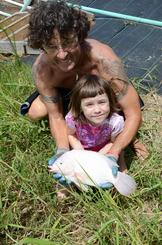 What they turn into about a year later: a beautiful 2-pound white tilapia grown in the fish tanks of our aquaponics systems
In The Farmily - BABIES!! Part 2
The 'heavy horses' have traditionally been used for farm work, pulling wagons and even in warfare where they hauled huge artillery around the battlefield. They were bred large to carry a knight in full armor into battle, with strength and stamina that a smaller horse could not match.
However, during the Great Depression and the Second World War, times were so hard that many of the large breeds were eaten, and after the War, the increasing use of machinery spelled the end of their widespread use on the farm. Their numbers began to drop drastically, and it was not until the mid-1980s that the numbers began to rebound a bit.
As a result, many of the heavy breeds still face critical numbers. According to the Rare Breeds Survival Trust (RBST), the very few number of Shires left in the world place them in the 'At Risk' category, more rare even than the Giant Pandas. A number of factors have led to their decline, including the sheer time, resources and costs required to care for these huge horses, which average 18 hands (180cm) tall and weigh up to 2,640lbs (1,120 kg).

It costs hundreds of dollars each month to feed them, as they can eat a round hay bale in two days and up to three bags of oats, a bag of sugar beets and six bags of carrots in a week. In addition there are vets' and ferr's fees, leading to annual keeping costs in the thousands of dollars. Heavy horses are so large that most people with normal levels of resources cannot look after them properly, and for us, they've been quite a challenge.
So, needless to say, we were thrilled by the prospect of having a new Shire on the ground here. However, it quickly became apparent that we had a problem, as our maiden mare who had this foal seemed to think it was some sort of space alien creature that she needed to kick every time he came near.

This was alarming to me, because I know how much it takes to raise a foal without its mother - they nurse up to 17 times each hour in the first seven days of their lives, and in the critical first 24 hours, if they cannot get colostrum from their mother, they will die. SO, a panicky call to the vet was in order, and she dropped everything to come right over.
We worked for hours to get the mare to accept the foal, as well as milking her by hand to get colostrum for the baby. However, we had no luck in either area - the mare kept attacking the foal, and simply did not have a liter of colostrum that I could hand milk, so off the baby went to the vet's hospital for a blood transfusion to give him the colostrum through that method. We brought him home in the back of our 15-passenger van. We've carried a lot of things in our van, but this was the first time we've had a horse in there, and for the vet as well!

Beautiful New Baby Boy Shire!
His name is Jet, given to him by Rose (of course!), and he's lovely.
More next week, on hand-rearing this beautiful baby horse, who's already so large it's hard to believe!


Aloha, Susanne.....