Aloha Friend
In today's "Nugget", we continue with Part 3 of our series on
"Energy-Efficient Greenhouses For Aquaponic Growing"
. If you want to learn how to do this instead of just read about it, we have trainings scheduled for Tennessee in September of 2013 (see bottom of this column, and right sidebar).

Our "In The Farmily" column today
is about the Farmily going snorkeling.
Aquaponics Nugget #137, Part 3: Energy-Efficient Greenhouses For Aquaponics

Where We Started:
(You might like to read back newsletter #1 and back newsletter #2 of this series!).

We had been alerted to the declining state of the mainland ornamental flower industry by one of our Personal Intensive students, and realized it was caused not only by the economy ("we" as a nation couldn't afford luxuries like flowers as much anymore), but also by the fact that the conventional greenhouses the flowers were grown in were huge energy hogs, both to heat and cool!

We thought: "If the flowers could have been grown for a lot less (in energy-efficient greenhouses, let's say), that would have given the industry a better chance of survival". Then we had the thought: "Lots of people like flowers, but everyone needs food! If the greenhouses were used to grow food, the economic equation might be entirely different!".

This was an intriguing opportunity that we had to investigate; as many of our students had written us over the years with questions about greenhouse growing we hadn't been able to answer at the time. Although we didn't need a greenhouse at our location (Hawaii, right?), we felt responsible for providing complete, integrated solutions to our clients; not just telling them: "Sorry, got to figure that out yourself". So this was a "must" for us.

Our education in "greenhouse-ese" began by looking at the drawbacks of existing conventional greenhouse technology to see where improvements were possible. There were many obvious areas, most having to do with energy consumption and conservation. The real reason conventional greenhouses can no longer compete is that energy has gotten much more expensive over the last ten years. There's very little a greenhouse operator can do about that, once they've spent their money on a greenhouse that is inefficient.

Most commercial greenhouses have been designed around "cheap energy, cheap greenhouse". What this means is that they have little to no insulation. To keep them warm in the wintertime you need to burn lots of propane or oil; then pay for lots of electricity to run air conditioning units and huge fans in the summertime. This is simply no longer affordable

Many greenhouse designs are simply intended to extend the growing period into the winter (not always through the winter), and are nearly useless for growing during the summertime because they have no technology for getting rid of heat, and no affordable way to provide "active cooling". The next two photos both exemplify this type: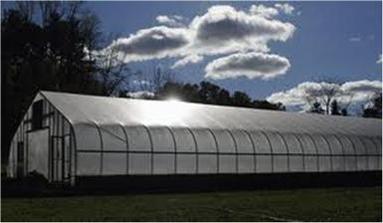 (Above) A conventional plastic film covered "high tunnel"; one of the simplest and least expensive of greenhouses. Unfortunately, it has no venting for summertime use, just a single teeny fan at this end and a vent at the other. This greenhouse is only good for wintertime growing in rather mild climates.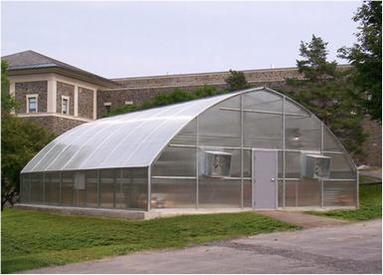 (Above) A nice expensive, polycarbonate-covered greenhouse; it has a propane fired heater (right hand corner inside) for the winter, but absolutely no way to keep it cool in the summer except the two teeny fans you see on either side of the door. The BEST those fans can do is bring in HOT outside air; there is no energy-efficient venting provided, nor any means of cooling this greenhouse. Although this can handle much colder weather than the greenhouse in the previous photo, this is still just a "winter house", and will be nearly impossible to grow anything in during the summertime. What good is a greenhouse that you can't use for half the year?

Rather than tell you a lot more
about what doesn't work, we're going to cut to the chase and tell you what does: Our next greenhouse photo (below) shows a greenhouse of our design in a snow storm in February 2013 in Tennessee. The temperature inside was in the 70's, and if you'd stepped inside with your boots and jacket on, you would have been roasting in short order and in a hurry to get them off!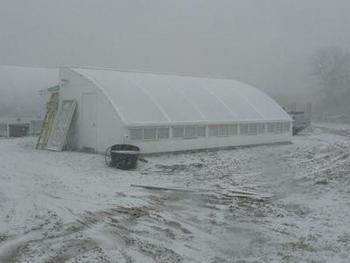 Here's another one (below), this one has 18 degree air outside; 72 degree air and 80 degree water inside. It's in Vermont, and it's NOT summer outside, but look at the happy little plants!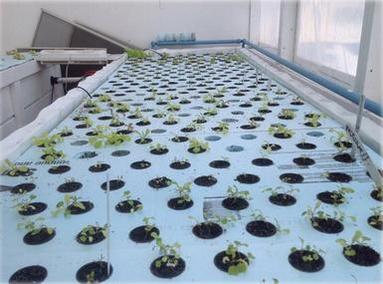 The reason these greenhouses are warm even though it's 18 to 25 degrees outside is simple: insulation combined with energy-efficient heating combined with thermal mass. Let's cover these one at a time:
You know what insulation is; you put it on every time you go outside in the wintertime: a jacket. If you went outside in a T-shirt in 25-degree weather it's obvious what would happen; you'd get really cold! Well, it's just as obvious what happens in an uninsulated greenhouse; it gets really cold unless you pour a lot of heat into it.
It's simpler and cheaper to just insulate the greenhouse than pour a lot of heat into it; because you only pay for the insulation once when you build the greenhouse, but have to pay for the heat every winter. With energy prices what they are nowadays, it's more economical to buy insulation; because it means you spend less on heating forever!

So, the first and most important principle of energy-efficient greenhouses is: insulate, insulate, insulate! Insulation is not only for wintertime, as anyone who ever had to pay the electric bill for a summer's worth of air conditioning can tell you. A house that has good insulation will use far, far less electricity to air condition in the summertime than one with poor or no insulation. And a greenhouse with good insulation will be easier to heat in the winter and cool in the summer.


(Below) A Chinese-style greenhouse, complete with roll-down straw insulating mat to keep daytime warmth inside at nighttime. The small entrance building serves as an "air lock" keeping the warmth inside, as well as storage for tools and supplies.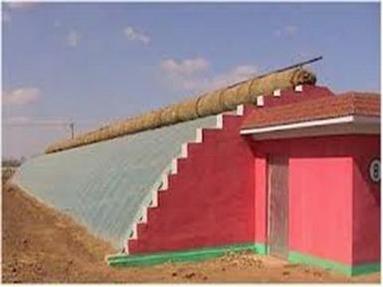 (Next newsletter in this series will cover energy-efficient heating and thermal mass. Most important for those of you who are "lightly funded", in this series we will explain how to purchase and erect your own energy efficient greenhouse for pennies on the dollar, even if you never purchase any of our offerings! Thanks for listening!)

For smaller home backyard and apartment systems, please read on: