Greetings Staff,
On the third Sunday of every other month (Feb /Apr /Jun /Aug /Oct /Dec) we host an informal educational series called, "Home Health Made Easy". This series is designed to demonstrate simple ideas and tools you can use at home to improve your life and the lives of those around you.
Welcome to Autumn!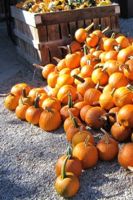 Sunday - October 20!
Home Health Made Easy Workshop
Workshops are FREE!
Time: 2:00 - 4:00 pm
Location: For the LOVE of EARTH! Education & Rejuvenation Center, 3 miles east of Ketchum OK
Look for the map on our website.
Gratitude Offerings Accepted

INFINITE U Morsels
NEWS U Can Use
Pain Management, the Why and How!
Essential Oils for Assisting Relief!

We will resume this month with an informative discussion on how you can gain insight to your level of health without guessing, crystal balls, invasive examinations or a wheel barrel full of money!

Pain Management: Why and How!
During this workshop, we will discuss pain, its relation to you, what you need to know about it and some helpful natural options on how to get relief.

First we need to understand there are many ways in which we experience pain, from emotional through to the physical. Pain is the body's messenger that tries to warn us that there is an imbalance within the system. However, not all imbalances produce pain.

Managing pain depends on how well you are able to listen to your body and the time it takes to respond. Another factor that plays an instrumental role is how you respond. Being aware of what you put on and into your body at all times, as well as what you are doing to it will provide the clues you need to investigate pain's source. The longer it takes to change a habit or react to the first signs noticed will determine pain's crowning point.

"Band-aids" and patches though they may provide temporary relief, they will only mask the source of the imbalance allowing it more time to move deeper into the body.
Come to the Center and learn more!
The format of our third Sunday workshops vary to induce the maximum amount of learning with the highest amount of fun!

Open to all that are seeking ways to improve their own lives, as well as, health educators seeking to assist others.

Inform. Engage. Electrify.
Kick "Fun" into Health!
Join Us!



Need a boost of energy to get that Fall cleaning done?

If thoughts of raking leaves, clearing out clutter and holiday planning cause you stress or anxiety, don't worry!

We have a fabulous solution!
The foundation of improving your health is built on superior nutrition.

How do your current supplements compare?
Humic and Fulvic are "The Gift" from Mother Earth!
When the body is not supplied with the essential building blocks to function optimally under extreme conditions, how you handle that task will be greatly degraded.

You won't be able to function gracefully under extreme stress any better than your computer could work with a fraided power cord. Intermittant and unreliable power will not help you get anything done and will leave you feeling frazzled!

Every cell in your body must be supplied with what is needed for your body to operate within a stressful environment.

One of the most important functions of a healthy body is to take in nutrition and expel waste. If there are systems performing nominally, that stress will cascade throughout the body's systems.

How can you correct this and slow the cascade of stress? Glad you asked!

There are two things your body needs at all times.
1. Clean pure non-chlorinated water.
2. Superior "cell ready" organic nutrition

In my many years of research and practical experience I have found the nutrition supplied by Mother Earth Labs products to be superior in every way. Not only in the nutrition and energy they deliver immediately to the body, without "work" (the body does not have to convert it to be able to use it), they also greatly reduce the stress on my wallet!

If you haven't tried them, you and your body are really missing out! These products based on Fulvic, "the spark of life" and Humic provide all the Vitamins, Over 74+ Minerals, 18 Amino Acids and other elements our body needs in their ionic form, cell ready! Fulvic charges the cell membrane allowing the ionic minerals and nutrients in while releasing toxins and waste. This action occurs in every cell!
When you clean out, energize and power up your cells with Fulvic and Humic, you will float through fall with a glowing smile on your radiant face!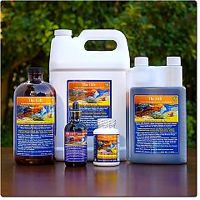 Call or email us, we can show you how to re-ignite the spark. We have fabulous ways to help de-frazzle the stress, manage the pain, rebuild the body, and kick in the old gray cells. Life is all about living the fabulous dream of the Extraordinary life!
It is time to dream a new dream! Learn how to see the Joy that is all around you everyday.

Get started today! What are you waiting for?


Coming in December.....

Holiday Year End gathering, experience the gifts of the Magi: Frankinsense & Myrrh, and learn about Sturctured Water.

Mark your calendar!

Are you planning to attend our Sunday Home Health Made Easy Workshop?

Theme: Pumpkin and Clove

1. Please RSVP to info@loveofearth.com with "Sunday" as the subject. We would really appreciate it as we have some special things planned.

2. Essential Oil Recipe Challenge - Do you have a favorite side dish, dip, dessert or craft that you make using essential oils? If you will make up your favorite and bring it on Sunday we will have "show & tell"! The winning item will be used in next months newsletter (that is if you are willing to share) and receive a great prize.

Don't have a favorite recipe/craft that uses essential oils? Make up your favorite side dish or craft and bring it along, we may be able to enhance it with an essential oil. It will make a great discussion for sure!

Join in the fun and learn something new at the same time!
*******

Are You Handy with a Drill?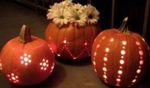 Pumpkin Carved Using
A Drill

Find more fabulous ideas and recipes at: rawforbeauty.com
*******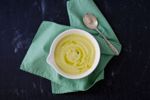 Acorn Squash Soup

Find more fabulous recipes and ideas at: rawguru.com
*******
Essential Oil Corner
Use your favorite EO Brand!
The point is to use them!

Clove Bud
Essential Oil
Cloves are the aromatic dried flower buds of a tree in the family Myrtaceae, Syzygium aromaticum. Cloves are native to the Maluku islands in Indonesia.

Here are a few of its uses...

An ant repellant
A fragrant Pomander when combined with orange.
An anodyne (painkiller) for dental emergencies.
A natural anthelmintic (expels parasitic worms from the body)
In aromatherapy when stimulation and warming are needed, especially for digestive problems.
Topical application over the stomach or abdomen are said to warm the digestive tract.
Clove may reduce blood sugar levels.
Clove buds have anti-oxidant properties

Reference:
http://en.wikipedia.org/wiki/Clove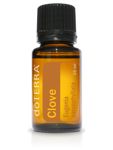 Clove Bud Essential Oil
15 ml - $18.67

*******
MOTHER EARTH LABS, INC.
Lugol's Iodine Plus
Fulvic-based Lugol's Iodine solution that contains ingredients such as Selenium, Zinc, and Vitamin B's that are necessary to support Iodine Metabolism.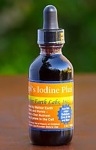 And because it is powered by Fulvic, Iodine is delivered into every cell in the body where it can support all of its important physiological functions.
Lugol's Iodine Plus
2 oz dropper bottle - $15.95