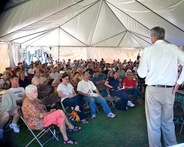 Speakers have registered and the schedules are being settled.
You can watch The Roundup web site for the speaker list ... Included here you'll see a small sample of some speaker events.
There is something for everyone!
Workshops
Circular Energy - Intro to Solar

Hosts a
workshop for LEED Professionals, architects and anyone interested in green building. This provides CEU credits for AIA and USGBC certification.
Rainwater Collection Workshop

Dick Peterson will conduct a workshop on building your own rainwater collection system. You'll build a holding tank and it will be raffled off during The Roundup.
Watch for more information on our other workshops in coming newsletters!
Panel Discussions (Wow, you're going to love these!)
Biofuels
Utilities CPS Energy, Austin Energy, Bluebonnet & PEC Co-Op
Austin Energy Green Building & group of LEED green builders
Jobs and Careers > Renewable Energy Student Association

Electric Vehicles/Transportation moderated by Austin EV Club
Sustainable Gardening
Tent Talks
Every green topic you can imagine ... from Sustainability for Texas Vineyards to Rainwater Harvesting, Solar, Wind, Green Building, Transportation and more ...
Demos
See Lavender oil distillation from fresh lavender flowers.
There will be many cooking demos too ... more information in coming newsletters!
Students and Adults
Register for the Remote Control (RC) Solar Car Race
Convert your old remote control car to solar power and join the race to win.
Start a team - get a sponsor - enter as yourself!
There will be 1st, 2nd and 3rd place trophies – 1st place prize includes a cash purse!
Thanks goes to Texas Solar Power Company for sponsoring the race!