March 2010
D-Quip
Since you cannot do good to all, you are to pay special attention to those who, by the accidents of time, or place, or circumstances,
are brought into closer connection with you.
Augustine of Hippo

BTW...
Miss last month's newsletter? Want to sign up to receive this monthly newsletter?
FREE. NO SHARING ADDRESSES. NO BUGGING YOU!
Please circulate with your circle of compassionate friends!
Want to share your hard-earned money with a worthwhile group? Donations to HEAR US are tax-deductible and greatly appreciated. Make a secure 1-time or monthly donation. Your choice—CLICK HERE.

HEAR US:
Diane regularly shares her thoughts and observations online, and invites you to read, comment, and share.
Inspirational Responses!
Since November, I've been weaving across this nation's backroads, carrying an incredible tool. Our new documentary, "on the edge," is a powerful antidote to apathy and ignorance that often perpetuates homelessness for families and teens.
Having shared this film with the 7 women who revealed their compelling stories, and hearing reactions from select audiences along the way, I am extremely excited about the potential of this documentary to change the way people look at homelessess. If you are in the Fox Valley area, you can view on the edge April 21st. more about this film....
Fire

tragically takes lives of families lacking housing options as they double up or move into substandard housing, like trailers. HEAR US wants these tragedies to not be lost on policymakers. Check out

"Up the Food Chain,"

a successful and simple advocacy effort.
Not Too Late! Get Your Ticket for...
George Winston Solo Guitar Concert-Benefits HEAR US!
Join HEAR US as George Winston performs a benefit solo guitar concert Sunday, March 28, 7:30 p.m., St. Timothy Lutheran Church in Naperville. Suggested donation $20, online or mail. Hoping for a full house!

This delightful evening of music (appx. 2 hours) in an intimate setting will support the work of HEAR US, particularly the "on the edge" documentary and the planned MOFW short video on homeless toddlers (0-5).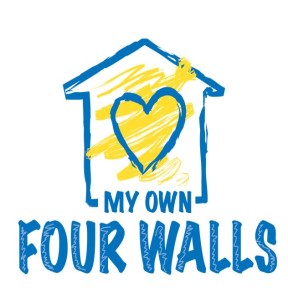 New! My Own Four Walls Pin
What a great way to generate discussion about this "secret" issue of homeless kids! HEAR US asked Designs by Lucinda (read her story!) to create the My Own Four Walls pin based on the logo by Design Resource Center. It's really cool! The pin will debut at the George Winston concert and Diane will be selling these as she travels. $15.

SURVEY QUESTION:
Would you like to be able to order these pins through our regular ordering system?
Let Diane know.
Improve educational opportunties for homeless kids!
Read about job opportunity for powerful lobbyists!
Follow Diane as she travels. Invite her to your area.
ROADIE UPDATE: Diane's schedule.... Diane's trip so far
TECH HELP 4 U! and more...
My Own Four Walls '09, (DVD) Trouble getting your MOFW DVD to work? The trick is to run the cursor over the "video menu" area until you see the arrow turn to a little pointing hand, activating the link. Same for the inner menu. Sorry about the problem. We've fixed it on the latest batch.

Crossing the Line: Taking Steps to End Homelessness should be required reading in college classess studying social issues. If you have college/university contacts, let them know. A dearth of books on this topic keep social workers, teachers, and other professionals in the dark.

It's About the Children is a secret weapon! Get the clueless adult, set her/him in a corner with a group of kids and one of Pat Van Doren's books about homelessness from a child's perspective. The set of 3 is a potent tool for raising awareness!

Purchase orders and credit cards accepted. ORDER FORM
Discounts for bulk orders. Contact Diane for a quote.
All proceeds support HEAR US.
DOWNLOAD FREE:

MOFW STUDY and ACTION GUIDES (pdf)
HEAR US college curriculum.

Jonathon's Heart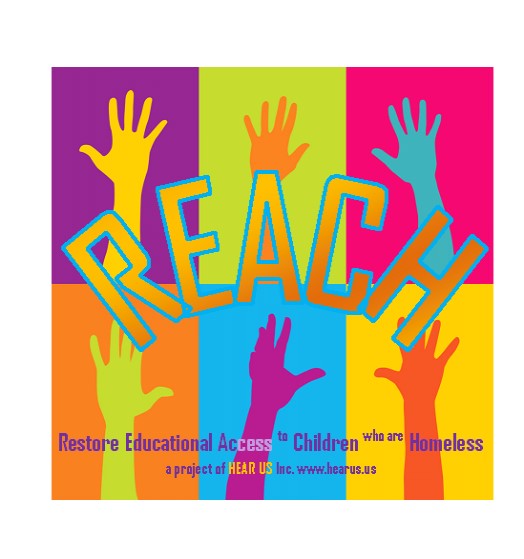 REACH--Try Before You Buy!
VIEW the entire 11-min. video FREE! Short of time? Spend 2 minutes with the REACH trailer.

Expand McKinney-Vento EHCY knowledge: families, school staff, fire/police officers, human service personnel, family court and legal services workers, jail staff, and more! Just get them to watch the REACH video--from their computers on their own time--FREE!

REACH FREE online (or buy DVD for $20). It's also on the MOFW 09 DVD. Companion brochure (English - Spanish) with vital M-V info, including a toll-free number (NCHE/Serve helpline) Order now!
HEAR US YouTube video clips! Did you know HEAR US has several free short videos on homelessness?
Be a friend, be a fan. HEAR US is on Facebook. Give this issue more visibility by befriending us! We're committed to making this spot give voice and visibility to homeless children, youth and families. You can help!
HEAR US is a nonprofit 501(c)(3) organization
Diane Nilan, President/founder
www.hearus.us