Gulf of California Evaluation Sets the Stage for Cross Project Learning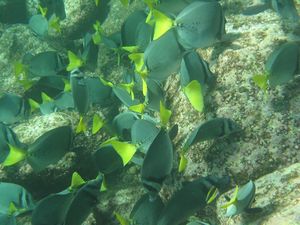 The Gulf of California is a highly diverse and productive ecoregion, harboring more than 4,000 species of marine invertebrates, 900 species of fish, and 530 species of birds. From 2010-2011, FOS undertook an evaluation of the impact of conservation efforts in the region supported by the Packard Foundation—one of the biggest donors in the Gulf. This in-depth evaluation used a theory-of-change approach to clarify the degree to which the Packard Foundation's support led to a series of expected results. The evaluation has been well-received as a solid example of how results chains can clarify expected results and provide a structure for systematic evaluation. Going forward, FOS hopes that the results chains developed will serve as the basis for cross-project learning and adaptive management to improve conservation success in this critical region.
Fish and Wildlife Service Latin American Partners Build Key Skills in Strategic Planning and Adaptive Management
In late 2010, FOS partnered with the US Fish and Wildlife Service Wildlife without Borders Program to provide distance training in the first two steps of the Open Standards for the Practice of Conservation to nine teams across Latin America. The course received an overwhelming amount of interest, with 120 applicants from for only nine spaces. The participating teams attended an online facilitated course, which used a combination of technologies to communicate with peers and facilitators, share information, conduct high-quality training, and provide feedback on products. Teams used real-world projects to develop draft strategic plans to more systematically guide their conservation strategies. Projects focused on a diversity of conservation issues, including manatee conservation in Costa Rica, sustainable management of non-timber forest products in an extractive reserve in Brazil, development of biological corridors in a fragmented highland landscape in Colombia, and migratory grassland bird conservation in the Southern Cone. Participants felt the course was very useful for their work, with the majority indicating that they plan to use the Open Standards for future projects. To learn more about online training options, contact us at training@fosonline.org.
Arlyne Johnson Joins FOS Team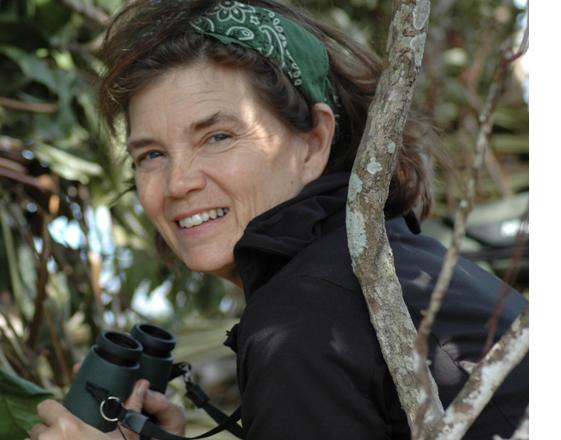 FOS staff members are pleased to welcome a new member to our team--Arlyne Johnson. Arlyne joined the FOS team in May 2011 after leading field research and conservation programs for the Wildlife Conservation Society (WCS) in Latin America and Asia since 1988. From 1998 to 2011, she worked as the Co-Director of the WCS Country Program in Laos responsible for establishing and training a technical team to support the government on wildlife and protected area management projects, including the development of the Nam Et-Phou Louey National Protected Area as a model for tiger conservation in Indochina. She led projects to design and train staff in monitoring programs to evaluate and adapt wildlife recovery and human-elephant conflict avoidance activities. She also helped to establish a training program in biodiversity conservation at the National University of Laos (see some sample publications below). Arlyne holds a Ph.D. in Environment and Resources, with a specialization in wildlife management in tropical ecosystems and an M.Sc. in Conservation Biology and Sustainable Development from the Nelson Institute for Environmental Studies at the University of Wisconsin-Madison.

Highlighted Publications
Hallam, C. and A. Johnson. 2010. Gibbons as landscape species: strategic planning for primate conservation in Lao PDR. P. 271-284. In Nadler, T., B.M. Rawson, and Van Ngoc Thinh, eds. Conservation of Primates in Indochina. Frankfurt Zoological Society and Conservation International, Hanoi.

Pullin, Andrew S. and Nick Salafsky. 2010. Save the Whales? Save the Rainforest? Save the Data! Conservation Biology. 24:4, 915-917. (forthcoming on FOS website)

Rao, M., E. Stokes and A. Johnson. 2009. Monitoring for Management of Protected Areas – An Overview. Training Module 6 for the Network of Conservation Educators and Practitioners. American Museum of Natural History and the Wildlife Conservation Society, Vientiane, Lao PDR.
Salafsky, Nick. 2011. Integrating development with conservation: A means to a conservation end, or a mean end to conservation? Biological Conservation, 144:3, 973-978
Salafsky, Nick. 2010. Sustainability through computing. Book review for Nature, 465:27, 425.
Stokes, E., A. Johnson and M. Rao. 2010. Monitoring Wildlife Populations for Management. Training Module 7 for the Network of Conservation Educators and Practitioners. American Museum of Natural History and the Wildlife Conservation Society, Vientiane, Lao PDR.