Patagonia has awarded FOK a grant for $8,000 dollars in support of FOK's work to fight five local dredging companies' current proposal to expand dredging on the Kansas River by one million tons, or close to 50% over current dredging levels.
"Now is the time for the remaining dredgers on the Kaw to shut down their environmentally destructive operations and move to sand pit mines, like other successful dredgers have done," says Riverkeeper, Laura Calwell. "It is definitely not the time for such a radical expansion."
The National Society of the Daughters of the American Revolution (NSDAR) has presented our Riverkeeper with a 2011 conservation award for outstanding achievement in raising environmental awareness. Laura said she is deeply honored, and welcomes all support for protecting the Kansas River. (Laura is pictured above with FOK member Julia Marsh. Julia is also a member of DAR and submitted the nomination.
FOK is truly thankful for both awards and wishes everyone a HAPPY THANKSGIVING!

.

KANSAS DEPT. OF WILDLIFE, PARKS & TOURISM &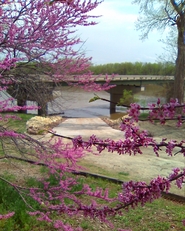 KDWPT's FISH program is currently enrolling ponds, streams, and river access for 2012
Kansas landowners can make as much as $150 per acre on their farm ponds and $1,500 per mile on streams for allowing angler access eight months out of the year. Kansas Department of Wildlife, Parks and Tourism (KDWPT) fisheries biologists are preparing for the 2012 fishing season by conducting fall lake samplings, stocking fish, and working with landowners, enrolling their waters in the Fishing Impoundments and Stream Habitats (FISH) program.
The FISH program solicits willing Kansas landowners to allow public access to their ponds, streams, and rivers from March 1 to Oct. 31, providing supplemental income for landowners while increasing public fishing opportunities. The FISH program offers to lease ponds for $75 to $150 per acre, depending on location and boating access availability. Some areas of the state lack public fishing opportunities, so this year, signup bonuses are available.
Kansas' streams also provide great fishing opportunities, and the FISH program leases these for public access, as well. Stream lease amounts vary depending on fisheries quality but range from $500 to $1,500 per mile for fishing access. A new initiative of FISH is to garner public access for paddle sports like canoeing and kayaking, and landowners who also allow paddle sports could receive annual leases of $1,500 to $2,250 per mile. Funding is limited, and longer stretches of stream are preferred. Interested landowners should discuss joining with up- and downstream neighbors to increase chances of enrollment.
Kansas' navigable rivers — the Kansas, Missouri, and Arkansas — are public waters. However, the public must have access to use these resources. To increase this access, FISH leases access sites. Big river access site lease rates range from $1,500 to $2,000 per year, depending on location.
These partnerships provide the public with many high-quality angling opportunities. Landowners receive additional income from their land, liability protection, and increased law enforcement patrols. Some landowners also receive supplemental fish stockings and habitat improvements. KDWPT is seeking to significantly increase enrollment in 2012, so landowner incentives to participate are greater than ever before.
The FISH program provides the opportunity for willing landowners to partner with KDWPT to help expand fishing opportunities in Kansas. Landowners are compensated; landowner rights are protected; property is respected; fisheries resources are wisely used; and the future conservation of the state's natural resources is ensured. Partnering with the FISH program is a win for all involved.
Anyone who owns a pond, stream reach, or big river access and is interested in joining KDWPT to preserve this great outdoors heritage should considering enrolling in this program. Details — including program contact form, rates, sign-on bonus maps, program rules, and detailed benefits for landowners and anglers — may be found online at FISH.KSoutdoors.com.
Enroll in the 2012 FISH program now and earn extra income while preserving the Kansas fishing heritage.