River Conditions:
We recommend that novice boaters only float the Kaw between mid April and mid October when river is flowing at normal to low water levels

- under 5,000 cfs.


The water levels on the Kaw are low but the water temperature is getting colder. Only experienced paddlers with appropriate clothing and gear should paddle during colder months. Always check water levels and weather before you float.
---
Float and Events:
December 7, Wednesday -
Big Muddy Speaker Series,
Wildlife Refuge and Habitat Restoration. 7 p.m.
at Hickok's Grill
528 Walnut St. - Kansas City, MO


December 7, Wednesday at


6:30pm. Douglas County Commissioners Meeting (
1100 Massachusetts Street Lawrence, KS 66044-3040)
concerning the proposed Eudora Pit Mine by Kaw Valley Companies.


December 9, Friday -

Comments are due to Kale Horton of the U.S. Army Corps of Engineers on EXPANDING in-river dredge on the Kansas River.
Visit
Take Action - Stop Dredging
for more information.
---


Friends of the Kaw is a grassroots, non-profit, environmental organization whose mission is to protect and preserve the Kansas (Kaw) River for present and future generations.
http://www.kansasriver.org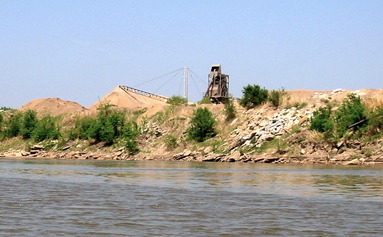 End Dredging on the Kaw - Email Army Corps by Dec. 9
Five private companies have proposed to increase Kansas River dredging operations by almost 50%, an increase from 2.2 million to 3.2 million tons.

Tell the U.S. Army Corps to deny the dredging permits!

Email your public comment by December 9, 2011

Ask for a public hearing and a new environmental impact statement.

Dredging destroys the river channel, causing erosion that threatens valuable farmland, bridges, roads, flood control measures, and wildlife habitat. It also stirs up sediments and pollutants that are expensive to remove from our drinking water.

The public comment period will end before the release of a major new dredging study from K-State researchers (and funded by the Kansas Department of Wildlife and Parks). This research will significantly expand our previous understanding of the environmental impacts of dredging on the Kaw. The Army Corps is using an environmental impact statement dated from 1991.

Take action - stop dredging on the Kaw!

Here's the information you need to write a comment. Email it by December 9, 2011, to Kale Horton at kale.e.horton@usace.army.mil (and please also cc your comment to riverkeeper@kansasriver.org). Remember to ask for a public hearing!

1) Sample public comment

2) Friends of the Kaw press release

3) Write a letter to the editor of your local paper - here's a sample

4) U.S. Army Corps of Engineers notice of permits

Comments may be emailed to Kale Horton at kale.e.horton@usace.army.mil (and please also cc your comment to riverkeeper@kansasriver.org). Comments may also be mailed to Regulatory Project Manager, Kale Horton, U.S. Army Corps of Engineers, Kansas City Regulatory Office, 635 Federal Building, 601 East 12th Street, Kansas City, Missouri 64106-2896. For questions, Kale Horton may also be reached at telephone 816-389-3656.

NO MORE RIVER DREDGING:

Over 600,000 Kansans get their drinking water from the Kaw – for example, one-third of Johnson County, and all of Topeka.
Erosion also threatens taxpayer-funded infrastructure like flood control measures, bridges, and roads.
ECONOMIC BENEFITS TO ENDING DREDGING:

There is no need for the destructive practice of river dredging - other sand companies are already pursuing the practical, economic, and reasonable alternative of sand pit mining.
---
Johnson County Wastewater Proposes Changes in Billing

The Johnson County Commissioners will make an important decision in the next several months which would affect all Johnson County Wastewater customers.
Currently, customers pay for wastewater services on two separate bills: a user charge bill to recover operating costs; and most customers also receive an annual real estate tax bill that includes a special assessment to recover capital costs. For those customers with a mortgage, the special assessment may be paid as part of their mortgage payment.

The Board is considering moving the capital charge from the real estate tax bill to the user charge bill in January 2013. This will be a revenue neutral move and will not change the total amount customers are charged.
The Board is also considering phasing in the adoption of a combined fixed and volume-based charge in 2014-2016. As the volume-based capital charge is phased in, there will be those who will see their bill increase, and others will see their bill decrease, depending on whether their water usage is higher or lower.

Public meetings are being held to share more information and seek public input for the Board's consideration. All meetings are set for 7 p.m.

Dec. 1, 2011 - Trailridge Middle School, 7500 Quivira Road, 66216
Dec. 6, 2011 - Shawnee Mission West High School, 8800 W. 85th Street, 66212
Jan. 12, 2012 - Indian Hills Middle School, 6400 Mission Road, 66208
Jan. 17, 2012 - Mill Creek Middle School, 8001 Mize Blvd, 66227
Jan. 19, 2012 - Blue Valley Middle School, 6001 W. 159th Street, 66085
Jan. 24, 2012 - Prairie Trail Middle School, 21600 W. 107th Street, 66061
Johnson County complies with the Americans with Disabilities Act; if a customer has a disability and will require special accommodations at a public meeting, please call (913) 715-8555.
Additional information regarding the proposal to combine charges is available at www.jcw.org.