River Conditions:
Friends of the Kaw is scheduling group, educational float trips

for 2012 - NOW! We recommend that novice boaters only float the Kaw between mid April and mid October when river is flowing at normal to low water levels

- under 5,000 cfs.


The water levels on the Kaw are low but the water temperature is very cold. Only experienced paddlers with appropriate clothing and gear should paddle during colder months. Always check water levels and weather before you float.
---
---
Float and Events:
Tuesday, March 13
7:00pm - "The History of Water in KC" by John Dunn, EPA Engineer at the Lakeside Nature Center, 4701 E. Gregory KC, MO 64130

6:30pm - "Native Medicinal Plant Research Program" by Kelly Kindscher, KS Biological Survey. Sierra Club General Meeting at 7810 W. 79th Street, OP, KS
More Information


Wednesday, March 14
-7:00pm - "Taming the Wild MO River" by
Jim Denny, author & historian. Hickok's Grill, 528 Walnut, KC, MO
More Information




Saturday, March 31


12noon to 4:00pm - Community Mural Design Workshop (a project of FOK's EPA Environmental Justice Grant) at the Breaking the Silence Conference, Reardon Center, 500 Minnesota Ave.,
KCK.

More Information
---


Friends of the Kaw is a grassroots, non-profit, environmental organization whose mission is to protect and preserve the Kansas (Kaw) River for present and future generations.
http://www.kansasriver.org

Kansas Riverkeeper Receives Award

Anti-Dredging Advocacy and River Education

Earn Stream Monitor Conservation Award from Kansas Wildlife Federation
Laura Calwell, Kansas Riverkeeper and executive director of Friends of the Kaw, has earned the Stream Monitor Conservation Award from the Kansas Wildlife Federation.
The Kansas Riverkeeper is a full-time advocate dedicated to protecting the river by investigating reports of pollution and other problems and working with appropriate government agencies to resolve them. Calwell's role is a combination of scientist, educator, investigator, and media spokesperson.
Some of her recent accomplishments include
Promoting river recreation – over the past ten years, Friends of the Kaw has helped increase the number of Kansas River access ramps from three to thirteen, with four more in the planning process
Friends of the Kaw (FOK) is a local conservation group dedicated to preserving the Kansas River for future generations.
The Kansas Wildlife Federation focuses on youth outdoor education, grassland protection, and conservation work. They have sponsored the Conservation Achievement Program for the past forty-eight years.

---
Friends of the Kaw Ball Caps!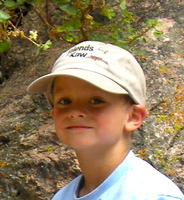 We just got a shipment of oue cool Friends of the Kaw ball caps. They are available for $20@ + $5 shipping and handling. Contact riverkeeper@kansasriver.org to order!
Other Friends of the Kaw products!