Consider these documentaries as you grow your green collection

$195
Colleges, Institutions, & Businesses
$89
K-12 Schools & Non-Profits
$39
Public Libraries
Surviving Earth is an independent Australian documentary featuring Prof. Tim Flannery, Prof. Ian Lowe, Dr. Ian Dunlop, Prof. Paul Ehrlich and Bindi Irwin among others on the topics of resource depletion, climate change adaptation / mitigation and over population.
Watch Trailer
---
Voices of Transition


$139
Educational Institutions
$49 Public Libraries
Voices of Transition presents innovative, inspirational – and concrete – solutions to the food security challenges we humans increasingly face. It explores agroforestry models in France, permaculture and transition town initiatives in England and the organic farming revolution in Cuba.
---

THIN ICE The Inside Story of Climate Science


$295 Educational Institutions
$69 Public Libraries
In recent years climate science has come under increasing attack, so concerned geologist Simon Lamb grabbed his camera and set out to explore the inside story of climate research. For over three years he followed scientists from a wide range of disciplines at work in the Arctic, Antarctic, Southern Ocean, New Zealand, Europe and the United States.
They talk about their work, their hopes and fears with a rare candor and directness, resulting in an intimate portrait of the global community of researchers racing to understand our planet's changing climate and provide a compelling case for rising CO2 as the main cause.
74 minutes
Subtitles: English, Chinese, French, German, Russian, Spanish, Polish
DVDs: NTSC and PAL available
---
SAND WARS
$250 Educational Institutions
$69 Public Libraries
NMM Best of Show Nominee

Highly Recommended:
EMRO and Video Librarian
Sand Wars is a surprising investigation into one of the most consumed natural resources on the planet. Due to the high demand for sand, the planet's reserves are being threatened. Three-quarters of the world's beaches are in decline and bound to disappear as victims of erosion, or of sand smuggling. Triggered by building construction, smuggling bands, or "sand mafias," plunder beaches and rivers for this highly prized commodity. Sand Wars will take us around the world to witness this new gold rush firsthand.
Film Locations
France, India, Indonesia, Maldives, Morocco, Singapore, USA (FL, NC, CA), United Arab Emirates, United Kingdom
52 mins | Closed Captioned
---
$175 Colleges, Institutions
$49 K-12 Schools, Public Libraries
A documentary about Judi Bari vs. the FBI, her advocacy for both ancient redwoods and timber workers, her death-bed deposition, and the successful court ruling for justice and vindication. The film profiles the late, legendary labor and forest organizer and her struggle with FBI's attempted frame-up after she and Darryl Cherney were car-bombed in Oakland, CA in 1990 while on college tour to save the redwood forest of northern California.
WATCH TRAILER
---
$99 Colleges, Institutions
$39.95 K-12 Schools, Public Libraries
A look at the ethics of the natural gas extraction process known as "fracking". The film covers political, spiritual, scientific, medical, and professional points of views of hydraulic fracturing.
---
TRASHED Starring Jeremy Irons
BUY NOW
$250 Colleges, Institutions (PPR)
$129 K-12 Schools (PPR)
$49 Public Libraries (PPR)
Jeremy Irons sets out to discover the extent and effects of the global waste problem, as he travels around the world to beautiful destinations tainted by pollution. This is a meticulous, brave investigative journey that takes Irons (and us) from scepticism to sorrow and from horror to hope. Irons showcases the individuals, activists, corporate and advocacy groups around the world who are working to affect change and reform the current model.
---
Visit us at the National Media Market
SEE OUR BEST OF SHOW NOMINEES

---
---
THESE DVDs JUST IN
HUNGER IN AMERICA
A powerful documentary tackling the hunger epidemic in America. 50 million Americans will go hungry tonight. This is their story. Narrated by James Denton.
52 mins | Closed Captioned

---
Tierra de Patagones
A 6 month trip by Gauchos del Mar brothers across the Patagonia Region. New waves discovered, new friends, patagonic culture, unique animals and a sailboat journey to the uninhabited "Isla de los Estados".

---
Growing Cities
From rooftop farmers to backyard beekeepers, Americans are growing food like never before. Growing Cities tells the inspiring stories of these intrepid urban farmers, innovators, and everyday city-dwellers who are challenging the way this country grows and distributes its food. From those growing food in backyards to make ends meet to educators teaching kids to eat healthier, viewers discover urban farmers are harvesting a whole lot more than simply good food.
Educational DVD released 2014
Subtitles in Spanish, Croatian

---
Popular: Ancient Futures, Learning from Ladakh
2014 Bonus material:
An 11 minute postscript which describes some of the changes that have occurred in the 20 years since the film was made, including new interviews with several of the Ladakhis who were in the original film.
How we can learn about ecological solutions from an ancient Culture?
Ladakh, or Little Tibet, is a wildly beautiful desert land high in the western Himalayas. It is a place of few resources and an extreme climate. Yet, for more than a thousand years, it has been home to a thriving culture.
60 mins

---
POPULAR: How I Became an Elephant
HIGHLY RECOMMENDED
Multiple Reviews
How I Became an Elephant follows this wide-eyed fourteen year-old from suburban California on her quest to save the world's largest land mammals; a quest that takes her halfway across the globe and face to face with the gentle giants she aims to save.
82 mins
DVD has ENGLISH, SPANISH, THAI, KOREAN and CHINESE subtitles

---
Popular: A Convenient Truth: Urban Solutions from Curitiba Brazil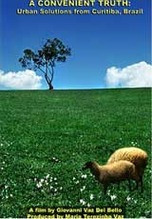 An informative, inspirational documentary aimed at sharing ideas to provoke environment-friendly and cost-effective changes in cities worldwide. The documentary focuses on innovations in transportation, recycling, social benefits including affordable housing, seasonal parks, and the processes that transformed Curitiba into one of the most livable cities in the world.

---
---