Spring Sale
CHECKOUT CODE
20earth14
GOOD UNTIL APRIL 30
Any DVD
---
Popular DVD! The Nature of Cities

The Nature of Cities explores both the nature in are own backyards, and features Sustainable Communities professor Timothy Beatley as he tours key cities with City Planners, Landscape Architects, Ecologists and Residents.
Link to website
---
Digital Licensing
Kanopy is a leading distributor of online educational videos, offering colleges, schools, hospitals, businesses and other educational institutions a comprehensive, one-stop shop for all their streaming video needs.
Link to website
---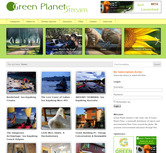 Try our
streaming site
great for Public Libraries. Green Planet Stream.
---
---
Support Green Planet Films with your purchases on Amazon.
---
San Francisco Green Film Festival
May 29 - June 4, 2014
The San Francisco Green Film Festival is the West Coast's leading destination for groundbreaking and compelling films on the urgent environmental issues of our time.
SFGREENFILMFEST.ORG
Who Bombed Judi Bari? is a a documentary about Judi Bari vs. the FBI, her advocacy for both ancient redwoods and timber workers, her death-bed deposition, and the successful court ruling for justice and vindication. "Who Bombed Judi Bari?" profiles the late, legendary labor and forest organizer and her struggle with FBI's attempted frame-up after she and Darryl Cherney were car-bombed in Oakland, CA in 1990 while on college tour to save the redwood forest of northern California. Despite receiving death threats, the pair was instantly arrested by the FBI and Oakland Police for bombing themselves. They sued the authorities for violations of the constitution. Eventually, they would win a $4 million award in this historic case. In 2014, Cherney continues his investigation of the bombing, collecting DNA, fingerprints and offering a reward for information on the case.
I

Who Bombed Judi Bari? (873)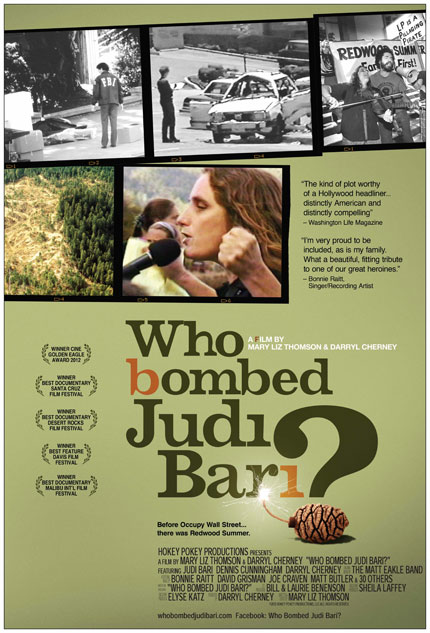 Colleges, Universities, Businesses, Government

From $99

Screening package contains a DVD, an MP4, a editable poster, social media tools, a signup sheet, Q&A guest suggestions, and links for additional information on this topic. See
Screening Package page
for pricing options.
The 1980's saw the pace of old-growth redwood forest clear-cutting increase dramatically in California, leading to a resistance movement spearheaded by Earth First!. In 1990, while driving through Oakland, CA on an organizing tour for Redwood Summer, a car bomb was detonated in the car of Judi Bari and Darryl Cherney — members of and activists for Earth First! The FBI and Oakland Police accused the pair of bombing themselves, leading to a winning lawsuit by Bari and Cherney against both organizations for Constitutional rights violations. The case remains alive to this day, as Darryl Cherney still searches for the true bomber. The film is composed of archival footage, including appearances by Bonnie Raitt, Woody Harrelson, Jerry Brown and David Grisman.
CREDITS:
Director / Editor: Mary Liz Thomson Producer: Darryl Cherney Executive Producers: Elyse Katz and Sheila Laffey Co-Producers: Bill Benenson and Laurie Benenson
Format: NTSC
Region: All Regions
DVD Release Date: March 2012

For more information, please visit this product's
webpage
.

Awards/Reviews/Articles/Website
AWARDS:
WHO BOMBED JUDI BARI? won the CINE Golden Eagle Award, as well as 5 Film Festival Awards, including Best Documentary at the Malibu International Film Festival.


REVIEWS:
The film, produced by Cherney, makes a clear and cogent case (later upheld by a court verdict) that police and FBI falsified evidence in order to discredit Bari's cause.

Ronnie Scheib
, Variety

While Thomson's unabashedly admiring tone too often turns the film into an outright tribute, she does present enough evidence to suggest that Bari, who died in 1997, deserves one.

Elizabeth Weitzman
, New York Daily News

Mary Liz Thomson's tough and intriguingly well-told account of the fight between environmentalists and corporate raiders. 

Michelle Orange, 
Village Voice

L.A. TIMES ARTICLE (excerpt):

Within its limited scope, the film is a compelling tribute to Bari, a fiery speaker whose background as a union organizer put her in a unique position to bridge the cultural divide between "hippie" activists and rank-and-file loggers. Long before Julia Butterfly Hill became famous for tree-sitting, Bari was on the frontline, and was targeted for her efforts.

- Read full L.A. Times article here
.

WEBSITE:
For more information including press, reviews, and testimonials, please visit the WHO BOMBED JUDI BARI
website
.
---