$295 BUY NOW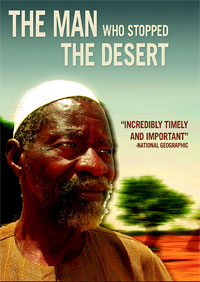 Colleges, Institutions, & Businesses
$89 BUY NOW
K-12 Schools, Public Libraries & Non-Profits
A film by Mark Dodd
Narrated by British Actor Hugh Quarshie
Yacouba Sawadogo, a peasant farmer from northern Burkina Faso in Africa, has succeeded where international agencies failed. Over the last twenty years he has become a pioneer in the fight against desertification and hunger. Yacouba's struggle is pure, inspiring drama. It is about one man's determined efforts that have the potential to benefit many thousands living in the Sahel region of Africa.
As early as the 1970's, the Sahel became a bleak land as a result of severe drought combined with overgrazing, poor land management, and overpopulation. By the 1980's the region, which once had a population of some 30 million, suffered from severe poverty and starvation. While many abandoned their traditional homelands, Yacouba decided to remain steadfast against the creeping desert.
The Man Who Stopped the Desert tells Yacouba's story, partly though dramatic reconstruction. As a young man, he fought the accepted wisdom of the traditional land chiefs who opposed his farming techniques. But Yacouba remained undaunted. Through the combination of his vast reforestation project and the adaptation of an ancient agricultural 'zai' planting technique, his name is now synonymous with reversing the process of desertification and combating food shortages. Yacouba's work over a quarter century has resulted in the successful rehabilitation of farmland, the regrowth of forests, and the return of many to their homeland, as well as praise from international organizations eager to learn more about his techniques.
Running Time: 62 minutes
Grades 7, Adult
Closed Captioned, Scene Selection

Reviews
"Yacouba's story is both incredibly timely and important given the current crisis in many parts of the world with desertification. It is also rare to find a conservation story with such an upbeat and inspirational ending".
-Diana El-Osta, National Geographic Channels International

"Yacouba single-handedly has had more impact on…conservation than all the national and international researchers put together. In this region tens of thousands of hectares of land that was completely unproductive has been made productive again thanks to the techniques of Yacouba."
-Chris Reij. Vrij University, Amsterdam

"Mark Dodd's achievement is to inform and inspire in equal measures. Perfectly pitched cinematography and narration by Hugh Quarshie engage beautifully with a moving story of struggle and success."
-Dick Meadows, Producer, BBC

Awards
Special Jury Award, UN International Forest Film Festival
Official Selection, 1st San Francisco Green Film Festival
Official Selection, Wild & Scenic Environmental Film Festival
Judges Special Selection, Wildscreen 2010