Spring Sale
CHECKOUT CODE
20earth14
GOOD UNTIL APRIL 30
Any DVD
---
Popular DVD! THE PRICE OF SAND: Silica Mines, Small Towns and Money

"The Price of Sand" is a documentary about the frac sand mining boom in Minnesota and Wisconsin. Due to a rapid increase in demand, pure silica sand has become a valuable commodity, and mines are opening here at a rapid rate..
Link to website
---
Digital Licensing
Kanopy is a leading distributor of online educational videos, offering colleges, schools, hospitals, businesses and other educational institutions a comprehensive, one-stop shop for all their streaming video needs.
Link to website
---
US Public Libraries: Buy a SAND WARS streaming file in the Overdrive Marketplace
Green Planet Films is a new publisher on Overdrive. GROW YOUR GREEN COLLECTION. Buh-Bye plastic! Streaming videos play on the same media console as ebooks...easy for you and your patrons.
---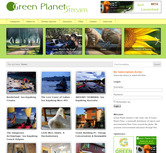 Try our
streaming site
great for Public Libraries. Green Planet Stream.
---
---
Support Green Planet Films with your purchases on Amazon.
---
San Francisco Green Film Festival
May 29 - June 4, 2014
The San Francisco Green Film Festival is the West Coast's leading destination for groundbreaking and compelling films on the urgent environmental issues of our time.
SFGREENFILMFEST.ORG
Sand Wars is a surprising investigation into one of the most consumed natural resources on the planet. Due to the high demand for sand, the planet's reserves are being threatened. Three-quarters of the world's beaches are in decline and bound to disappear as victims of erosion, or of sand smuggling. Triggered by building construction, smuggling bands, or "sand mafias," plunder beaches and rivers for this highly prized commodity. Sand is seen as a free material, a staple of holidays spent on the shore, in unlimited supply. But is this omnipresent material inexhaustible? Can the available quantity match an ever-increasing demand that is constantly fed by the need for human lodging and expansion? What will be the consequences of sand extraction on the environment and life on the planet? Sand Wars will take us around the world to witness this new gold rush firsthand... and a practical solution.

Sand Wars (893)
$69
K-12 Schools, Public Libraries, Non-Profits
$250
Colleges, Universities, Businesses, Government
Most of us think of it as a complimentary ingredient of any beach vacation. Yet those seemingly insignificant grains of silica surround our daily lives. Every house, skyscraper and glass building, every bridge, airport and sidewalk in our modern society depends on sand. We use it to manufacture optical fiber, cell phone components and computer chips. We find it in our toothpaste, powdered foods and even in our glass of wine (both the glass and the wine, as a fining agent)! Is sand an infinite resource? Can the existing supply satisfy a gigantic demand fueled by construction booms? What are the consequences of intensive beach sand mining for the environment and the neighboring populations? Based on encounters with sand smugglers, barefoot millionaires, corrupt politicians, unscrupulous real estate developers and environmentalists, this investigation takes us around the globe to unveil a new gold rush and a disturbing fact: the "SAND WARS" have begun.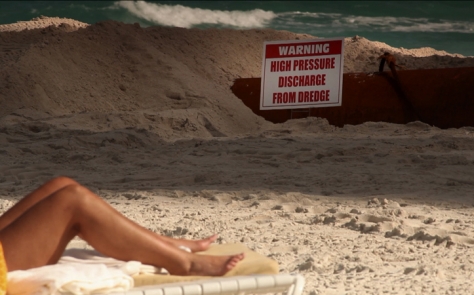 CREDITS:
Writer / Director: Denis Delestrac
Co-Producers: Guillaume Rappeneau, Laurent Mini, Karim Samaï and Nathalie Barton
Format: NTSC
Region: All Regions
DVD Release Date: 2013

For more information, please visit the
webpage
.
Sand dredging and beach replenishment in the news
'Sand wars' come to New England coast
As weather worsens, New England's sea levels are rising fast — as are the stakes. Read the story in the Boston Globe by Beth Daley.
Link to website

Awards/Festivals/Report/Websites
AWARDS / FESTIVALS:
SAND WARS has won many awards and has been featured at many film festivals, the latest being the Environment Award Winner for the San Francisco International Ocean Film Festival 2014. Find a complete list of awards and festivals
here
.
UNEP REPORT
SAND WARS inspires 15-page report by the United Nations Environment Programme (UNEP) -
download pdf here
---