Tree Baby Map
See where seedlings from the Rose Bowl parking lot sycamore tree have been planted in Southern California.
TREEBABYMAP
---
Sick-Amour Factoids


Sick-Amour is a film based on the notion of a forlorn tree representing society's disconnection from the environment and the rapid disappearance of wilderness.
Sick-Amour is inspired by a story about the Persian Emperor Xerxes, who loved a particular sycamore tree so much that he adorned it with golden ornaments and assigned it a royal bodyguard.
The Sick-Amour project began in the Rose Bowl Parking Lot K and has grown into a multi-phase public art initiative. The tree's offspring are being planted in prominent public locations throughout California. These sites function as symbols of renewal and hope, as well as permanent shrines to urban trees.
At multiple schools, students have made sculptures about the plight of urban trees to adorn their school's tree baby.
---
Atlantic Crossing: A Robot's Daring Mission

Climate Refugees

The first feature film to explore in-depth the global human impact of climate change and the serious destabilizing effect on international politics and security.
---
Support us with your purchases

Use the graphic link above when you purchase items on
amazon.com
and we will receive 2-6% of your purchase price at no cost to you..
Green Planet Films announces a new film by artist/filmmaker Joel Tauber


Sick-Amour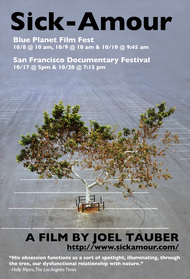 $89
Colleges, Institutions, & Businesses
$49
K-12 Schools, Public Libraries & Non-Profits
$28
Home Video
A beautiful and forlorn tree, stuck in the middle of a giant parking lot. Ignored and neglected. Hit by cars, and starved for water and oxygen. The tree is attacked by pathogens and pollutants, and it has no chance to reproduce.
Joel Tauber, a young and amorous man, is drawn to the tree. Outraged by the indignities that the tree is forced to endure, he devotes himself to improving the tree's life – watering it with giant water bags, installing tree guards to protect it from cars, building giant earrings to celebrate its beauty, lobbying to remove the asphalt beneath its canopy and to protect it with a ring of boulders, and helping the tree reproduce…approximately 140 of these sycamore 'tree babies' have been planted throughout Southern California.
Passionately narrated by Tauber and peppered with interviews by experts in a variety of disciplines (environmental philosophy, tree pathology, biology, ecology, urban forestry…), the film is a highly unusual documentary. It examines the tree in a personal and multi-faceted manner, offering it as a microcosm of the plight of urban trees and of forgotten individuals, in general.
At the same time, the film is a love story between Joel and the tree.
---
WATCH THE TRAILER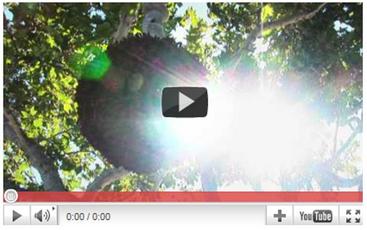 ABOUT THE FILMMAKER
Joel Tauber is an artist and filmmaker and at times adjunct at the Univ of Southern California Roski School of Fine Arts in Los Angeles. In his work, Tauber explores elemental philosophical questions about our relationships to nature and the environment in an often quixotic approach. In past projects, he has tried to find spiritual experience by inserting himself into holes in the ground, by flying in the air suspended by helium balloons, and by diving into the ocean to compose music with his body.
Sick-Amour is a documentary spawned from this solo art installation exhibit called "Sick-Amour" which describes his two year love affair with a forlorn Sycamore tree in parking lot K at the Pasadena Rose Bowl. In a 12 channel video installation and a series of photographs Tauber chronicles how he first fell in love with this tree and then embarked on a quest to improve its living conditions, to build a museum in its honor underneath its canopy, and finally to help it reproduce.
---
REVIEWS:
Joel Tauber's hilarious celebration and defense of greenery, determination and in fact, obsession, was full of opinion and zest.
-- Leah Garchik, San Francisco Chronicle
Both funny and heartbreaking… poignantly eccentric… and profound.
-- Emma Gray, Art Review Magazine
His obsession functions as a sort of spotlight, illuminating, through the tree, our dysfunctional relationship with nature.
-- Holly Myers, The Los Angeles Times
[I]t is the steadfast, visionary stewardship of his initially solitary creative engagement with the tree — and the story of how it blossomed and flourished — that gives the project its metaphorical political wallop.
-- Doug Harvey, LA WEEKLY
---
AWARDS:
"Best Green Film", Downtown Film Festival – Los Angeles (2010)
"Sir Edmond Hilary Award", Mountain Film Festival (2011)
Official Selection, Sedona International Film Festival (2011)
Official Selection, SURGE Film Festival (2011)
Official Selection, San Francisco Documentary Festival (2010)
Official Selection, Hartford International Film Festival (2010)
Official Selection, Blue Planet Film Fest (2010-2011)
---
The tree removes five pounds of pollutants from the air each year. The tree absorbs these pollutants, even though they harm the tree. This is an extremely selfless and charitable act.
The tree cleans up the air that we ruin by polluting it without being asked and without any recognition.
Why aren't we on our hands and knees thanking it?