Lotte Lenya Competition

Exceptional talents from the United States, England and China win top prizes in 2011 competition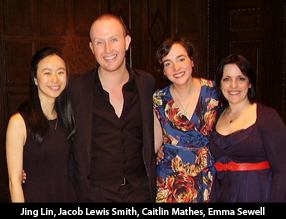 Caitlin Mathes, mezzo-soprano of Dayville, Connecticut, won the $15,000 First Prize in the finals of the 2011 Lotte Lenya Competition, held on April 16, 2011, at the Eastman School of Music in Rochester, N.Y. Instead of awarding Second and Third Prizes, judges presented three equal prizes of $8,000 each to Jing Lin, soprano, of Putian, China; Emma Sewell, soprano, of London, England; and Jacob Lewis Smith, bass/baritone, of Albuquerque, New Mexico.
Judges for the competition were three-time Tony Award nominee Rebecca Luker, Broadway and Encores! music director Rob Berman, and the Artistic Director of the Kurt Weill Festival in Dessau, Germany, Michael Kaufmann.
The Kurt Weill Foundation for Music, which sponsors the competition, distributed a record $58,000 in prizes this year. In addition to the top prizes, judges presented three Lys Symonette Awards of $2,500 each, named in honor of Kurt Weill's musical assistant on Broadway. Baritone Daniel Schwait of Baltimore and tenor John Viscardi of Philadelphia received awards for Outstanding Performance of an Individual Number, and baritone Jorell Williams of Brentwood, N.Y., received one for Outstanding Vocal Talent. The remaining five finalists each received a total award of $1,000: Alisa Suzanne Jordheim, soprano, of Appleton, Wisc.; Matt Leisy, tenor, of New York; Chris Pinnella, bari-tenor, of Brielle, N.J.; Peabody Southwell, mezzo-soprano, of Los Angeles; and Trevor Strader, tenor, of Queensbury, N.Y.
Read more >>
Learn about the competition >>
---
Threepenny Opera
enters repertoire of the Comédie-Française
On 2 April, L'Opéra de quat'sous (The Threepenny Opera) entered the repertoire of the renowned Comédie-Française in Paris, in a production directed by Laurent Pelly and conducted by Bruno Fontaine. Performances run in repertory through 19 July.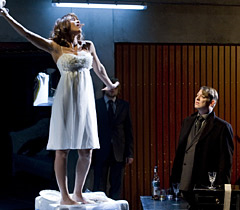 "It's all very beguiling, but there's nothing nice about The Threepenny Opera. A villainous work of dark, dazzling beauty, it is lit by an acerbic humor that has lost none of its corrosiveness. In his directing debut at the Salle Richelieu, Laurent Pelly has drawn out the talents and strengths of his troupe. The actors are breathtaking. They all know how to sing, and some have truly remarkable natural ability and tone. ...The sound and the sense have never seemed so closely bound together. Pelly grasps the poetics and the politics of the work, its sense of play and its intractable irony—everything that makes The Threepenny Opera a work for today." – Armelle Heliot, Le Figaro
Visit the Threepenny Opera website >>
Visit the Threepenny Opera Facebook page >>
---
Upcoming Performances - Highlights
---
Invite a Colleague or Friend to Join
If you know someone whom you think would like to receive Kurt Weill e-news, please forward this email. They can sign up here.
---
Become a fan on Facebook


Learn the latest news about events and productions.