Lost in the Stars Shines
at Glimmerglass
"Unbearably moving
"
"

Powerful lyric theatre of the top tier"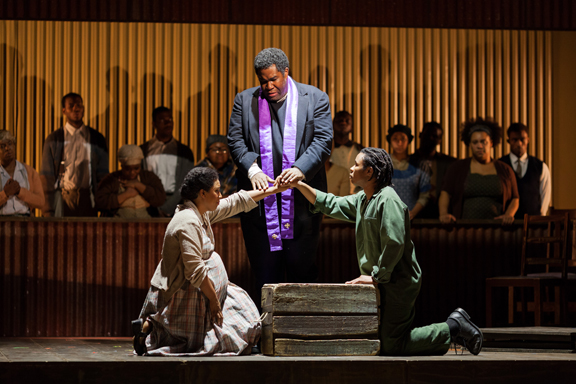 Summer heated up in July and August when the Glimmerglass Festival in Cooperstown, N.Y., presented Lost in the Stars, Kurt Weill and Maxwell Anderson's 1949 "musical tragedy" based on Alan Paton's classic anti-apartheid novel, Cry, the Beloved Country. Directed by Tazewell Thompson and conducted by John DeMain, the co-production with Cape Town Opera featured Glimmerglass Artist in Residence Eric Owens as Stephen Kumalo and Sean Pannikar as the Leader. Audiences were moved to tears by this powerful production, as were the critics:
"For her second season at the Glimmerglass Festival... artistic and general director Francesca Zambello has hit a home run. The high point is Kurt Weill's Lost in the Stars.... This hybrid of opera and music theater is ideally served by Tazewell Thompson's sensitive, understated production; the splendid Glimmerglass chorus; ... and especially the towering, heartfelt performance of Eric Owens.... Lost in the Stars resembles an oratorio, and the chorus, with the terrific Sean Panikkar as The Leader, brings weight and pathos to the show's great laments and its theme about how fear keeps the races divided.... Michael Mitchell's simple set suggesting the corrugated metal of South African shanty towns, Mr. Thompson's subtle stage direction and John DeMain's thoughtful conducting let the deep emotion of this piece come through."
- Wall Street Journal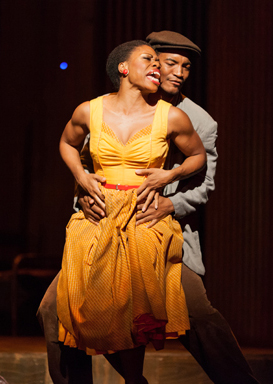 "The story of apartheid and repression is sadly still relevant. But Lost in the Stars also embodies themes of redemption and deliverance that are important, welcome, and cathartic.... Powerful lyric theatre of the top tier." – Opera Today
"With the lush, urgent conducting of John DeMain and the full-voiced singing of a winning cast, the production, directed by Tazewell Thompson in a dark, affecting and fluid staging, draws out the operatic resonances of Weill's score. Mr. Owens triumphed in the lead role of Stephen Kumalo.... [His] complete identification with Kumalo comes through in every moment of his searing portrayal....

Unbearably moving."
– New York Times
"Beautifully conceived, brilliant in its theatrical effects... and so affecting in its emotional content that not only was the audience at the performance's end in tears, so were the cast members....
A great theatrical experience that I recommend to all unreservedly.
"
– Opera Warhorses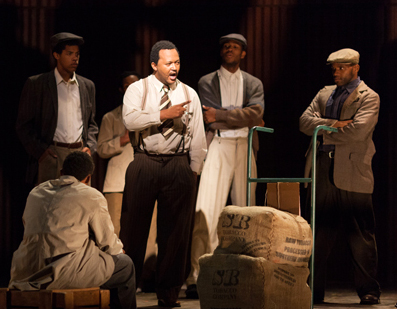 "Of the four Glimmerglass presentations this season, [Lost in the Stars] is
the most timely and deeply felt.
Through the immediacy of the songs and the quality of the performances, especially that of bass-baritone Eric Owens, labels and genres are transcended. The primacy of art and humanity rise to the fore."
– Albany Times Union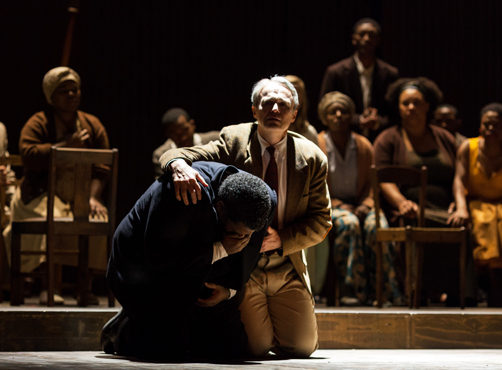 Photos: Karli Cadel/The Glimmerglass Festival