Catch Kurt Weill's "Youkali"
on HBO's True Blood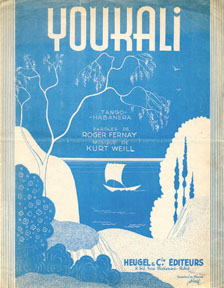 Tune in to HBO on Sunday, July 25th at 9 pm to hear Kurt Weill's tango "Youkali" on the cult-hit vampire series True Blood, produced by Six Feet Under creator Alan Ball.

Weill composed the infectious melody of "Youkali" as an instrumental number for the 1934 show Marie Galante. The lyrics, which wistfully describe an unattainable paradise, were added in 1935 by Roger Fernay.

The recording of "Youkali," sung by Teresa Stratas, is from September Songs: The Music of Kurt Weill, released on Sony Classical.

Listen to a sample >>

True Blood Season 3, Ep. 30: "I Got a Right to Sing the Blues" >>