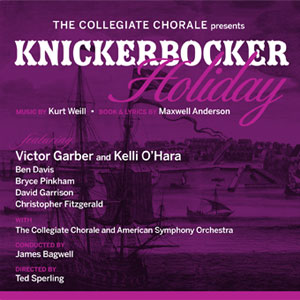 First full recording of Knickerbocker Holiday
now available!
Seventy-three years after its Broadway premiere, Kurt Weill and Maxwell Anderson's Knickerbocker Holiday can finally be heard in its first full recording, released on CD by Ghostlight Records on June 28, 2011. Although dozens of popular artists have recorded the show's most famous hit, "September Song," the only commercial recording of the show previously available was limited to excerpts from a 1945 radio broadcast featuring Walter Huston, Ray Middleton, and Harry Meehan, conducted by Maurice Abravanel.
Now, listeners can hear the score in its entirety, as performed by the Collegiate Chorale, the American Symphony Orchestra, and a cast of Broadway stars in the leading roles, including Victor Garber as Stuyvesant, Ben Davis as Brom, Kelli O'Hara as Tina, Bryce Pinkham as Washington Irving, David Garrison as Tienhoven, and Christopher Fitzgerald as Tenpin. Other featured performers include Michael McCormick, Brad Oscar, Steve Rosen, Brooks Ashmanskas, Jeff Blumenkrantz, and Orville Mendoza. Directed by Ted Sperling and conducted by James Bagwell, Knickerbocker Holiday was recorded live at Alice Tully Hall at Lincoln Center in New York City on January 25 and 26, 2011.
"Much of the breezy score for Knickerbocker Holiday … effervesces like a Gilbert and Sullivan operetta."
- Stephen Holden, New York Times
"[Weill's] score is a fascinating mixture of operetta choruses, peppy vaudeville turns, gorgeous Broadway ballads, and Germanic-flavored strains, all orchestrated brilliantly by the composer himself."
- Erik Haagensen, Back Stage
Read more >>
Order a CD >>
Learn more about Knickerbocker Holiday >>
---
Street Scene debuts at Dresden Semperoper
Kurt Weill's first opera, Der Protagonist, premiered at the Dresden State Opera in 1926. Eighty-five years later and sixty-five years after its creation for Broadway, Street Scene recently debuted at Dresden's Semperoper, the first of Weill's American works ever to be presented there.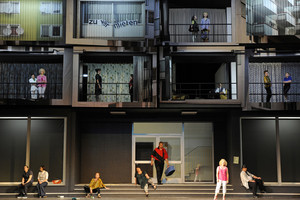 Street Scene opened on June 19 for a seven-performance run ending on July 3, in a German-language production conducted by Jonathan Darlington and directed by Bettina Bruinier, with a cast including Sabine Brohm (Anna Maurrant), Markus Marquardt (Frank Maurrant), Carolina Ullrich (Rose), and Simeon Esper (Sam Kaplan). The production returns in the 2011-12 season for performances on August 26, September 23 and 27, May 30 and June 3.
To coincide with the production, the Semperoper and Staatsschauspiel Dresden have presented an exhibition entitled "Silenced Voices: The expulsion of the Jews and the politically unacceptable from Dresden's theaters from 1933 to 1945." Now through July 13.
Learn more about Street Scene >>
---