Knickerbocker Holiday
heat up New York this winter
Kurt Weill's stage collaborations with Maxwell Anderson are being celebrated in New York this winter with rare back-to-back productions of Knickerbocker Holiday and Lost in the Stars.
On 25-26 January, New York's Collegiate Chorale will present a concert version of Knickerbocker Holiday at Alice Tully Hall with the American Symphony Orchestra and an all-star cast featuring Victor Garber (Stuyvesant), Ben Davis (Brom), Kelli O'Hara (Tina), Bryce Pinkham (Washington Irving), David Garrison (Tienhoven) and Christopher Fitzgerald (Tenpin). Ted Sperling directs and James Bagwell conducts. The performance will be captured on CD by Sh-k-boom/Ghostlight Records.
A week later, February 3-6, New York City Center Encores! presents Lost in the Stars, directed by Gary Griffin and choreographed by Chase Brock, with music direction by Rob Berman. The cast features Chuck Cooper (Stephen Kumalo), Daniel Breaker (Absalom Kumalo), Patina Miller (Linda), Sherry Boone (Irina), Daniel Gerroll (James Jarvis), Sharon Washington (Grace Kumalo), John Douglas Thompson (John Kumalo), Kieran Campion (Arthur Jarvis), Ted Sutherland (Edward Jarvis), Jeremy Gumbs (Alex), and Quentin Earl Darrington (Leader).
In conjunction with the performances, a symposium entitled "Kurt Weill + Maxwell Anderson: Collaboration in Musical Theatre" will be held on February 4, 2011, at 5 pm at the Martin E. Segal Theatre Center in Manhattan. Presented by CUNY Graduate Center in association with the Kurt Weill Foundation for Music, panelists will include theater and music scholars Stephen Hinton, Elmar Juchem and Kim H. Kowalke. David Savran will moderate. Admission is free and open to the public.
---
Kurt Weill Edition releases
"Music with Solo Violin"

Der neue Orpheus finally available in full score—
Volume also includes Violin Concerto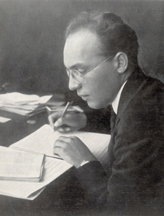 The Kurt Weill Edition has released its latest installment, Music with Solo Violin (Series II, Volume 2). Edited by Andreas Eichhorn (University of Cologne), the volume contains the full scores of the Concerto for Violin and Wind Orchestra, op. 12, and Der neue Orpheus, op. 16, Weill's cantata for soprano, solo violin, and orchestra on a text by Iwan Goll.
Weill composed the works in 1924 and 1925, respectively. The concerto received its world premiere in 1925 in Paris during the "Exposition internationale des Arts décoratifs et industriels modernes" (the international arts fair that gave rise to the term art deco); the cantata was first heard in 1927, when Erich Kleiber conducted it at Berlin's Staatsoper. Although piano reductions appeared during the composer's lifetime, he never saw the works published in full score. In 1965 Universal Edition issued a full score of the concerto, but it was not actually engraved, and it lacked editorial commentary.
The Kurt Weill Edition presents the two works fully engraved, with an informative introductory essay and selected facsimiles that illustrate editorial issues. A detailed critical report appears as a separate volume, which also presents a facsimile of the concerto's old published violin part with annotations by Stefan Frenkel, a violin virtuoso and friend of Weill's, who championed the work in the 1920s.

Read more >>
---
Invite a Colleague or Friend to Join
If you know someone whom you think would like to receive Kurt Weill e-news, please forward this email. They can sign up here.
---
Become a Fan of KWF on Facebook


Join our growing international fan group on Facebook!