IN THE PRESS
Knickerbocker Holiday & Lost in the Stars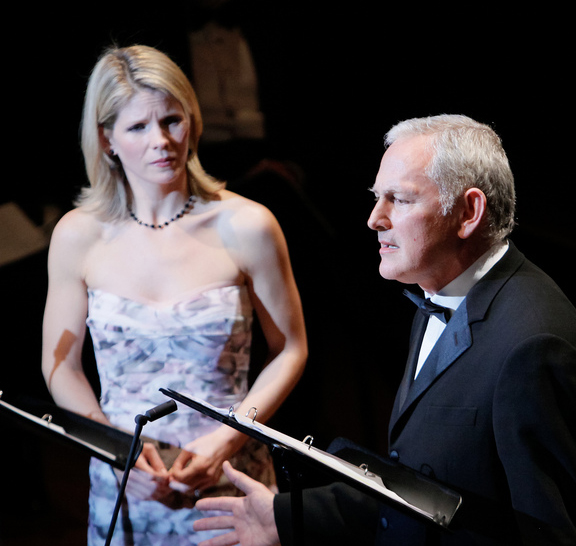 Knickerbocker Holiday
The Collegiate Chorale
with the American Symphony Orchestra
Ted Sperling, dir.; James Bagwell, cond.
Featuring: Victor Garber, Kelli O'Hara, Ben Davis, Bryce Pinkham
Alice Tully Hall, New York, 25-26 January 2011
"A fascinating mixture of operetta choruses, peppy vaudeville turns, gorgeous Broadway ballads, and Germanic-flavored strains, all orchestrated brilliantly by the composer himself.... Persuasive evidence that Weill was and remains one of Broadway's most original, skilled, and artistically ambitious composers.
Victor Garber instinctively understands the size of the role [of Stuyvesant],... playing to his own strengths, delivering a steely, suave, impeccably cultured Stuyvesant with a tantalizing darkness in his soul. But the hero of the evening is Ben Davis, as Brom.... Davis gives a rough-hewn, aw-shucks performance that's pretty nigh perfect, while his singing is impeccably phrased and equally at home in the varied styles. When Davis and Kelli O'Hara, overqualified but delightful in the undemanding role of Tina, soar together on 'It Never Was You,' well, that's pretty much my definition of nirvana." – Erik Haagensen, BackStage
"The breezy score for Knickerbocker Holiday effervesces like a Gilbert and Sullivan operetta." – Stephen Holden, New York Times
"Weill's work is vibrantly refreshing, an intriguing mix of his familiar Berlin style with his first explorations of the American musical. A pleasure to hear the score in all its musical splendor." – Steven Suskin, Variety

"Splendid choral writing and rich orchestrations.... Knickerbocker Holiday has one of the greatest songs in American musical theater history. Let's amend that and say one of the greatest songs ever written... 'September Song'."
– Howard Kissel, Huffington Post

"Knickerbocker is a slam dunk. This concert version of the little-known Weill show made a strong case for its future, highlighting the book's humor, political relevance and array of memorable tunes. In these troubled times, with a highly charged political atmosphere in Washington powered by ugly rhetoric, this acid take on American politics should be heard more often."
– Paul Pelkonen, Superconductor.com

"There's a bounty of riches to be found in this show. And whether they occur in the songs and the dialogue, they're not always sweet — sometimes, in fact, they're biting enough to make you reconsider what passes for subversive political theatre today." – Matthew Murray, Talkin'Broadway
Learn more about Knickerbocker Holiday >>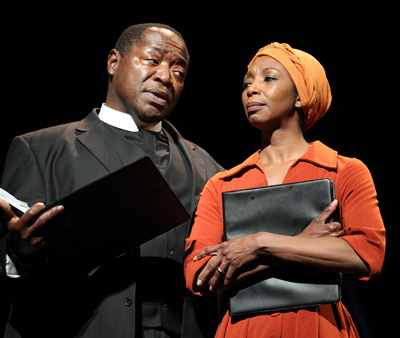 Lost in the Stars
New York City Center Encores!
Gary Griffin, dir.; Rob Berman, cond.
Featuring: Chuck Cooper, Sherry Boone, Patina Miller, Quentin Earl Darrington
New York City Center, 3-6 February 2011
"Lost in the Stars is a masterpiece of articulate eloquence and solid structure that sidesteps obvious clichés.... The point of the show isn't to question individual faults, but how apartheid poisoned people. And the point of this revival is the music — evocative, lush and downright brilliant.... The repeated use of choral singing creates haunting effects, and Weill's original orchestrations alone are so intricate that you'd need a repeat visit to fully appreciate them.... Lost in the Stars may have a somber message, but when this kind of magic happens onstage, all feels right with the world — of theater, at least." – Elisabeth Vincentelli, New York Post
"[Chuck] Cooper, who won a Tony Award for The Life, fills his songs with a resigned sadness and a haunting beauty. [Sherry] Boone wrestles with two stunningly complicated songs — 'Trouble Man' and 'Stay Well' — and emerges triumphant.... And Quentin Earl Darrington as the Leader brings a thunderous voice and presence. 'Who'll Buy?' — a sexy come-on delivered by a prostitute, [is] knocked out the park by Patina Miller." – Mark Kennedy, Associated Press
"Lost in the Stars... contains some of [Weill's] most stirring and original work.... His music captures native dignity, the bustle of city life, and the plangent feelings of life under assault.... Anderson's lyrics, alternately gritty and poetic evocations of individual and collective souls, are ideal complements.... A masterful work that, even 61 years after its debut, cries out to be heard." – Matthew Murray, Talkin' Broadway
"The shattering story and seductive Weill score had me spellbound.... Gripping or caressing, declamatory or insinuating, laughing or longing, it targets the gut as much as the ear." – John Simon, Uncensored John Simon
"A sorrowful story.... What makes experiencing such woefulness... compelling is the somber beauty and great dramatic intensity of Weill's rich score. Surging with thrilling choral passages,... Weill's final completed score is remarkable in its fusion of musical theater styles
." – Michael Sommers, New Jersey Newsroom
"Packed with gorgeous and emotional musical moments.... [Weill's] most dramatically rich work.... Anderson's book and lyrics, in the style of musical dramas of the day, is filled with heart-on-its-sleeve sincerity and warm, simple poetry." – Michael Dale, BroadwayWorld

"A worthy and fascinating choice of programming... a must-see for anyone who cares about rare musicals, political theater or the long and varied career of Kurt Weill." – Matt Windman, am New York

"A lush and varied musical landscape, including gorgeous, haunting choral work." – Joe Dziemianowicz , New York Daily News
"[A] merger of passion and skill in Weill's extraordinary score, its choral passages in particular handled with astonishing mastery. Musically sensitive listeners often start getting goosebumps early in the opening chorus." – Michael Feingold, Village Voice
---
"Mack the Knife" Documentary on BBC Radio 2
Tune in this week to BBC Radio 2 to hear a documentary focused on the legendary song "Mack the Knife." Andy Serkis tells the story of how it transformed from a gritty German musical theater song ("Moritat vom Mackie Messer" in Die Dreigroschenoper) into a swinging American smash hit, and discusses the song with Marianne Faithfull, Ute Lemper, Richard Butler (Psychedelic Furs), Alan Cumming, and theatre composer Dominic Muldowney. The program broadcasts "Song Stories" at 10 pm GMT on 16 February, and will be available online for 7 days.

Learn more >>
Listen online >>
---
Upcoming Performances - Highlights
---
Invite a Colleague or Friend to Join
If you know someone whom you think would like to receive Kurt Weill e-news, please forward this email. They can sign up here.
---
Become a Fan of KWF on Facebook


Join our growing international fan group on Facebook!