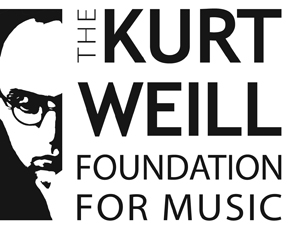 Kurt Weill Foundation E-news

New Eternal Road
Oratorio Debuts to Critical Acclaim

Lenya Competition Winners Shine
in Four Concerts

The new oratorio version of Der Weg der Verheißung
(The Eternal Road), which premiered at the Anhaltisches Theater Dessau on February 28 under the baton of Antony Hermus, was enthusiastically welcomed with extended audience ovations and critical acclaim. Conceived and edited by Ed Harsh, the oratorio, Die Verheißung (The Road of Promise), distills Weill's largest stage work into a two-hour concert work for five to six vocal soloists, two speaking roles, large chorus, and orchestra (including organ and guitar). The oratorio maintains the story of the original, in which a modern synagogue under threat of a pogrom draws strength from Old Testament stories that define Jewish heritage. The Road of Promise is available in both English and German versions from European American Music Corporation.
"In fourteen musical numbers … the composer manages to create gripping images of happine

ss, struggle, doubt, hope.... Weill's musical idiom never strays from tonality, although it sharpens many a chord, and creates many dramatic and forceful accents.... Where the dramatic situation allows it, one can hear familiar tango sounds from the

Threepenny Opera

and song-like strains such as in

The Seven Deadly Sins

, cheeky tunes from Berlin, or 1920s battle songs in the style of Eisler.... Ed Harsh's adaptation made a seamless, two-hour oratorio out of the massive, four-act stage work.... Kurt Weill was an expressionist, a communicative artist. His musical idiom is lively, understandable, immediately appealing. Music like monumental building blocks at the shout, 'Messiah where are thou?'—and simple as a folk-song at the prayer, 'O king of the world.' That's what one wants from good contemporary music—and that's why the audience in Dessau rewarded the performers with long, heartfelt applause."
"The hugely celebrated world premiere of the oratorio Die Verheißung, adapted by American composer Ed Harsh, caused a sensation.... Despite the necessary cuts to the original version, the audience could easily follow the plot.... Weill's score—which is based on original Jewish music and also connects with modern influences—was played by the orchestra in all its facets and inherent fascinating nuances with great engagement. Under the concentrated overall direction of General Musical Director Antony Hermus, music and story blended into a strong overall statement." – Magdeburger Volksstimme
The 2013 Kurt Weill Fest opened with a smash hit gala concert, "New York, New York." Conducted by Artist-in-Residence
James Holmes
, Lenya Competition winners
Richard Todd Adams
,
Maria Failla
,
Analisa Leaming
,
Michael "Tuba" McKinsey
, and
Jacob Keith Watson
performed songs by Weill and other Broadway composers with the Deutsche Staatsphilharmonie Rheinland-Pfalz. The audience demanded no fewer than five encores.
"Especially captivating was the stage presence of this line-up of singers, who, in addition to staying in synch with the swinging orchestra, also had to tell a story with their songs" (
Allgemeine Zeitung).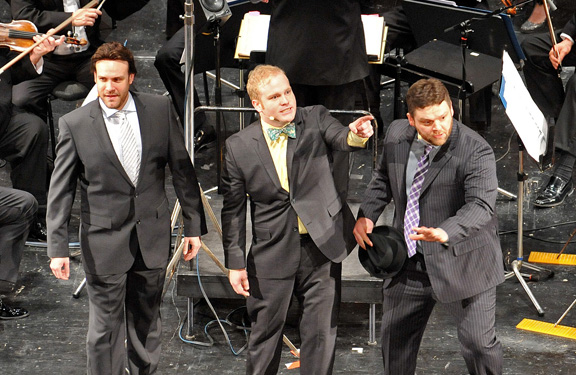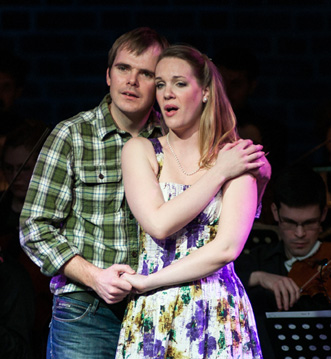 Also received with great enthusiasm were a concert of Down in the Valley and Raft on the River, James Holmes's new orchestral arrangement of the Five Songs From Huckleberry Finn, with James Benjamin Rodgers, Analisa Leaming, Jacob Lewis Smith and the excellent IEMA Ensemble conducted by Holmes; a sold-out cabaret evening featuring the same singers with Holmes at the piano; and a concert of the Walt Whitman Songs, with Rodgers and the MDR Symphony Orchestra led by Garrett Keast.
---
Twelve Finalists Will Compete in the
15th Anniversary Lotte Lenya Competition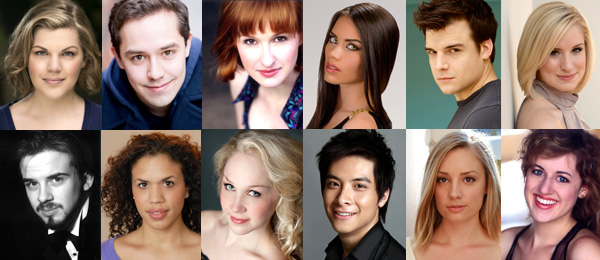 Twelve exceptionally talented young singer-actors, with previous stage experience ranging from roles on Broadway to the Metropolitan Opera House, have been named finalists in the 2013 Lotte Lenya Competition. They will compete for top prizes of $15,000, $10,000 and $7,500 on Saturday, April 13, 2013, at the Eastman School of Music in Rochester, New York. Acclaimed soprano and 2010 Opera News Award winner Patricia Racette, British opera and musical theater conductor James Holmes, and Rodgers & Hammerstein Organization President and American Theater Wing Vice-Chairman Theodore S. Chapin will serve as judges.
Alison Arnopp, soprano (County Cork, Ireland)
Daniel Berryman, tenor (New York)
Douglas Carpenter, baritone (Woodbridge, Conn.)
Ginger Costa-Jackson, mezzo-soprano (Sandy, Utah)
Christian Ketter, tenor (Chicago)
Mingjie Lei, tenor (Hengyang, China)
Erin Mackey, soprano (Astoria, N.Y.)
Rachel Kara Cordeiro-Pérez, soprano (Brooklyn, N.Y.)
Heather Phillips, soprano (Philadelphia)
Lauren Roesner, soprano (Cincinnati)
Christy Sullivan, mezzo-soprano (Sydney, Australia)
Maren Weinberger, soprano (New York).
View the Lenya Competition 15th Anniversary Commemorative Program >>
---
Zaubernacht Now Available on CD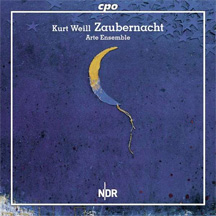 A new recording of Zaubernacht by the Arte Ensemble, with soprano soloist Ania Vegry, is out on the German label CPO. This is the first commercially released recording of the critical edition of Weill's 1922 score for a ballet-pantomime for children, published by the Kurt Weill Edition in 2008 after a surprise rediscovery of the original parts
. The new edition has been performed with acclaim in Stuttgart, Dessau, London (
Royal Opera House
), and last summer at the Ravinia Festival. More than one critic has deemed it a welcome replacement for the ubiquitous holiday standard,
The Nutcracker
. Now producers, choreographers, and fans can hear for themselves why leading dance critic Horst Koegler praised
Zaubernacht
's
"
joyous, effective melodies ... marvelously orchestrated, transparent, and certainly eminently danceable."
---
Weill Focus in Rochester
Public Radio Series, College Productions & Lenya Competition
Weill is hot this spring in Rochester, New York, as a series of events in March and April create a veritable mini-festival. Kicking it all off, the popular public radio series, "Fascinatin' Rhythm," hosted by Michael Lasser, is devoting a sequence of three programs to Kurt Weill's career in the U.S. In Kurt Weill, American, Lasser presents a variety of Weill's American songs, from the famous to the obscure, as well as brief recorded reminiscences from Weill's collaborators Ira Gershwin, Langston Hughes, and Ogden Nash, and expert commentary from Kim H. Kowalke, president of the Kurt Weill Foundation. The WXXI series airs in March on public radio stations across the country and can also be listened to online via live stream. On 7 April, Lasser will host a special performance of Weill songs at the Harley School.
Next up in Rochester are two student productions of Weill works which perfectly bookend the 15th Anniversary Lotte Lenya Competition finals on April 13: the Eastman School of Music presents Street Scene April 4-7, and Nazareth College presents The Threepenny Opera April 12-14 and 19-21.
---
Upcoming Performances - Highlights

Weill Songs
Joyce Castle, soprano; Ted Taylor, piano.
Suite aus der Dreigroschenoper
Ernest Martinez Izquierdo, conductor.
Pamplona, March 21, 22; Tudela, March 23
Aufstieg und Fall der Stadt Mahagonny
Benedikt von Peter, director; Markus Poschner, conductor.
Aufstieg und Fall der Stadt Mahagonny
Reinhard Göber, director; Anna Skryleva, conductor.
Flensburg, March 30, April 2, 6, 13, 23, 26, May 1; Itzehoe, April 17; Rendsburg, May 7
Lawrence Foster, conductor.
"I'm a Stranger Here Myself"
Keith Lockhart, conductor; Charles Mutter, violin; Ilona Domnich, soprano.
Listen to a KWF interview with Keith Lockhart
about this all-Weill program
in "The Rest is Noise" Festival.