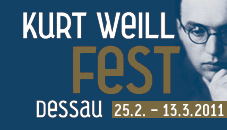 Kurt Weill Fest 2011

Critical Edition of
Der Protagonist
Premieres in Dessau
Each year in Weill's hometown of Dessau, Germany, the Kurt Weill Fest celebrates Weill with a festival of concerts, stage productions, films, lectures, and exhibitions. Now in its 19th year, the 2011 Kurt Weill Fest kicks off a three-year plan to focus on each of the main periods of Weill's life and work: Berlin (1918-1933) this year, Paris (1933-1935) in 2012, and New York (1935-1950) in 2013. Here are some highlights of the 2011 festival, which runs through 13 March:
Der Protagonist – The premiere of the critical edition of Weill's first opera opened the festival on 25 February. Presented by the Anhaltisches Theater Dessau on a double bill with I Pagliacci, the production is directed by André Bücker and conducted by Antony Hermus and runs through 28 May.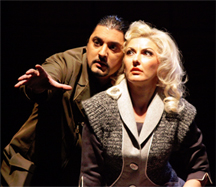 Weill achieved a spectacular breakthrough as a composer when Der

Protagonist premiered in
Dresden in 1926, and he immediately r
ose to prominence among the young
composers identified at the time with the renewal of the "crisis-ridden genre" of opera. With a libretto by Expressionist playwright Georg Kaiser, the one-act opera tells the story of a passionate actor whose jealousy and inability to distinguish reality from illusion results in the tragic murder of his sister.
Zaubernacht - After the September 2010 premiere of the critical edition at the Musikfest Stuttgart, Tanztheater Nina Kurzeja/Arte Ensemble Hannover bring their critically acclaimed production of Weill's children's pantomime to Dessau on 5 March.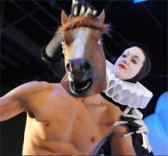 Zaubernacht is an hour-long stage work scored for solo soprano and a nine-piece ensemble. Based on a scenario by Wladimir Boritsch, the plot involves two children falling asleep in their bedroom. At midnight a Toy Fairy appears and awakens all the toys with her song, and the toys interact with the dreaming children in a series of follies and dances.
One Touch of Venus – A revival of the successful 2010 Anhaltisches Theater Dessau production will be presented on 3 March.
"It Takes Two" – An evening of Weill's theater songs will be performed by Lotte Lenya Competition winners Rebecca Jo Loeb and Alen Hodzovic on 3 March.
Concert performances by the MDR Symphony Orchestra (4 March), the Anhaltische Philharmonie Dessau (10-11 March), and Artists-in-Residence Ensemble Modern, conducted by HK Gruber (13 March).
---
Upcoming Performances - Highlights
Nanna's Lied
San Francisco Ballet, USA
Ten songs of Kurt Weill performed as the ballet "Nanna's Lied"; Helgi Tomasson, choreographer
24 February – 9 March

The Music of Kurt Weill
Jazz at Lincoln Center, New York, USA
Ute Lemper with Wynton Marsalis and the Jazz at Lincoln Center Orchestra
3 - 5 March

Driestuiversopera (The Threepenny Opera)
Het Nationale Toneel with Asko|Schönberg Ensemble, NETHERLANDS
Franz Marijnen, director
8 March - 19 June (59-date tour)
Der Silbersee
Staatstheater Hannover, GERMANY
Lars-Ole Walburg, director; Thomas Posth, conductor
19 March - 19 April

Weill songs
New York Philharmonic, USA
Kelli O'Hara, soprano; Nathan Gunn, baritone
21 March

Aufstieg und Fall der Stadt Mahagonny
Oper Köln, Cologne, GERMANY
Katharina Thalbach, director
23 March – 8 April

Full performance calendar >>
---
Invite a Colleague or Friend to Join
If you know someone whom you think would like to receive Kurt Weill e-news, please forward this email. They can sign up here.
---
Become a Fan of KWF on Facebook


Join our growing international fan group on Facebook!