2012-13 Season Preview
Fall Highlights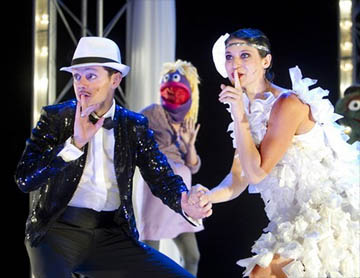 The 2012-13 season goes into high gear this week with European productions of Die Dreigroschenoper, Aufstieg und Fall der Stadt Mahagonny, and Street Scene. Christian Friedel (above), who starred in Michael Haneke's Oscar-nominated film The White Ribbon, plays the notorious Mack the Knife at Staatschauspiel Dresden, and rising star Stephanie Houtzeel sings Jenny in Mahagonny at the Wiener Staatsoper.
In Gelsenkirchen
, Musiktheater im Revier raises the curtain on a new production of
Street Scene.
Describing The Seven Deadly Sins as the "dark mirror" of the children's pantomime Zaubernacht, Landestheater Linz pairs these two dance works in a new, fully staged evening directed and choreographed by Jochen Ulrich. Dennis Russell Davies conducts and rock legend Marianne Faithfull plays Anna I in the Sins.
Read on for more highlights of the fall 2012 season:

Die Dreigroschenoper
Friederike Heller, director; Thomas Mahn, conductor; Christian Friedel, Macheath.
September 14 – November 7
Aufstieg und Fall der Stadt Mahagonny
Jérôme Deschamps, director; Ingo Metzmacher, conductor.
Street Scene
Gil Mehmert, director; Heiko Mathias Förster, conductor.
September 22 – December 15
Zaubernacht
The Seven Deadly Sins
Jochen Ulrich, director/choreographer; Dennis Russell Davies, conductor; Marianne Faithfull, Anna I.
The Seven Deadly Sins
Carl St. Clair, conductor; Ute Lemper, Anna I; Hudson Shad Vocal Quartet.
Street Scene
Steven Goldstein, director; Mark Gibson, conductor.
November 15-18
Weill Songs
Seville, November 19; Madrid, November 20; Bilbao, November 21; Zaragoza, November 22; Lisbon, November 24; Oviedo, November 25
Symphony No. 2
Michael Sanderling, conductor.
Aufstieg und Fall der Stadt Mahagonny
Kerstin Polenske, director; William Lacey, conductor.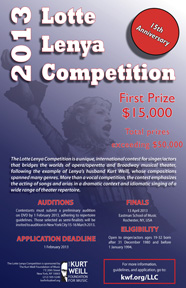 The Lotte Lenya Competition, celebrating its 15th anniversary in 2013,
seeks exceptionally talented young singer/actors who excel in a wide range of musical theater styles for the 2013 competition. Contestants will compete for top prizes of $15,000, $10,000 and $7,500; total prizes awarded will exceed $50,000.
Established in 1998 by the Kurt Weill Foundation, the Lotte Lenya Competition is a unique international contest that bridges the worlds of opera/operetta and Broadway musical theater, following the example of Lenya's husband Kurt Weill, whose compositions spanned many genres. More than a vocal competition, the contest emphasizes the acting of songs and arias within a dramatic context and idiomatic singing of a broad range of theater repertoire.
The 2013 Lotte Lenya Competition is open to artists ages 19-32 born after December 31, 1980 and before January 1, 1994. Each contestant must submit a preliminary audition DVD by February 1, 2013. Those selected as semi-finalists will be invited ...

Read more >>
---
Grant Program


Upcoming Deadline November 1st
Each year the Kurt Weill Foundation Grant Program awards financial support to not-for-profit organizations for performances of Kurt Weill's musical works, to individuals and not-for-profit organizations for scholarly research projects, and to not-for-profit organizations for educational initiatives directly related to Weill and/or Lotte Lenya.
FUNDING CATEGORIES
•

Research and Travel
•

Kurt Weill Dissertation Fellowship
•

College/University Performance
•

Professional Performance
DEADLINES
The annual application deadline is November 1 for the following calendar year, academic year, or cultural season, and applicants will be informed of awards no later than 1 February of the funding year. An additional application deadline of 1 June is limited exclusively to College/University Performance grants for productions taking place in the upcoming fall semester. Applications for support of major professional productions/festivals/exhibitions, etc., will be evaluated on a case-by-case basis without application or performance deadlines.