Royal Opera House Presents UK Premiere
of Magic Night (Zaubernacht)

"A Nutcracker for the 21st Century"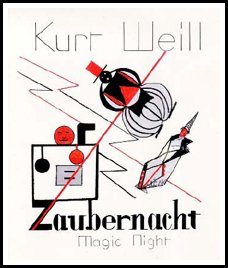 The Royal Opera House presents the UK premiere of Kurt Weill's children's pantomime Magic Night (Zaubernacht) for a month-long holiday-season run in the Linbury Studio Theatre. The brand-new production, described as "a Nutcracker for the 21st Cenutry," is choreographed by Aletta Collins and conducted by James Holmes, and runs for 29 performances December 9–31.
This will be the first major staging of the work since Weill's original orchestrations, presumed to be lost during World War II, resurfaced in 2006 and became the basis for a critical edition and new performing materials.
Zaubernacht is an hour-long stage work scored for solo soprano and chamber orchestra. The original scenario by Wladmir Boritsch involves two children falling asleep in their bedroom. At midnight a Toy Fairy appears and awakens all the toys with her song, and the action unfolds from there, as the toys interact with the dreaming children in a series of follies and dances. Directors and choreographers are encouraged to create their own scenarios that are appropriate to the music.
"Vastly entertaining.... I enjoyed most of all Weill's music, its joyous, infectious melodies and sprightly bounces. It is marvelously orchestrated, transparent, even lucid, and certainly eminently danceable, with its jaunty rhythms.... Definitely recommended for replacing the hackneyed Nutcracker routine!"
- Horst Koegler, Tanznetz
Learn more about Magic Night (Zaubernacht) >>

---
New Recordings
Two recently released CDs focused around the theme of war include songs by Weill: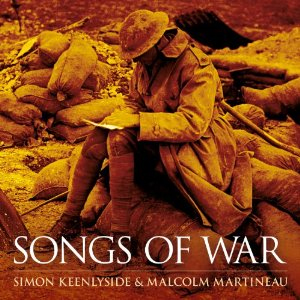 Simon Keenleyside – Songs of War
Sony Classical (Sony 88697944242)
Simon Keenlyside, baritone, and Malcolm Martineau, piano. A personal selection of songs about war, chosen by Simon Keenlyside. Includes two of Weill's Walt Whitman songs: "Beat! Beat! Drums!" and "Dirge for Two Veterans."

Stage Door Canteen: Broadway Responds to World War II
DRG Records (DRG 94799)
Wartime songs by Irving Berlin, Leonard Bernstein, Oscar Hammerstein II, Frank Loesser, Cole Porter, Jerome Kern, Rodgers & Hart, and Kurt Weill, as performed at the 92nd Street Y's "Lyrics and Lyricists" series. Includes "The Saga of Jenny," "Buddy on the Nightshift," and "The Song of the Free."
---
Kurt Weill Newsletter Now Online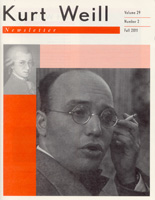 The Fall 2012 issue of the Kurt Weill Newsletter (29.2) is now online. Features include: "Mixed Genres and the Possibilities of Opera" by Stephen Hinton; "Lenya: A Moment in History (and a Drink)"; "Kurt Weill Reloaded: An Interview with Theo Roos"; "Daniel Hope Takes a Look at Weill's Music with Solo Violin"' as well as CD, book, DVD and performance reviews.
View the Fall 2011 Newsletter >>
---
Upcoming Performances - Highlights