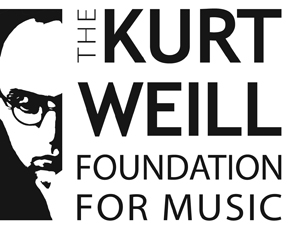 Kurt Weill Foundation E-news
Rising Stars Win Top Prizes in
Lotte Lenya Competition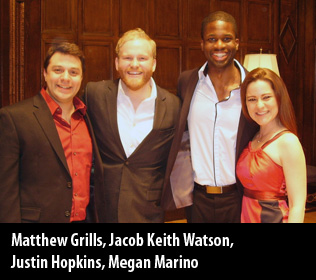 Matthew Grills, tenor, of Rochester, N.Y, won the $15,000 First Prize in the finals of the 2012 Lotte Lenya Competition, held on April 21, 2012, at the Eastman School of Music in Rochester. In a close contest, Justin Hopkins, bass-baritone of Philadelphia, and Jacob Keith Watson, tenor of Wynne, Ark., tied for Second Prizes of $10,000, and Megan Marino, mezzo-soprano of Malvern, Penn., was awarded the Third Prize of $7,500.
This is the first time that the top prize in both the Lotte Lenya Competition and the Metropolitan Opera National Council Auditions was won by the same contestant, Matthew Grills, who was one of the five 2012 Met Auditions Grand Winners. While the Met Auditions, as well as most other singing competitions, focus primarily on vocal beauty and power, the Lotte Lenya Competition is unique in its equal emphasis on singing and acting. Contestants must present fully acted, idiomatic performances of repertoire ranging from opera to contemporary musical theater. At the Lenya Competition finals, Grills transitioned with ease from a performance of "Ah, mes amis" from Donizetti's La Fille du Regiment—an aria with nine high Cs—to a powerfully acted rendition of "If I Didn't Believe in You" from Jason Robert Brown's The Last Five Years. The other prize winners also presented exceptionally strong performances of repertoire ranging from Mozart, Rossini, Lehár and Weill to William Finn, Andrew Lippa and Stephen Sondheim.

Judges for the competition were three-time Tony Award nominee Rebecca Luker, Broadway and Encores! music director Rob Berman, and Theodore S. Chapin, President of the Rodgers & Hammerstein Organization and Chairman of the Board of the American Theater Wing.

The Kurt Weill Foundation for Music, which sponsors the competition, distributed a record $58,500 in prizes this year. In addition to the top prizes, judges presented two Lys Symonette Awards of $3,000 each, named in honor of Kurt Weill's musical assistant on Broadway. For her performance of Weill's "Le train du ciel," soprano Natalie Ballenger of Santa Cruz, Calif., received an award for Outstanding Performance of an Individual Number, and soprano Maria Failla of Scarsdale, N.Y., received one for Extraordinary Promise as a Singing Actor / Acting Singer. The remaining six finalists each received a total award of $1,000: Christine Amon, mezzo-soprano, of Bowling Green, Ohio; Douglas Carpenter, baritone, of Woodbridge, Conn.; Briana Elyse Hunter, soprano, of New York; Cecelia Ticktin, mezzo-soprano, of Roosevelt, N.J.; Mollie Vogt-Welch, soprano/belt, of New York; and Nicky Wuchinger, bari-tenor of Berlin, Germany.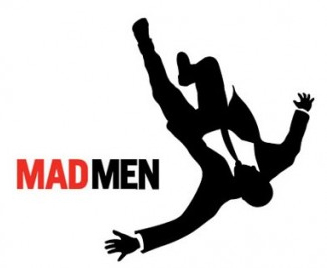 "I'm a Stranger Here Myself" from One Touch of Venus, Kurt Weill and Ogden Nash's humorous reflection upon the sorry state of modern love, will play over the final credits in an upcoming episode of Mad Men, HBO's Emmy-Award winning series about advertising executives and the seductive, ruthless Madison Avenue culture of the 1960s. Episode 507 is scheduled to air on Sunday, 29 April at 10 pm (9 pm Central) on AMC. "I'm a Stranger Here Myself" was originally made famous on Broadway by Mary Martin; the Mad Men episode features a recording by chanteuse Greta Keller.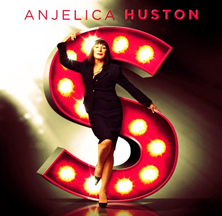 Soon after, in May, the new NBC musical drama Smash will feature a performance of "September Song" by Anjelica Huston, granddaughter of the legendary Walter Huston, who earned encores every night with his rendition of the bittersweet Weill-Anderson song in the original 1938 Broadway production of Knickerbocker Holiday. Ms. Huston, who plays a tenacious Broadway producer, will sing the song in Episode 1014, scheduled to air on Monday, 7 May at 10 pm (9 pm Central) on NBC.
Learn more >>
---
KWF website launched with new look & new content
We are pleased to announce the newly revamped and enhanced Kurt Weill Foundation website. Along with a new design and a fresh look, we have augmented our news area substantially. New features on the site include a home page slideshow, a current news area and archive, a performance calendar archive, an e-news archive, and information about Marc Blitzstein. We invite you to explore the new site!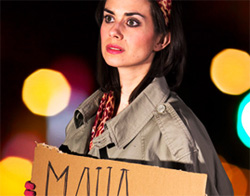 Weill and Brecht's Aufstieg und Fall der Stadt Mahagonny returns to the city of its 1930 world premiere in a new production at Oper Leipzig. Conducted by Ulf Schirmer, directed by Kersten Polenske, and featuring Karin Lovelius (Leokadja Begbick), Timothy Fallon/Martin Petzold (Fatty), Jürgen Kurth (Trinity Moses), Soula Parassidis/ Marika Schönberg (Jenny), and Stefan Vinke (Jim Mahoney), Mahgonny runs for five performances from 28 April through 19 May.
Carnegie Hall's innovative Spring for Music Festival presents Weill's Symphony No. 1 on May 9, performed by the New Jersey Symphony Orchestra under the baton of music director Jacques Lacombe. In a program that explores the influences and vision of composer and teacher Ferruccio Busoni, with whom Weill studied in Berlin in the early 1920s, Weill's Symphony No. 1 will be performed alongside works by Busoni and Edgard Varèse. The performance is funded in part by the Kurt Weill Foundation for Music, Inc.
Deutches Nationaltheater Weimar, GERMANY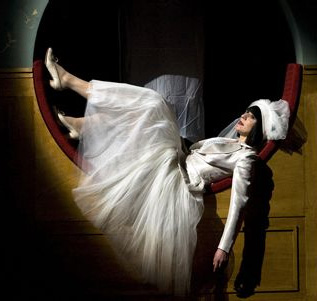 Claudia Meyer, director; Marcus Schmickler, conductor.
Attila Béres, director; Péter Bíró, conductor.
29-30 April; 25-16 May; 6-7 June
Theater Magdeburg, GERMANY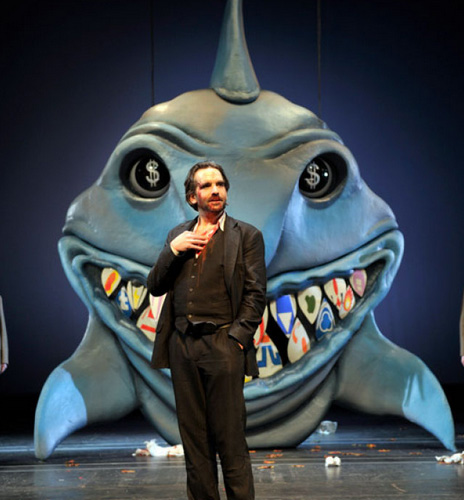 Jan Jochymski, director; Mariz Hinze, conductor.
Robert Wilson, director; Hans-Jörn Brandenburg, Stefan Rager, conductors.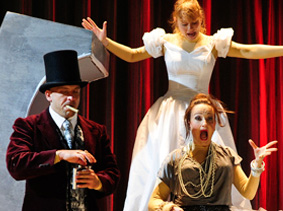 Max Henry, director; Christophe Larrieu, conductor.
Philip Tiedemann, director; Anja Bihlmaier, conductor.
Happy End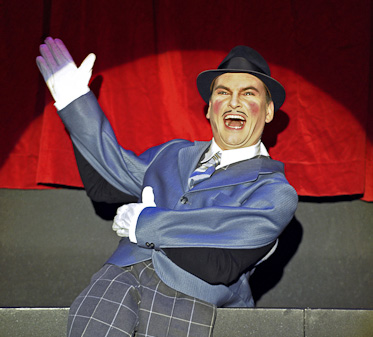 Philip Tiedemann, director; Hajo Wiesemann, conductor.
Michael Heicks, director; Frank Raschke, Bill Murta, conductors.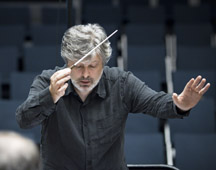 James MacMillan, conductor; Hans-Jürgen Schöpflin, tenor; Martijn Cornet, bass.
Kleine Dreigroschenmusik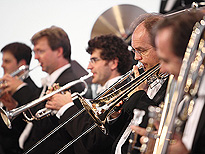 Suite aus Aufstieg und Fall der Stadt Mahagonny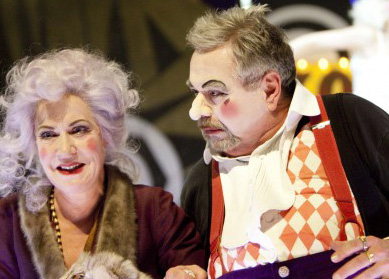 Michael Lerchenberg, director; Rodrigo Tomillo, conductor.
---