Records falling at RPQRR

November proved record high numbers for RPQRR's fall helicopter census. Each November we fly 52 miles' worth of GPS-marked transects and count how many quail we observe. This year's count was an incredible 163 coveys . . . a 37% increase over 2015's count! Using the equation described in DeMaso et al (2010; see www.ckwri.tamuk.edu) these numbers estimate the density of quail at about 1.3 birds/acre! I say "quail" and not "bobwhites" because we also have blue quail, and we can't always discern bobwhites from blues. (Our fall trapping statistics will document what percent of the total quail population is comprised of bobwhites; stay tuned).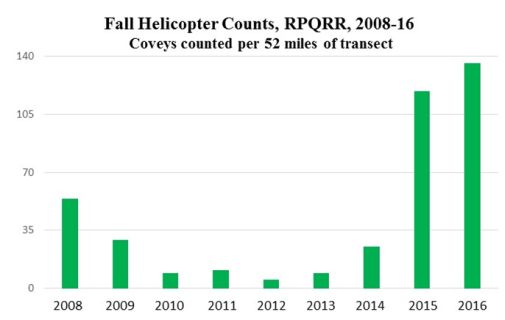 So, we've documented record spring and fall covey call counts, roadside counts, and helicopter counts. So, what about covey rises, i.e., where the rubber meets the road? I hosted John Thames (Covey Rise Magazine) on Saturday, Nov. 19 . . . we flushed 63 coveys in about 6 hours of hunting! That's also a personal record for me, as I flushed 58 coveys the Saturday before on my lease near Big Spring (my previous record was set in 2015—a paltry 47 coveys!).

I often refer to RPQRF Board member A. V. Jones of Albany as the "Dean of North Texas Quail Hunters." His long-term perspective as a Student of Quail provides him a data set that most of us can't touch. I've heard him speak of 75 covey days, but to tell you the truth I didn't think I'd ever see it. It is indeed a beautiful sight!

---
Observations on Quail Crops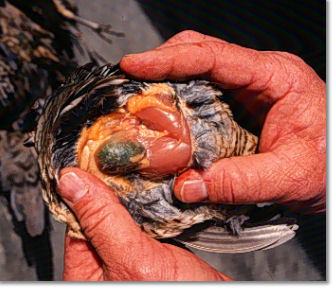 I'm referring to the anatomical structure, not abundance. A quail's crop is simply an expansion of the esophagus—it functions as a "zip-loc bag" for seed storage thus affording quail an "eat and run" lifestyle. The longer a quail spends in more open areas, the more vulnerable it is to raptors. With a crop, a quail can eat hurriedly, then retreat to the relative security of a brush thicket as the seeds (and other foods) move through the bird's digestive tract.

Whenever my dog retrieves a quail, the first thing I do is palpate ("feel") the crop. Is it full, partially full, or mostly empty? Then, when it comes time to clean the birds, I dissect any "good sized" crops to see what the daily diet consisted of. Inquiring minds want to know.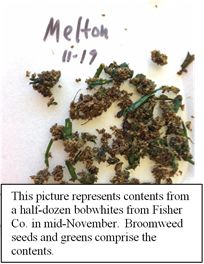 Thus far I've found mostly empty crops, unless the birds had access to supplemental feed (i.e., milo). So, what does the paucity of crop contents mean? Are we on the verge of a "crop failure?" Not necessarily. I attribute the low volume of foods primarily to (a) unseasonably warm temperatures, and (b) a late killing frost (which impacts when broomweed and western ragweed drop their seeds). Birds I've looked at thus far have been consuming more greens than I typically expect this early in the season.

As you do your own crop analyses, I'll wager you'll discover three things: (a) birds will be feeding much more in late-afternoon than during the morning, (b) birds taken the day after the cold front blows through will have fuller crops than those taken the day of the cold front, and (c) if you have both bobwhites and blue quail, the blues will always have 2-4X more seed volume than bobwhites will, regardless of the time of day you shoot them.

As you come across seeds you can't identify, take a close-up photo of the crop contents spread out on a paper plate (an iPhone does a nice job) and e-mail it to me at drollins@quailresearch.org. If I don't know them, I'll share with my network of "Students of Quail."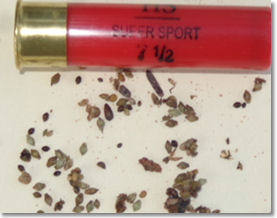 As a reminder, RPQRR is soliciting crop contents of quail harvested across the Rolling Plains (TX & OK) in an attempt to compile a comprehensive seed collection of plants eaten by quail. As you clean birds at the end of the day's hunt, dissect out the crop and empty the contents into an empty shotgun shell box so they will dry out, then tape the seams with duct tape. Do not put them in a plastic bag as they will mold. At the completion of your season send the box and contents to RPQRR, P.O. Box 220, Roby, TX. The crop content analysis from these samples will constitute our "Seed Appreciation Day" next May.

---
Song of the Month
Theme song to Dynasty
---
Word of the Month

dynasty; (noun) "a family, team, etc., that is very powerful or successful for a long period of time." For example, the Rolling Plains of west Texas exemplify a quail dynasty.

---
A Call for Benevolence

We hope you're as excited about this year's hunting season as we are. Yes, timely rains have been an important part of our quail rebound over the past two years, but as our counts suggest, we have more than 9 times as many quail as the "Dow Jones average" (i.e., TPWD's roadside counts for the Rolling Plains). And we're making history at restoring scaled ("blue") quail to their former haunts in the eastern Rolling Plains where blues were common until about 1988. But we need your continued support to sustain and expand our various research efforts. As you consider your year-end giving plans please keep the RPQRR in mind. If you would prefer to visit with one of our Board members, please contact Dr. Rollins (325-650-0311).

---
RPQRR's Wish List – Can you help?

Our support for quail research comes almost exclusively from private donors. Perhaps you would like to help us help quail. We have need for various pieces of equipment. If you would like to donate, RPQRR is a 501(c)(3) nonprofit foundation, so your donations (cash or in-kind) are tax-deductible. Here's our current list of needs:

| | |
| --- | --- |
| Item | Need |
| ¾ ton pickup truck | Pulling trailers, carrying pumper unit for prescribed burns |
| 100-hp tractor | Food plot preparation, shredding |
| 15' batwing shredder | Shredding |
| Grain cart | Bulk purchase/storage of milo |
| Sea container | Storage of equipment |
---
Want RPQRR's printed newsletter?

Quail hunters are, as a rule, an older lot. Older men (aka potential donors!) don't always use the internet for their communications, e.g., e-Quail News. So, we decided to offer a quarterly printed newsletter as a supplement to the e-version. If you'd like to be on the mailing list for the printed newsletter send your name and mailing address to Russell Graves, PO Box 68, Childress, TX 79201.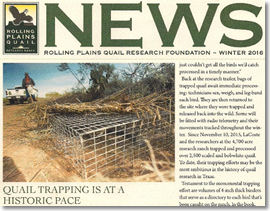 ---
I ask that you keep your eyes open for any "weird" quail. "Weird" could include odd plumage, hybrids of bobs and blues, or diseased birds. As you clean your birds always be mindful of birds that are "noticeably" light in weight, or have livers that are discolored (think pickle-loaf). Keep your camera handy for any plumage abnormalities, and a ziploc bag handy if you find any potentially-diseased quail. Either way, please contact me (drollins@quailresearch.org or call my cell [325-650-0311]) if anything catches your attention. Inquiring minds want to know.
10 - The number of primary ("flight") feathers on a quail's wing.
Jan 5-8 - Wingshooter's World at Dallas Safari Club Convention
Two special events slated for 2017
QuailMasters-Encore! will be the last opportunity to experience the "adult version" of Bobwhite Brigade. Over a course spanning 4 sessions and 4 months, participants will tour some of Texas' premier quail properties and learn from landowners and professors alike. For more information, contact Clint Faas.

The other effort will be a redoux of the Statewide Quail Symposium on August 16-18, 2017 in Abilene. Details to come.
SA month ago I set up a mirror on our guzzler in order to "catch" (photograph) some interesting behaviors. See facebook.com for my best one to date. It features a roadrunner tilting windmills with itself..
Got a new e-mail address? Please [Click Here] to update your information if you wish to continue receiving e-Quail.
Forwarded from a friend? Please [Click Here] to sign up for the RPQRR e-Quail Newsletters!