"Quail-maker" rain blesses South TX;
west Tx still dry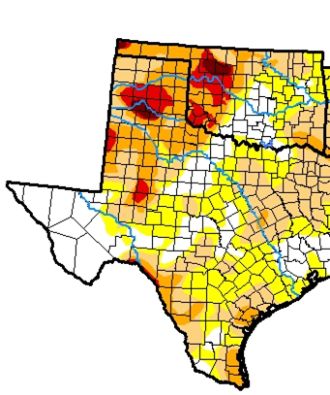 No question rainfall is critical to a quail crop. South Tx research (Caesar Kleberg wildlife Research Institute) showed that 94% of the variation in age ratios of bobwhites was explained by Apr-Aug rainfall. Similar research summarized by Brad Kubecka in his M.S. thesis reported that number is 74% at RPQRR.

The graphic here is from the Drought Monitor (http://droughtmonitor.unl.edu); likely the next one released will show "relief" to western OK and S. Tx. Meanwhile, here at the Ranch, we're still mired in drought, despite some "cotton showers" received over the past 3 weeks. Our dove food plots (winter wheat and sunflower) were a total bust (worst "crop" of winter wheat I can ever remember). We planted them to browntop millet for the summer (a short maturation period of 65 days) but they are struggling. Habitat conditions on the Ranch still look "decent" (no grazing to exacerbate the effects of drought). See reports below for our call counts and dummy nest results collected in June. Our small mammals (rodents) are down about 98% from last summer . . . doesn't bode well.

Our nesting effort to date has been "delayed" (at best) to "woeful." We've got only 7 of our radio-marked hens incubating as of July 1, and 6 of those in only the past two weeks. At that pace, 2018 will go down as worse than 2011 (only 11 nests produced that summer; no chicks survived).

Many times, the 4th of July tends to stimulate some rainfall; let's hope so.

---
Got broods?

Brood reports continue to trickle in. I've had reports recently (past 10 days) from Collingsworth, Runnels, and Stonewall counties, and southeastern NM. If you have brood sightings, either email me (drollins@quailresearch.org) or report them on our Facebook page.

---
Song of the Month

Pitty, pitty patter of Li'l Bitty Feet by Susan Raye

---
Word of the Month



quail - we all know what it means as a noun, but this reference is in its use as a verb. "to recoil in dread or terror."

---
T. Boone stumps for quail habitat



Last March I attended one of three national "listening sessions" for the House Committee on Agriculture as it develops the 2018 Farm Bill. I think some 300 folks shared their 3 minutes of wisdom with the committee. I was one of them. How can your message be heard above the (often redundant) concerns of various commodity groups? I did the same thing I've done a thousand times . . . I began my comments with a bobwhite's whistle and shared my objectives of a Farm Bill that better serves this iconic bird's needs. I think it got their attention—at least for a moment.

But recently someone who's as iconic as the bobwhite spoke up. Has anyone been more of a spokesman for quail conservation in the past 40 years than T. Boone Pickens? Pickens' Mesa Vista Ranch near Pampa touts itself as "world's finest quail hunting." No doubt it is a beautiful ranch, and the quail habitat shines. Recently, Pickens stumped for the use of native grasses in various USDA Farm Bill programs to enhance habitat for quail and other species of wildlife and pollinators [Pickens letter]. Think it had any effect on policy? Perhaps not yet, but I believe it will, per the response from Congressman Mike Conaway (Chair of the House Ag committee).

---
Calendar

5-7 August – Session 3 of QuailMasters, Pampa;
8 August - Bug Day, RPQRR
---
Gordy joins RPQRF Board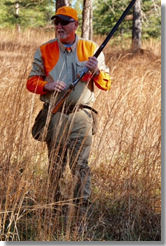 The Rolling Plains Quail Research Foundation is pleased to announce the addition of Russell Gordy to our Board of Directors. Gordy is currently managing partner and majority owner in SG Interests, a producer of oil and gas, RGGS, which controls mineral acres currently producing oil and gas, coal, iron ore, limestone, and copper, and Rock Creek Ranch. He is also President of Gordy Oil Company, an oil & gas exploration company in the Gulf Coast of Texas and Louisiana, and Gordy Gas Corporation, an oil & gas exploration company in the San Juan Basin of Colorado and New Mexico. Russell began quail hunting with his grandfather as a young boy and that experience led to a love of the outdoors. He has been hunting and fishing ever since but quail hunting is his passion. His La Ceniza ranch in south Texas is geared for quail hunting. He also recently opened Gordy and Sons, an outfitting store specializing in some of the finest hunting guns in the world.

---
Bug Day slated for Aug. 8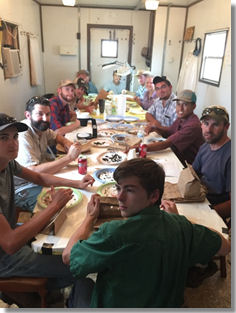 Arthropods (e.g., insects) are important in the diets of quail whenever they are available, and especially so to chicks. And, increasingly we're learning the role of various insects as intermediate hosts for the eyeworm and cecal worm. Each summer, RPQRR technicians assess arthropod abundance with over 1,200 sweep net and pitfall samples. But that's just half the job—now someone has to sort and identify them. That's where our volunteers come in. If you're interested in joining us, please be at Headquarters at 8:45 on Aug. 8. This year, we'll be especially interested in abundance of "slant-faced" grasshoppers, as they've been identified recently as one of the most common intermediate hosts for cecal worms. We should be finished by about 4 p.m. Experience in entomology not required.

---
RPQRR's Wish List – Can you help?

Our support for quail research comes almost exclusively from private donors. Perhaps you would like to help us help quail. We have need for various pieces of equipment. If you would like to donate, RPQRR is a 501(c)(3) nonprofit foundation, so your donations (cash or in-kind) are tax deductible. Alternatively, if you'd like to make a cash donation and have it earmarked for one of these items that's great too. Here's our current list of needs:

| | |
| --- | --- |
| Item | Need |
| 100-hp tractor | Food plot preparation, shredding |
| 15' batwing shredder | Shredding |
| Shop-style drawer toolbox | Tool storage |
| Sea container | Storage of equipment |
| 12-ft tandem disc | Discing, field prep |
---
Call count summary

Our technicians completed the 2018 spring cock call counts this past Thursday. Based on these counts (n = 11), our 2018 numbers are "average" relative to our past 10 years. The mean number of roosters singing was 5.7 while the number of whistles/stop was 56.4. The red bars in the graph represent the number of calls heard divided by 10; we've found this metric to be pretty well correlated with the total number of roosters singing. When you've got 8+ birds singing it's difficult to identify individuals, but the number of whistles is relatively easy to keep track of. Note this relationship did not perform well during 2016, which was our "year of record." I suspect the cocks were "especially motivated" in 2016, thus singing more often. The most calls heard during a 5-minute period was recorded by Tait, checking in at 145 calls (the morning after we received 0.8" rainfall event). My personal record is 153 calls; Lloyd holds our overall record of 163 calls. At 150 calls, that's a call every 2 seconds.

---
From our Facebook page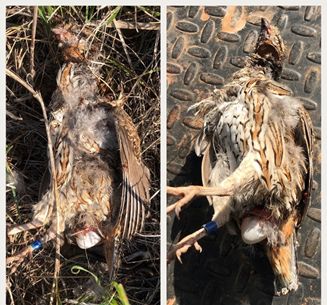 Our top-rated post for June was Lauren Auld's note on June 17th of an unusual mortality, i.e., an "egg-bound" bobwhite. "Another one of my Deuce birds died last week, but not from a predator. This bobwhite hen died from being "egg bound." Being egg bound means the bird can't expel the egg from her body. There are several reasons why this happens: it's the first time the hen has laid an egg, the oviduct is too small for the egg to pass through, or the shell is too soft to let the egg pass through. If the shell is too soft it usually means she wasn't getting adequate vitamins and minerals in her diet. In this hen's case, I think her egg was too soft. Just touching the egg created a dent. If you look closer, the picture on the right shows the dent in her egg." Brad Kubecka found 3 such mortalities at RPQRR in 2017; see his note at https://www.facebook.com/RPQRR/.

---
5.79 - That's our year-to-date rainfall as of 30 June. The dry spring,, coupled with a dry fall-winter, has stymied our food plot plantings, our habitat in general, and our nesting effort to date. To put this in perspective, much of S. Tx received 2.5 times as much rainfall in 48 hours last week as we've had all year. Yes, I'm envious.
Technicians will be busy conducting call counts, small mammal trapping, camera-trapping, setting out "dummy nests", and monitoring the 80 or so radio-marked bobwhite and scaled quail.
Got a new e-mail address? Please [Click Here] to update your information if you wish to continue receiving e-Quail.
Forwarded from a friend? Please [Click Here] to sign up for the RPQRR e-Quail Newsletters!