The Tale of the Tape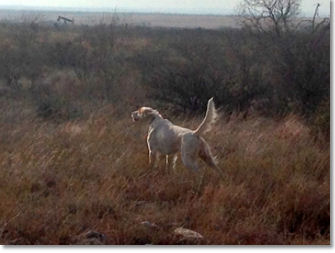 Reality, whenever it returns, is going to be a bitter pill. But for now what a wonderful time to be a quail hunter in west Texas. I have broken my personal record for coveys flushed on three different occasions thus far this season. And I'm going to make a bold statement: I've never seen it any better.

Now, I'll put some bounds on that. I hunt mostly by roading my "Betters" from a Kawasaki Mule, so I cover a lot of country in a day. The country I hunt is "big country" compared to what I was hunting during the 1970s in southwestern OK. I now carry a 28 gauge O/U shotgun, not the 12 gauge Wingmaster that I toted when I was "still mad at quail." Therefor I'm still hunting (i.e., counting coveys) long after I would've been back in my earlier years. And the dogs are as good as any I've ever hunted with—as my good friend Chuck Ribelin of Dallas says "those dogs are Hoovers, they don't miss a thing!" Maybe that's why I like Chuck so much.

So where does the credit belong? Record rainfall? No doubt the rains have been a blessing, but record? Not for RPQRR. We ended the year with 23.8 inches, just a tad above average. I bemoaned all summer that we were in a dry hole, and relative to most other areas we were. Our production estimates (juvenile:adult ratio of 2.1:1) were below our average (2.6:1). We didn't hatch out all that many quail but we've enjoyed excellent survival from 2015's "jubilee year."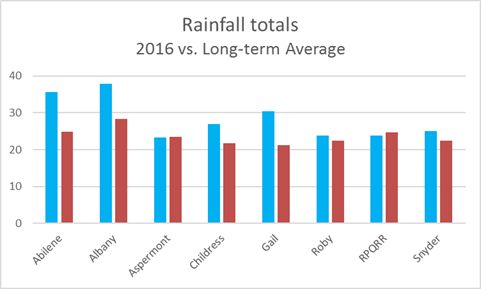 The broomweed crop of the past two years, plus a bumper crop of "screening cover" provided by marestail (Conyza canadensis) ad nauseum effectively insulated our quail crop from raptors affording relatively high annual survival rates. Hopefully we've had enough rain this fall to bless us with another broommweed crop in 2017. A bumper rodent crop, especially cotton rats, likely helped take the heat off of quail from coyotes and bobcats. We'll conduct our winter small mammal trapping session later this month, but I'm worried that cotton rat abundance has dipped over the past several months.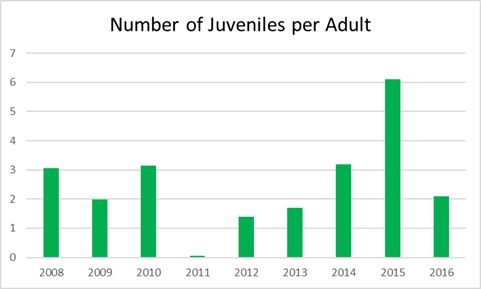 The long-term data sets we've collected at RPQRR over the past 8 years are beginning to reap dividends in our understanding of "the quail equation." The habitat management we initiated 8 years ago is coming to fruition too. We now have quail in decent numbers in the interiors of our "former CRP" fields. And our restocking of blue quail three years ago is still looking good. Driving down our east fence line in the East Tex pasture (the epicenter of our blue quail releases) will make one smile . . . it's almost a continuous wave of blues flushing. What a sight for sore eyes!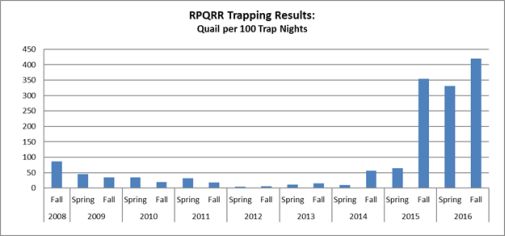 I'm sometimes asked (often indignantly) if the "rain killed the eyeworms" that we've been studying for the past five years. Give me a couple of more years before I address that—we're still proceeding with development of a medicated feed to treat eyeworms and cecal worms. Will such treatment allow us to carry more quail through the hard times? We'll see.

With two more months to go in the season I'm booked nearly every day for a hunt, either on my lease or on RPQRR. We'll be settling some obligations we have for fundraiser hunts, and I'm trying to "repay" as many old friends as I can on my lease for their contribution to my "education." I have nine Bobwhite Brigade cadets to take on their first hunt, and I've already introduced several colleagues to their first wild quail hunt.

As my favorite author (Havilah Babcock) wrote "boyhood improves with age." Life is good. I hope you have a chance to enjoy it.

Happy New Year to you all!

---
Song of the month

Glory Days by Bruce Springsteen

---
Observations on Quail Crops



If you're still stuffed from the holidays, perhaps these quail could relate. I don't believe I've ever seen more distended crops than in this bobwhite (left) or blue quail (right). Both were shot on the afternoon of December 27th. Contents still largely greens and seeds of broomweed. As a reminder, RPQRR is soliciting crop contents of quail harvested across the Rolling Plains (TX & OK) in an attempt to compile a comprehensive seed collection of plants eaten by quail. As you clean birds at the end of the day's hunt, dissect out the crop and empty the contents into an empty shotgun shell box so they will dry out, then tape the seams with duct tape. Do not put them in a plastic bag as they will mold. At the completion of your season send the box and contents to RPQRR, P.O. Box 220, Roby, TX. The crop content analysis from these samples will constitute our "Seed Appreciation Day" next May.

---
Word of the Month

halcyon. Adj; "denoting a period of time in the past that was idyllically happy and peaceful." Perhaps the halcyon days of quail hunting (at least in west TX) are here and now.

---
Weird Quail

by Brad Kubecka, Graduate Research Assistant



In the past few newsletters Dr. Rollins has called for a watch for "weird quail." As such, I saw it appropriate to think about weird instances documented in the literature and on the ranch. For such purposes, I consider "weird" as anything that deviates considerably from what is common or thought to be common.
Ever heard of a female being able to call "bob-white?" Though not typical, females have been documented to call "bob-white" when separated from their mate in penned settings (Nice 1933, Stokes 1967). Stoddard (1931:104) documented flushing a wild hen from the origin of repeated "bob-white" calls. However, he could not confirm whether a cock was present and would not flush, or if the bird that flushed was a male with the plumage of a female.
The range of bobwhites (Colinus spp.) have generally been described to span from northern Brazil to Wisconsin and from eastern Colorado to the Carolinas. The specie we know in the United States, the Northern bobwhite (C. virginianus), derives its name from being the Colinus spp. with the northern-most extending range. Other bobwhite species, such as the crested bobwhite (C. cristatus) and black-throated bobwhite (C. nigrogularis), occur in Central and South America. Most of us who hunt bobwhites in the U.S. think of bobs to occur mainly in the southern U. S. and in some Midwestern states (e.g., Kansas). As a matter of fact, Northern bobwhites have been known to extend all the way into Canada! Bobwhites were actually fairly abundant in southern Ontario up until the middle of the 20th century. By the 1980's bobwhite harvest was nearly inexistent, and in the 1990s hunting seasons were closed (Hunter and Ludolph 2000).
Bobwhites are ground-nesting birds, typically building their nests in residual growth at the base of a bunchgrass or in conjunction with woody substrate such as prickly pear or yucca. However, nest composition is highly variable and is dependent on availability. At RPQRR, we have documented nest bowls constructed of Juniper needles under a brush pile, under buffalo gourd leaves, and under small mesquite logs just to name a few. Regardless of the substrate chosen, all of these nests were documented at ground level. In June 2001, bobwhite researchers in Florida documented an extremely rare event of an above-ground (30 in.) bobwhite nest in a holly tree (Ilex spp.; Terhune et al. 2005). The nest of 16 eggs was constructed of pine needles on top of an old passerine nest built of twigs and leaves. All eggs hatched and the researchers observed the assumed brood nearby the bush soon after the discovery.
Few wild bobwhites live to see their first birthday. As such, recapturing quail among consecutive years is always a delight. At RPQRR, the oldest documented bobwhite to be trapped was an estimated 1,736 days old (4.76 years). The male bobwhite banded as "4421" was trapped as a juvenile on 1 November 2010 and recaptured almost every year in our Annie and Doc pastures until 6 March 2015. Considering that the probability of recapturing 4421 was surely less than certain, 4421 was a weird quail. Of about 30,000 birds banded as part of the banding program at Tall Timber Research Station in Tallahassee, Florida, 6 have been over 6 years old – all of which were males (Bill Palmer, Tall Timbers President, personal communication). However, even older birds have been documented in the literature. Marsden (1961) reported a wild male bobwhite in Missouri living to be at least 6.5 years of age. Likewise, a colleague of Herb Stoddard in Florida banded an adult male on 6 April 1924 and recaptured it 4 years later on 8 February 1928. They took the bird and placed it in confinement as a "breeder bird." At the time of Stoddard's writing, the bird was still alive and estimated to be "about 7 years of age, if not more." The oldest blue quail banded by RPQRR was banded as part of our OID disease study and was recently recovered by a hunter in Ector County. The blue was at least 5 years old and was also a male.
Nesting season for bobwhites in Texas is cited to occur during April–August with peak hatching occurring in June. However, there are always exceptions to the rule. As a matter of fact, birds in South Texas have been known to lay eggs in every month of the year (Lehmann 1984:84). Judd (1905) had evidence of laying throughout the year in areas other than Texas such as Illinois and Missouri. With the rare occasions that these nests do hatch, they likely offer little to no benefit to the population as a whole.
---
RPQRR's Wish List – Can you help?

Our support for quail research comes almost exclusively from private donors. Perhaps you would like to help us help quail. We have need for various pieces of equipment. If you would like to donate, RPQRR is a 501(c)(3) nonprofit foundation, so your donations (cash or in-kind) are tax-deductible. Here's our current list of needs:

| | |
| --- | --- |
| Item | Need |
| ¾ ton pickup truck | Pulling trailers, carrying pumper unit for prescribed burns |
| 100-hp tractor | Food plot preparation, shredding |
| 15' batwing shredder | Shredding |
| Rear-tined PTO tiller | Renovating spreader dams |
| Grain cart | Bulk purchase/storage of milo |
| Sea container | Storage of equipment |
---
Ask Dr. Dale

CM writes: "Last season while hunting near Albany, TX, in mid-January, our birds' intestines were full of green feces and when cleaning them they smelled quite putrid. I have not experienced that in over 25 years of bobwhite quail hunting. Have you experienced this and might you be able to explain it please. These were wild bobs.

DR: Most likely you were observing ruptures of the ceca, the "appendix" of quail. Quail have a pair of cecae and they are fairly large. Cecal contents are usually a green paste consistency and are pretty foul smelling. The rupture(s) might have been the result of a lead shot puncturing them, a hard-mouthed retriever squashing them, or perhaps you punctured them with your game shears as you were cleaning the birds. If it was cecal contents, and you look closely, you'll likely see some small white worms (about a half inch long) as they are quite common and reside in the ceca.

---
From our Facebook page

Technician Araks Ohanyan's picture of 3 bobcats has earned it a spot at the top of our FB views. Araks' post was viewed 42,906 times. Our FB page is close to breaking the 5,000 "likes" milestone. If you're not already please "like" our page. We seek to keep it freshly populated with real-time happenings.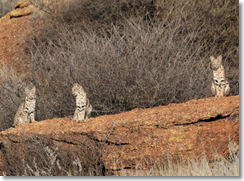 ---
Want RPQRR's printed newsletter?

Quail hunters are, as a rule, an older lot. Older men (aka potential donors!) don't always use the internet for their communications, e.g., e-Quail News. So, we decided to offer a quarterly printed newsletter as a supplement to the e-version. If you'd like to be on the mailing list for the printed newsletter send your name and mailing address to Russell Graves, PO Box 68, Childress, TX 79201.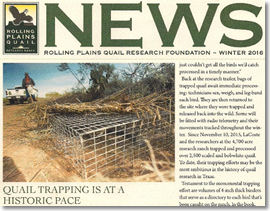 ---
Intern diaries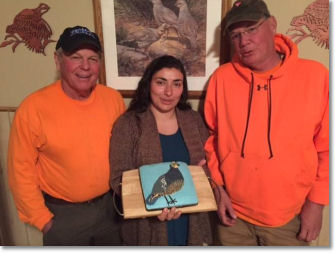 Here at RPQRR, we use inquisitive young professionals to help "put the legs" under our various research activities. I require each intern to submit an essay describing their experience upon completion of their tour of duty. This month's essay is by Araks Ohanyan. Araks was a "short-timer" (6-week appointment) brought in specifically to assist with trapping-banding efforts. She came to us from Philadelphia where she earned her B.S. from Drexel University. Here she is pictured with two guests from NC who had purchased a quail hunt at RPQRR auctioned through the Cross Timbers Chapter of Quail Coalition. Araks made them a "blue quail cake" for dinner that evening. -- DR

It's hard to believe that six weeks have already gone by and my time with RPQRR has come to an end. And yet, so much has happened since I arrived that it feels like several months have passed. I didn't really know what to expect when I accepted a position as a quail intern. All I knew was that there would be lots and lots of quail. I also suspected that, given the short duration of the trapping season, we would hit the ground running. And I was right! My first day on the job, I was able to participate in a quail covey survey and ride in a helicopter for the very first time. Needless to say, I was quite excited. It took me a little while to familiarize myself with the ranch and the daily rhythm of work, but the real challenge came when we began trapping quail. Although I was given fair warning, I didn't anticipate the sheer number of quail we were catching, and the amount of time we were spending processing them. And the numbers only increased as the season progressed. On our busiest night, we caught well over 800 quail! I wish I could say that the trapping season proceeded without any issues, but that almost never happens when one is conducting field work. We had our fair share of impediments – everything from unfavorable weather and equipment malfunctions to supply shortages and quail mortalities. It was stressful at times. Occasionally, processing all those quail or waking up two hours before dawn to set traps felt like a chore. And yet, 6000 quail later, I can honestly say it was an enjoyable experience. Seeing the quail up-close was always interesting. The beauty and intricacy of their feather patterns never ceased to amaze me. I was especially partial to the blue quail. Spending time with my fellow interns was also fun, even if we were almost always surrounded by quail poop and feathers. Getting comfortable handling and processing the quail was beneficial as well. All in all, I think the rigors of the trapping season provided a wonderful learning opportunity and made me a better ecologist, and I am very thankful for that. Of course, it wasn't just about the quail on the ranch. I acquired some very useful and unexpected life skills over the course of the field season, like learning to drive a Mule, shoot a rifle, or change the oil in a tractor. Seeing the incredible wildlife that calls the ranch home was amazing, and as a birder I was able to add quite a few new birds to my life list, including the Golden-fronted Woodpecker, Greater Roadrunner, Curve-billed Thrasher, and – my personal favorite – the Phyrruloxia. I saw bobcats, jackrabbits, and badgers for the first time, and I was able to get nice photos of some of them during my time on the ranch, which was especially exciting. I also enjoyed getting to know everyone involved with the project. My fellow interns provided me with a healthy dose of Texas culture, history, and food. The ranch manager, Lloyd, was very friendly and never missed an opportunity to educate us on topics ranging from quail ecology to the inner workings of a tractor. And Dr. Rollins was always ready with a story or a quip when he visited the ranch. They all made my time with RPQRR more enriching and interesting, and I will be taking away so much from this experience. I wish everyone on the ranch all the best with future trapping seasons, and bid Texas farewell!
---
I ask that you keep your eyes open for any "weird" quail. "Weird" could include odd plumage, hybrids of bobs and blues, or diseased birds. As you clean your birds always be mindful of birds that are "noticeably" light in weight, or have livers that are discolored (think pickle-loaf). Keep your camera handy for any plumage abnormalities, and a ziploc bag handy if you find any potentially-diseased quail. Either way, please contact me (drollins@quailresearch.org or call my cell [325-650-0311]) if anything catches your attention. Inquiring minds want to know.
4,724 - That's the final tally of the fall trapping season here at RPQRR. That beat last year's former record of 3,124 by 51%. That represents what I refer to as our Minimum Known Population (MKP), no hum-hawing, or "it depends" with that number, it's a "known." But it's still conservative for what our actual quail population is, and perhaps substantially so. Through 4 hunts thus far, we've bagged 111 quail, and only 42 (38%) have been banded. Our helicopter counts estimated 1.46 birds/ac, and our trapping confirmed a minimum of 1.1 birds/ac.
Jan 5-8 - Wingshooter's World at Dallas Safari Club Convention
Two special events slated for 2017
QuailMasters-Encore! will be the last opportunity to experience the "adult version" of Bobwhite Brigade. Over a course spanning 4 sessions and 4 months, participants will tour some of Texas' premier quail properties and learn from landowners and professors alike. For more information, contact Clint Faas.

The other effort will be a redux of the Statewide Quail Symposium on August 16-18, 2017 in Abilene. Details to come.
Got a new e-mail address? Please [Click Here] to update your information if you wish to continue receiving e-Quail.
Forwarded from a friend? Please [Click Here] to sign up for the RPQRR e-Quail Newsletters!