Setter sings "No Quail, No Quail" . . . or at least tries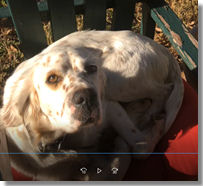 Gus is my 18-month old setter; he's the only male bird dog I've had in 40 years. He's named after Aldo Leopold's bird dog (a German Shorthaired Pointer). He was showing real promise at the end of last season, and has been quite melancholy at the dearth of quail this year (aren't we all!). Recently he crooned this rendition of "No Quail, No Quail." He completed the first three verses, but then became too emotional to continue (there are five more verses). Perhaps he bit off more than he could chew, or perhaps his mouth was still sore (see his picture from RPQRR's Facebook page at end of this issue). I hope the holidays are more cheerful for your favorite bird dog(s).

---
How the Grinch stole Quail Season

"You're a mean one Mr. Grinch!" Many quail hunters ask how we could go from "riches" (2016) to "rags" (this season) so quickly. The 2016 season was a record-setter, and so is this season, but at opposite ends of the quail continuum. Was anyone (in the Rolling Plains anyway) spared such an implosion? What factor(s) was (were) responsible? Should I be hunting my quail this season? One doesn't unravel such intricate questions with a short-term Master's or Ph.D. study; it takes studies over the long haul. That's where our investment in RPQRR will continue to yield a good dividend.

Here's the "tale of the tape" from RPQRR.

Bobwhite abundance at RPQRR is down roughly 95% since 2016. All of our various metrics for counting quail heralded the bust. Spring whistle counts were a bit lower but by themselves don't result in the "check engine" light coming on. These call counts indicate the availability of breeding males but are only about 50% accurate in estimating fall abundance at RPQRR.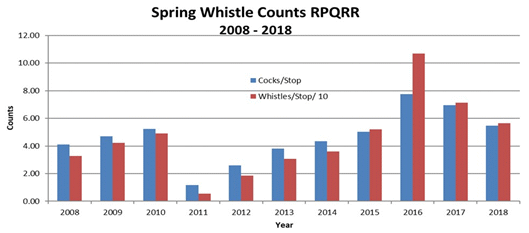 ---
Dry weather

Last fall, winter and spring were terribly dry. No winter greens bode poorly for reproduction. A dry fall also meant poor germination of broomweed, which may have parlayed into reduced survival throughout this summer and fall. Only 14 of our radio-marked hens attempted a nest (similar to 2011) and nest success was the lowest we've observed since 2008. Akin to 2011, no broods were observed at 21 days post-hatch. Our hopes for a quail season evaporated in June. October doubled our YTD rainfall, but it was too little, too late . . . none of our radio-marked hens attempted a late nest.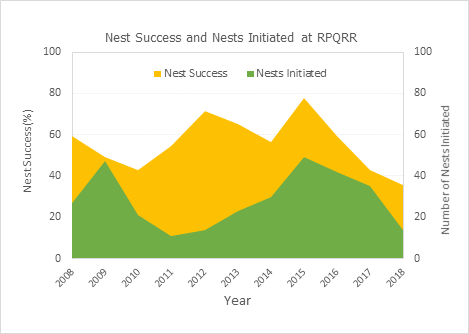 Our fall trapping session tallied 458 individual quail; that compares to 4,490 in 2016—a reduction of 90% since 2016.

---
Survival



Survival was "poor" throughout the year; overall the lowest survival we've measured. Several factors may have been involved, including poor cover, predation, and parasites. Predator numbers, and their "hunting success" may have been higher as a result of a lag in reproduction of predators from the previous two years. Abundance of cotton rats (a buffer species for bobwhites) declined 99% . . . we caught no cotton rats in our summer trapping effort. Parasites (eyeworms and cecal worms) were at "high" levels at RPQRR, and over much of the Rolling Plains. The debilitating effect of both of these nematodes may have reduced "fitness" and hence depressed survival.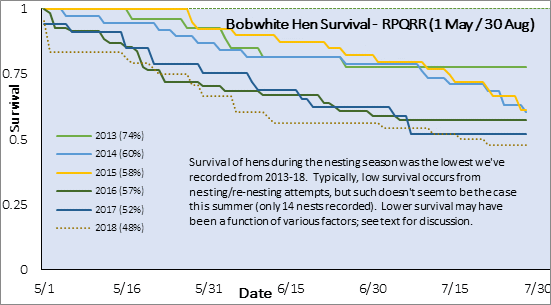 ---
A geriatric population?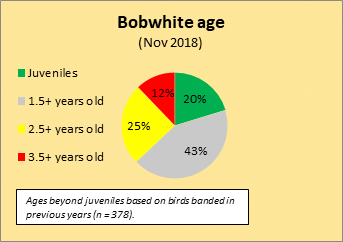 Our quail are ancient in quail-terms; 80% of our fall trapping sample were adults. Because we have leg-banded birds we can identify a large segment (37%) of "old" birds (>2.5 yrs old); 12% were geriatrics (>3.5 yrs old). This old population likely contributes to (a) high eyeworm abundance (see October e-Quail), (b) lower survival, and, who knows, perhaps even "senility."

November's helicopter surveys provided no solace for the quail-weary. Weather conditions were ideal for the count (clear skies, temp about 70 F, and light winds). We tallied only 7 coveys (5 bobwhites, 2 blues) for a total of 100 individual birds; a bitter pill to swallow in that we counted 156 coveys 2 yrs ago (1,547 total birds). That's a decrease of 96% in coveys counted since 2016, and a decrease of 93% since last November. One covey of bobs and one covey of blues each had 15 birds, but most sightings were 3-7 birds.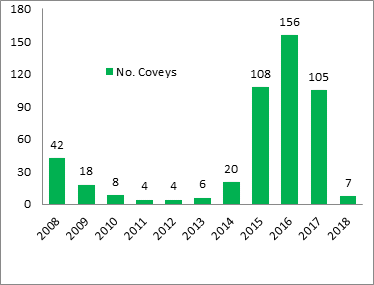 Two things about the accompanying graph seem incredible: (a) the 5-fold increase in quail from 2014 to 2015, and (b) the 15-fold decrease since last November. Dr. Guthery often argued that a bobwhite population could do no more than double from one year to the next, yet our numbers defied that generality. The implosion since last November seems as mathematically improbable.

We also counted 38 deer, 20 rabbits, 7 coyotes, and 1 bobcat; all of these I would consider "normal" for the respective species.

So, the upshot is no reproduction (over the past two years), coupled with poor survival, and a bloom in predators and parasites, which in toto exacted a heavy toll on our quail. They proved they could rebound remarkably in 2015 . . . here's hoping they can pull a rabbit out of their hat again. The October rains provide some hope for next year in two ways: (a) the filaree crop is outstanding, and that generally correlates well with good nesting effort next spring, and (b) fall rains should result in a good broomweed crop next summer for enhanced survival.

---
Wanted: dead or alive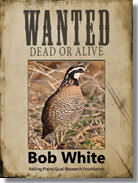 We seek your assistance in providing bobwhites for our research efforts; we'll take them "dead or alive." We need heads (and a wing) from any bobwhites bagged in the Rolling Plains of TX, OK, or other plains states (e.g., KS and NE). We need (permission to trap) live quail for our latest translocation effort in Erath Co.

Quail heads can be dropped off at the following locations, or shipped directly to RPQRR. See our website for additional information. If you wish to participate, save us 10-30 heads from your county (and a corresponding wing from each). Put each head (with wing) in a Zip-loc bag and include the date and county of harvest. See pdf submission form. Contact me (drollins@quailresearch.org) for shipping details. IF you live in the Dallas area, you can drop samples off at Collector's Covey, or if in Houston at Gordy & Sons. Specimens can also be dropped off at the Matador WMA (Paducah), Gene Howe WMA (Canadian), TPWD Inland Fisheries Office (Abilene), or Muse WMA (Brownwood).

We need to identify 8 (or more) landowners who will let us trap 25 bobwhites from their property. Trapping would take place in mid-March but baiting would require access beginning about 15 Jan. Given the low abundance of quail this year, a "perfect" location would be a deer-hunting property that has quail, but is likely too thick to hunt them. The closer to Erath Co. the better, but we're prepared to travel further west. Contact me (drollins@quailresearch.org) if you're willing to cooperate.

---
King named new manager at RPQRR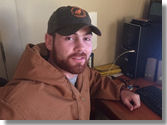 Daniel King is now onsite as RPQRR's new manager; he fills the position held previously by Lloyd Lacoste who moved to the San Tomas lease on the King Ranch. Daniel is a native of Ballinger. He earned his B.S. from Texas A&M in Environmental Science and has worked as assistant ranch manager for 4 years at the Colorado River Ranch in Runnels Co. Please help me welcome Daniel and his family (Allie and daughter Addison). His e-mail address is daniel.king@ag.tamu.edu.

---
About those year-end gifts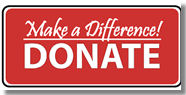 As 2018 draws to a close, we are asking for your help. RPQRF is a 501(c)(3) charitable organization and we rely on financial support from private donors to make a difference for quail. Your gifts allow us to continue gathering long-term data on our Research Ranch and partnership properties across Texas. We're using that data to serve hunters, land owners and other stakeholders with relevant technology and management schemes for enhancing wild quail populations. We're also using that data to determine which factors, other than timely rainfall and habitat, influence our quail numbers.

Please take a look what a $100, $250, $500 or $1,000 gift would mean for us right now. Our website also includes information on how to send gifts by mail, establish a new research fund or make gifts of stock or mutual funds. Details on how to support RPQRF with a planned gift in your will or living trust or by designating RPQRF as a beneficiary of your IRA, retirement plan or life insurance are there, as well.

You can make a real difference in preserving our heritage of wild quail hunting for this and future generations. Please click here to help by making a generous 2018 year-end contribution today!

---
Have you checked out our new website?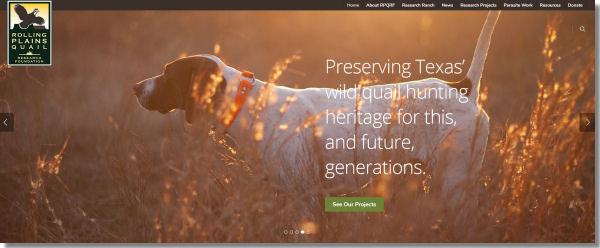 As the end of 2018 approaches and a new quail season begins, we are pleased to announce our updated website has taken flight at Quailresearch.org. Here you will find information about our foundation, Research Ranch, ongoing research projects, and the latest news articles. The new Resources tab includes answers to Frequently Asked Quail Questions (more coming soon), our library of informational "webisode" videos, newsletter archive, and links to other agencies, research groups, conservation organizations and useful publications. Comments/questions about the website or how you can help should be sent to our Director of Development, Phil Lamb, at plamb@quailresearch.org.

---
From our Facebook page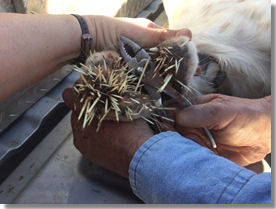 Toothpick anyone? Our top-rated post for November was my note about Gus and his recent encounter with a porcupine. Look who my male Better "Gus" met today for the first time . . . yep, Mr. Porky Pine. All 4 of the dogs got a taste but Gus got the full meal deal. I'd just arrived on my place in SW OK and let the dogs out for a short run. When I heard them barking in a plum thicket about two minutes later I got a bad feeling. Reckon he'll avoid the next one he encounters? Probably not. Has anyone ever tried "porcupine-breaking" a dog like we do with rattlesnakes?? I'm tempted to give it a try . . . if I'd had his e-collar on this afternoon the training would've begun today! Thanks to brother-in-law Keven Defoor for his assistance . . . he's had lots of practice over the years.

---
Song of the Month



Blue Christmas - by Elvis Presley

---
RPQRR's Wish List – Can you help?

Our support for quail research comes almost exclusively from private donors. Perhaps you would like to help us help quail. We have need for various pieces of equipment. If you would like to donate, RPQRR is a 501(c)(3) nonprofit foundation, so your donations (cash or in-kind) are tax deductible. Alternatively, if you'd like to make a cash donation and have it earmarked for one of these items that's great too. Here's our current list of needs:

| | |
| --- | --- |
| Item | Need |
| 100-hp tractor | Food plot preparation, shredding |
| 15' batwing shredder | Shredding |
| Shop-style drawer toolbox | Tool storage |
| Sea container | Storage of equipment |
| 12-ft tandem disc | Discing, field prep |
---
Vol. 10 No. 12
17% - that's the proportion of blue quail in our fall trapping sample.
dram (noun); a unit of avoirdupois weight equal to 1/16 ounce. I was always curious about the text on a box of shotshells that said (e.g.,) "3¾ dram equivalent."
Technicians are winding down the calendar year and preparing for small mammal trapping which takes place in January. Surveillance of radio-marked quail is an ongoing task.
Got a new e-mail address? Please [Click Here] to update your information if you wish to continue receiving e-Quail.
Forwarded from a friend? Please [Click Here] to sign up for the RPQRR e-Quail Newsletters!