Quail forecast 2016 . . . "upon further review"

I caught a few jabs after the August e-Quail with my prediction of a "BOOM-boom" forecast, i.e., a slightly less glowing report of the upcoming season than last year's. But as they say on an NFL football game "upon further review", I'm improving my forecast to "same as last year." Below you will read my "quail trapline" of forecasters and their respective predictions across various parts of west and south Texas, and southeastern New Mexico. Most see it as "better" or "about the same" as last year . . . and really, what could we have hoped for?

That said, most of the forecasters turned in their projections in early August, and I'd wager most forecasts have improved slightly since then in spite of a mostly dry August (at least for RPQRR; our YTD rainfall is only 14.66 inches; only 0.43 inches for August). I know mine has. Seeing lots of coveys, but more coveys doesn't necessarily equate to more quail, i.e., covey size seems smaller this year (an observation shared by several forecasters below).

My last four trips to the Ranch in late-Aug recorded the following covey sightings. Now, these aren't our official roadside counts; those will begin next week. I get out and "make my rounds" in early morning and late-afternoon; no particular route, just a random drive. And, just for grins, I also kept track of how many roadrunners I observed on each count, and encourage you to do the same. We have mucho roadrunners but don't count them "officially," so we'll begin to include their sightings on our September roadside counts.

Date
AM/PM
Coveys
Roadrunners
13 Aug
AM
23
11
13 Aug
PM
28
10
14 Aug
AM
39
13
15 Aug
AM
26
18
15 Aug
PM
29
15
16 Aug
PM
29
12
17 Aug
AM
38
9
22 Aug
PM*
19
4
Average
28.9
11.5
2.5 coveys/RR

I'm giving the RPQRR a strong "8"; our fall helicopter counts and trapping numbers made me eat crow last year, and I'm hoping they do the same this fall. Now the $64 question is "can we sustain them?" Time is not on our side; nor is history. "Insulating the Boom" will be the theme for RPQRR's field day on Sept. 30; join us to see what we have planned.

Keep in mind these prognostications are anecdotal observations for the most part from various "Students of Quail." TPWD's official roadside counts will be out in a couple of weeks; ODWC's version of Oklahoma's routes will be out in early October. I'll be receiving additional reports over the next month from other landowners and deer managers (based on September helicopter counts); stay tuned to our Facebook page for real-time updates.

Rolling Plains

Dan Bolin says his Clay County property is "better than last year."

Ron Taylor also reports from Clay Co.: "Upcoming season an "8"—about the same as last year."

George Allen reports from Archer Co.: "Seems to me that this year will be about the same as last year. Although our call counts were up this spring (average 9 per station and 8 per station on two ranches). I think this long hot dry spell we are having may hurt the birds hatched in mid-June."

Justin Trail says Shackelford County should be "about the same as last year. Observations are slightly higher but covey size is smaller than this time last year. Definitely a "9 or 10" on your scale. We have seen chicks as of Saturday August 6th that were just hatched."

Alan Heirman echoes the report from Shackelford Co: "Better than last year. A solid 9. Covey in my backyard."

Marc Bartoskewitz reports from western Shackelford Co.: I put our place a "7 or 8" last season, as we were essentially still in recovery mode from the long-term drought. I would bump the rating up to a "9" this year. I would say it will be a bit better than last year."

Paul Melton reports from central Fisher County: "I'll go out on a limb and say we will equal last year's 9.5 –10 forecast. Based on continued sightings of birds of ALL sizes (some obviously hatched in late July and early August based on size now) plus the incidence of a higher percentage of "mega broods" than even last August. Nesting habitat was just about perfect, very large carryover from last year, and continued timely rains (last night's shower puts us over 21.75" thus far) obviously helped temper the +100 degree F days that lingered for over 60 days.......If the season holds up to my prediction, this will be the first time in my LONG bird hunting career that I have ever experienced Back to Back BOOM years." (Note: Paul's ranch is 13 miles east of RPQRR; our YTD rainfall is 14.66"—only 7 inches less than Paul's . . . yes, I'm envious!)

Roy Wilson observed "I believe we are on track for the same as last year — a "9-10" rating in Stonewall and Fisher Counties. Our overall may not be at the same level as last year, but with the carryover, it should be awesome! We are still hatching birds - even in this heat."

Stan Kimbell reports from western Stonewall Co.: "Have seen 35-45 coveys on late afternoon drives averaging about 22 birds per mile. Covey size seems to be smaller this year compared to last year. Based on covey size, I believe it will score an "8" in November. I can hardly wait to enjoy another wonderfully blessed year!"

Butch Nuding reports from northern Stonewall Co.: "put us down as a "10!" Conditions are great."

Rick Snipes reports from western Stonewall Co.: "I think this will be a great year, though perhaps a little short of last season. Please note that Raul (my manager) disagrees with me, saying that he has seen more birds than at this time last year."

Lonnie Whiddon also reports from Stonewall Co.; "about the same as last year, which was great."

Rick Barnett reports from western Runnels Co.: "10+; better than last year; our roadside counts almost twice as high as last year. On another property about 10 miles east he notes "8; about the same as last year."

Steve Mayer shared his prediction for western Runnels Co.: "I'm predicting another "10" here in southwestern Runnels County. We are seeing plenty of coveys consisting mainly of half-grown birds. Coming on the heels of last season's generous carryover, I think this season coming up will be at least as good. We have been blessed with over 21 inches of rain and also abundant broomweed and insect populations."

Gary Bomar has property in southwestern Coleman County. I am rating it a "7" about the same as 2015." We had an outstanding broomweed crop and who knows what is underneath them?"

James Lewis reports from Dickens Co., "I keep hearing from all the local folks that there is more or as many quail as last year, but I'm not convinced of it yet. Isolated areas may be as good or better than last year, but I think area-wide numbers will be slightly down from last year in my area of Dickens County. My reasoning is that we have had much hotter temperatures this summer and the covey sizes that I have observed are not as large as what I remember from last year. That could change some between now and Oct. 1 if there is a decent late hatch."

Buddy Baldridge says his place in southern Kent Co. is "better than last year."

Ron Speed reports from Mitchell Co.: "I am happy to report that our quail crop is much better than last year. In my opinion it just can't get any better than it is now."

Larry Richardson reports from Mitchell Co.: "Better than last year - Dogs will love it!"

Rod Hench reports from eastern Scurry Co.: "Right now I'd say both years are close but I'm hoping for a pleasant surprise."

Tim Wilson reports from Borden County: "Borden County will exceed last year and is definitely a 10+. Best I can remember in 30 years."

Larry Clark offers this opinion on western Tom Green Co: "Better than last year. The blues have really done well."

Steve Sherrod offers this projection for western Tom Green Co.: "we were a "7" last year, so I believe we will be better this year due to better rainfall and carryover from 2015."

South Texas

Matt Schnupp reports from Kleberg Co.: "we are at an "8-9." We had great spring rain, but things got DRY down here for the last few months. We didn't see many late season broods but I think should have good carryover from last year. There was enough birds last year that if each hen had 1 chick we should have plenty of birds!"

Israel Lira reports from Jim Hogg Co.: "A good season but a bit less than last year's "9"; I'd give it a 7.5."

Mike Petter offers this view of south and southeast TX: "Cover of all types is more than adequate and with good fall management hunters should see productive numbers as good as 2015, which was bumper! This commentary applies to South Texas in general, with observations from the coastal counties of Jackson and Calhoun westward to Webb County, and north through Frio and Atascosa Counties. This will be a great season in general if you are a hunter!"

Bill Rauch also reports from Jim Hogg Co.: "We carried over a lot of birds from the winter 15-16. Production has been light thus far. Not as good as last year, but I think last year was a 1 in 30 year event. I would rank this year based on what we have on the ground, as of today, an "8." Last year being off the charts, ">10."

Ronnie Howard offers a long-term perspective on property in Brooks Co. "Worse than last year. Saving grace is that we had a superabundance of breeders. Rains stopped 1 month earlier than last year and although we have some birds still paired and calling, we are seeing maybe 1/2 the number of coveys we were seeing this time last year. Those coveys range from 4-12 young birds and probably average about 8 young chicks. Last year at this time we were seeing coveys averaging 12-14 chicks. We still have a lot of birds but are getting so dry now I doubt we will add any significant hatch to the population in August. From my observation, when we get some form of early hatch (as we have this year) and the birds slow down or stop hatching, they will not pick up again a with a good Fall hatch - even if we get late August and September rains. I suspect it's almost over and we will have maybe a "6 or 7" if we can keep the birds we have now."

Further West

I respect the opinion of helicopter pilots Mackey McEntire (Concho Aviation) and Kyle Lange of Mertzon (Lange Helicopters) who fly thousands of acres of west Texas each year. They may be gathering livestock, counting deer, or hunting predators, but they know my interest in quail abundance. McEntire says the country from Sterling to Pecos can't get much better quail-wise than it is this year. "Much, much better than last year." Kyle Lange says, "Seeing about the same number of coveys but coveys are huge. Small coveys are 25 birds."

A. J. Brune reports from Glasscock Co.: "I believe that at this time the number of quail on my property would fall into "better than last year" category. Once again I am keeping my fingers crossed for another great fall hunting season."

Brad Bates reports from central Midland Co.: "I'll give it a "7." Lots of families with 3 to 6 young survivors. Not sure why. Current food supply is fair to poor. Snakeweed, catclaw and mesquite are fair. Croton, sunflower, cowpen daisy, pigweed and plains bristlegrass are poor."

Ron Helm says blue quail in northern Jeff Davis County "are going to be really good, but not as good as last year. Seeing some almost grown birds down to fresh-hatched pecan-size the last of July. Hatches do not have the big numbers in them like we had in 2014-15, but back to "normal" size hatches of 6-10 chicks per pair."

Barry Beal opines from southern Jeff Davis Co.: "Blue quail crop is better than last year."

Misty Sumner reports for several counties in far west Texas: "I expect the quail season in Culberson, Hudspeth, and El Paso counties to be almost as good as last year. Rate them all as "8-9."

Bill Calton reports from several counties in southeastern New Mexico: "In SE New Mexico, Roosevelt, Lea, Eddy, and Chavez counties, the past two years have been about as good for blue quail as in my lifetime – more than 60 years of hunting. This year looks to be about as good as last year. I will venture a 9 to save a little room at the top. Bobwhites do not seem to me to have returned to pre-drought levels here in the western edge of their range, but can be found sometimes in surprising places as far west as the Pecos watershed."

Tom Waddell reports from south-central New Mexico: "We still have a lot of last year's birds but so far brood size is small. Therefore there will be many coveys but they will flush out of range, fly 300 yards and run like hell. Is this considered a good year??

---
Word of the month

plaudits; (noun) "an enthusiastic expression of approval." This year's quail forecast is winning plaudits from most of the forecasters. I know my trio of "Betters" will give it "forepaws up!"

---
Song of the Month

"Celebration" by Kool & The Gang

---
RPQRR's Wish List – Can you help?

Our support for quail research comes almost exclusively from private donors. Perhaps you would like to help us help quail. We have need for various pieces of equipment. If you would like to donate, RPQRR is a 501(c)(3) nonprofit foundation, so your donations (cash or in-kind) are tax deductible. Here's our current list of needs:

| | |
| --- | --- |
| Item | Need |
| ¾ ton pickup truck | Pulling trailers, carrying pumper unit for prescribed burns |
| 100-hp tractor | Food plot preparation, shredding |
| 15' batwing shredder | Shredding |
| Grain cart | Bulk purchase/storage of milo |
| Sea container | Storage of equipment |
---
Determining Optimal Levels of Brush Cover for Northern Bobwhite in the Rolling Plains
by Brad Kubecka, Graduate Research Assistant

Landscapes that support high densities of northern bobwhite consist of an interspersed mixture of woody and herbaceous cover. Maximum bobwhite densities may be achieved within some range of these cover types, a concept known as "slack." Thus, landscapes with 10% vs. 40% brush cover could potentially support comparable densities of bobwhites. Recent research in South Texas suggest that landscapes with greater amounts of brush express less variation in the relative abundance of bobwhites during wet and dry years (Parent et al. 2016). In other words, woody cover seemed to cushion bobwhite populations during drought years and/or suppress expansion during wet years. Our objective is to examine associations of bobwhite abundance, woody cover metrics, and precipitation in the Rolling Plains of Texas.

Our study is being conducted on the Rolling Plains Quail Research Ranch (RPQRR) in Fisher County, TX using trapping data (n = 296 traps) collected from November 2008 to March 2017. We feel our intensive trapping database will provide a more in-depth approach than previous studies that have used spring cock call counts as a gauge of landscape configurations and bobwhite abundance. We will calculate relative abundance at each trap site (no. of unique individuals trapped) and quantify woody patch metrics surrounding trap sites (within the buffer of bobwhite's home range at RPQRR) using satellite technology. Precipitation data will be obtained from on-site weather stations. Our goal then is to determine the influence of woody cover, precipitation, and their interaction on bobwhite relative abundance. Our expected results will provide land managers with an estimate of optimal woody cover and configuration for high densities of bobwhites in the Rolling Plains for both wet and dry years.

Let's do a quick demonstration. Consider the photos to the right where green represents woody cover and the plot size represents 40 acres (400m x 400m). At this scale, woody cover in all plots is within average flight distance of a bobwhite in the Rolling Plains. Which of the photos has more brush? Which has more edge? Does it matter? Which landscape would consistently hold more bobwhites? During dry years, will areas with fewer, but larger mottes of woody cover sustain higher bobwhite densities? Bobwhite managers often spend much money "sculpting" such patterns (e.g., mottes, strips) on large scales. Through our satellite technology and trapping data, we hope to answer these questions and "tighten" our range of accepted slack. (All photos are drawn to scale and have equal amounts of woody cover. Total woody edge for the strip patterns is 64 units, mottes 15, and sculpted is 51.)

---
Scaled Quail Restoration to Historic Ranges in the Rolling Plains: Project Update
by Becky Ruzicka, Ph.D. candidate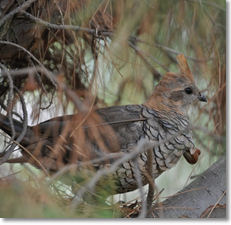 We wrapped up the most intensive part of our monitoring for the year during August on the Knox County translocation site. Since April we have been monitoring our radio-collared hens daily, collecting information on their survival status (i.e. live or dead), movements, and nesting activity. From this point forward we will transition to a bi-monthly monitoring schedule. This will allow us to continue to monitor survival and movement through the fall, albeit at a courser scale. We also plan to conduct trapping to band juveniles, take feather samples for genetic analysis, and potentially document abundance on the two release sites (if our capture rates are high enough).

As it stands now, our survival is at 60% for breeding season. If you were really paying attention, you'd notice this survival percentage is slightly greater than the one I reported in last month's e-Quail (no, there aren't birds back from the dead!). We were actually able to locate some of the birds that had been missing and found that they were still alive, thus a slight increase in our total survival as they were added back into the sample. Our farthest recorded dispersers travelled a distance of 5 miles, however most (~70%) stayed within one mile of their release site. Overall, the birds have spread out over an area of approximately 35,000 acres. A formal analysis of these data will be forthcoming in which I will evaluate survival and dispersal as a function of our soft-release and ecoregion source treatments.

Although we are still in the beginning stages of this project, I wanted to take this opportunity to thank the large number of individuals and organizations that have contributed money and resources thus far. I would especially like to thank my field crew: research assistant Drew White, technician Carolin Tappe, and intern Bekah Mullen. Starting in February of this year these ladies have been instrumental in trapping and translocating 388 quail, conducting an occupancy survey over 100,000 acres, and amassing a database of over 4,000 unique observations on our radio-collared birds. Well done!

---
From our Facebook page

Steven Romo's picture of a burrowing owl departing its burrow earned top honors (and $250) as the winner of our annual intern photo contest. See our Facebook page for other entries. The winning picture was determined by the number of views from our Facebook friends.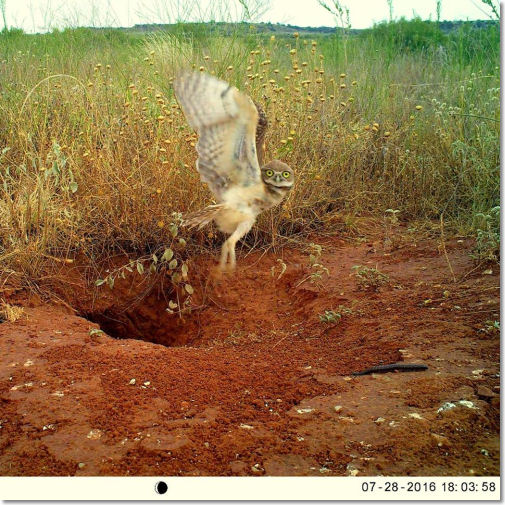 ---
Camera-trapping



A favored trap-site during the dog-days of August is a watering facility. See this month's banner pic as an example of the allure of a cool sip of water. Next month I'll summarize some photo-interactions between roadrunners and quail. For the time being thanks to Trent Long from Dickens Co. for sharing this pic of two bobwhite roosters rushing an unwelcome roadrunner.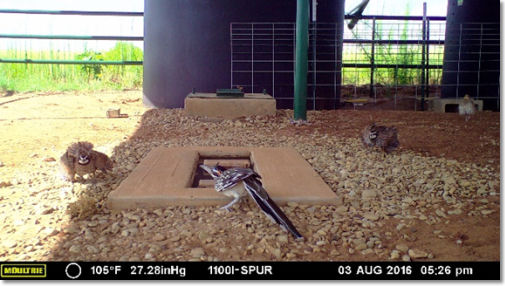 ---
Want RPQRR's printed newsletter?

Quail hunters are, as a rule, an older lot. Older men (aka potential donors!) don't always use the internet for their communications, e.g., e-Quail News. So, we decided to offer a quarterly printed newsletter as a supplement to the e-version. If you'd like to be on the mailing list for the printed newsletter send your name and mailing address to Russell Graves, PO Box 68, Childress, TX 79201.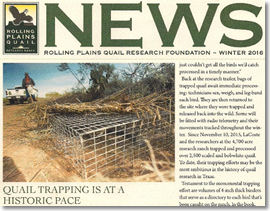 ---
Intern diaries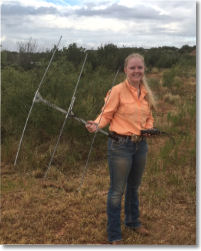 Here at RPQRR, we use inquisitive young professionals to help "put the legs" under our various research activities. This summer's crew has been a memorable one. I hope you've enjoyed their Facebook posts. This month's e-Quail features Bekah Mullen, a 17-year old intern from Aspermont and a product of several of the Texas Brigades camps. Bekah has assisted RPQRR on various efforts, from Bug Days to prescribed burns.—DR

Friday, August 19 marked the end of what can only be called a great adventure. Though my time as a Rolling Plains Quail Research Ranch Intern has passed, the knowledge, skills, and memories never will. Working with Becky and Drew this summer has been an educational experience unlike any other. Their patience and guidance means more to me than I will ever be able to convey with words. As I go into my senior year of high school and on into college, I know I will carry their advice and wisdom with me every day.

From the very first week of my internship, I have been fully submersed in the work of a research assistant. The first two days were spent in training. Drew drove me around the site in Benjamin, Texas and told me everything I needed to know for the summer. By the third day, I was on my own—tracking birds and hunting for nests. I enjoyed the challenge presented by mama quail trying to find the perfect place for their nest. Much to my excitement, many of the nests succeeded, and much to my dismay, some of them did not. However, I discovered that the blue quail I was working with were quite resilient and determined to have a successful hatch.

My work with radio telemetry has been rigorous to say the least. Day in and day out I walked across pastures, through riverbeds, past stock tanks, and up and down steep draws all for a little blue bird. I worked harder and sweated more than I have at any other job I have ever held. I discovered a whole new level of babysitting when it came to the blue quail I tracked this summer. The word 'housekeeping' gained a new meaning in the face of well-hidden nests full of eggs. Tracking those birds and trying to predict their next movement had me feeling a bit like a modern day Hondo. My knowledge of bobwhite behavior was laughed at by blue quail who run instead of flush and nest under rocks and in holes rather than the perfectly good bluestem three feet away.

Prior to this internship, I had no idea how different Blues and Bobs were. Growing up in a place where bobwhites dominate and being heavily involved in the Bobwhite Brigade left much to be desired in the way of blue quail behavior. I see now the many differences and similarities between my two favorite birds and I welcome the call of the blue quail. I am so grateful to Becky, Drew, and Dr. Rollins for having faith in me and giving me this opportunity. Every day presented a new adventure and a new challenge and I can honestly say I have never had a job quite like this one.

As my great adventure comes to a close, I look back on my summer and the sheer amazement that I even got to be a part of this project overwhelms me. I do not think myself any different from other people my age, but I am so glad and grateful that Becky did. This has truly been the opportunity of a lifetime for me. That may not sound like much seeing as I am only seventeen years old, however, as a cadet in my first Bobwhite Brigade (at age 13), I never would have even dreamed that I'd be here before I was old enough to vote. So I would like to say thank you to Becky, Drew, and Dr. Rollins for this summer and for your faith in me. I will carry it all with me well into my adult days and, with any luck, be able to pass it on someday.

---
733,188 - the number of people reached for the last 180 days for the RPQRR Facebook fan page. If that number were not impressive enough, "Total Engagement" for the same period was 92,117. Total engagement is defined as a Facebook user either liked, shared, commented or clicked on a video, photo, link, or expanded the post to read. 74% of our fans are male, while 26% are female. While the female fans are evenly distributed amongst all age groups, 50% of our male fans are between the ages of 25 and 55. 69% of people reached did so via a mobile device.
30 Sept - 9th annual field day, RPQRR. Theme: "Can we insulate this quail crop?"

29 Oct -Opening Day of quail season.
Two special events slated for 2017
QuailMasters-Encore! will be the last opportunity to experience the "adult version" of Bobwhite Brigade. Over a course spanning 4 sessions and 4 months, participants will tour some of Texas' premier quail properties and learn from landowners and professors alike. For more information, contact Clint Faas.

The other effort will be a redoux of the Statewide Quail Symposium on August 16-18, 2017 in Abilene. Details to come.
Got a new e-mail address? Please [Click Here] to update your information if you wish to continue receiving e-Quail.
Forwarded from a friend? Please [Click Here] to sign up for the RPQRR e-Quail Newsletters!