Why are quail important to Albany, Texas?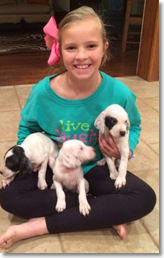 One of the "endangered species" in west Texas since about 2005 has been orange-clad nimrods and aluminum dog boxes and trailers. It's good to see their return, and I revel for the transfusion of urban dollars to rural communities that they bring. According to studies done by Texas A&M Agrilife Extension in 2000 and 2011, a Dallas-based quail hunter drops about $4,000 to $6,500 in their destination county annually in pursuit of quail. When there are quail to pursue.

Last month at the "Distinguished Lectureship in Quail Management" RPQRF's newest board member Justin Trail (who resides in Albany) walked in with his two youngest daughters in tow. He said "Robyn wants to ask you a question." When I looked down at Robyn (a third grader) and said "okay, what you got?" she asked "why are quail important to Albany?" I said I wouldn't tell her—she would have to do some homework, but I gave her a recipe for the response (see her note below).

Robyn had to submit a note to her principal as to her absence from school that day. Out of the mouths of babes indeed. Thanks Robyn for your report. I commend you on your attendance at the lectureship and attention, and also for your penmanship (is that even taught in schools today?) is way above average! And thanks to Justin for bringing along his daughters—they're already on the road to becoming "Students of Quail!"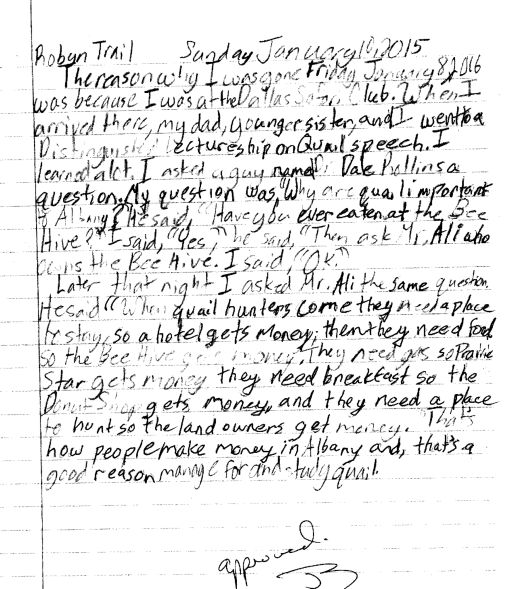 ---
Word of the month

expatiate; (verb) "to move about freely or at will: wander." I've had the pleasure of many good quail hunts thus far this season, with many a fine lady or gentleman. But the hunts I cherish most are those where it's just me and my 3 Betters (Babe, Tracer, and Shag) as we expatiate across quail-habitable haunts of west Texas. No pressure, no penalties for missed points or easy shots, no particular pace or direction, just following my cadre of experts as they seine the rangescape for quail spoor.

---
Song of the month

"Miles and miles of Texas" - by Asleep at the Wheel.

---
Garmin and RPQRR hosts outdoor writers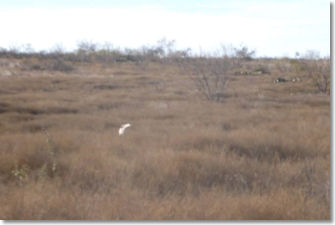 "Where's ol' Tex? He was over there about 200 yards last time I seen him. Hmmm, I'll bet he's on point . . . but where?" Odds are you've had similar discussions this season . . . unless Ol' Tex was wearing a Garmin Alpha or Astro GPS collar. Then you know indeed "Tex is on point 314 yards northeast of you." For big-running pointers, or even my typically "easy to see" Betters in a broomweed year, the Garmin collars are game-changers. I've only had mine for two months, but question how I got along without one. I've come to appreciate them as I do 4WD . . . forgot that you have it until you need it, then it comes in real handy!

Ted Gartner with Garmin hit me up last fall about possibility of hosting some Garmin reps and a handful of outdoor writers for some west Texas quail hunting. I told him "absolutely" so I cast a net to some Board members (Rick Snipes, Justin Trail) and supporters (Steve Snell of Gun Dog Supply) and we laid plans. The hunts took place last month (Jan 13-14) and were wildly successful. As I made some opening comments to the group the evening before the hunt, I carried with me a trashbag full of broomweeds. I had each of those present hold a brooomweed and recite the "pledge to broomweed." I told the Garmin reps they should speak in a special reverence toward the plant, as it was (is) likely the reason for the sales of GPS collars in west Texas.

Be on the lookout for future articles on RPQRR and west Texas' jubilee quail year in outlets like Shooting Sportsman, Outdoor Life, Pointing Dog Journal, Covey Rise, and Quail Forever Magazine.

---
Mark your calendar

3 March: Park Cities Quail banquet (see http://www.parkcitiesquail.org/ for details); this year's recipient of the T. Boon Pickens Lifetime Sportsman Award is renowned dog trainer Delmar Smith.

15 March: Application deadline for 2016 Texas Brigades youth leadership camps; see www.texasbrigades.org for details. Are you tough enough to accept my challenge to be an adult Covey Leader? Please encourage your children or grandchildren to apply—you'll be glad you did! We also need sponsors for cadets; if you'd like to contribute $400 to sponsor a cadert, please let me know (drollins@quailresearch.org).

21 April: "Getting to Know Your Quail" noon webinar with Texas Wildlife Association's Wildlife for Lunch series; FMI see http://www.texas-wildlife.org/images/uploads/Wildlife_for_Lunch_2016_flyer.pdf

---
Rats . . . foiled again!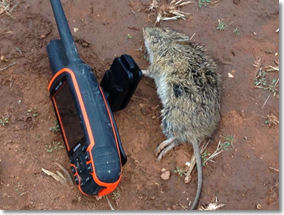 According to the Chinese zodiac, a "rat year" occurs every twelfth year. But in my experience, it's been since 1992 (i.e., 23 years) since I've seen a "rat year" that even approaches what we've seen this year. The plethora of cotton rats that we've observed this year may be a quail's friend (an abundant buffer prey species), but not everyone will join me in a toast to them. RPQRR's manager Lloyd Lacoste has suffered over $4,000 worth of damage to his personal vehicles (i.e., rats chewing the wiring) and recently the trailer house at our Pavilion suffered a water leak from rats chewing through plastic water lines. Ask just about anyone living in the country in west Texas and they'll share similar jeremiads about the abundant rodents.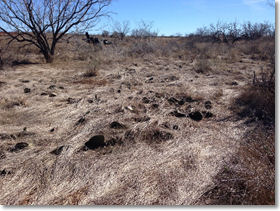 I'm really curious about how the next several months are going to play out in the world of cotton rats. Literally they are eating themselves out of house and home. Have you seen areas where swards of grass (typically Texas wintergrass) are lying flat on the ground? Did you dismiss such to the ice/snow event of Storm Goliath? Check carefully and I think you'll find that the stems have been cut off at ground level by cotton rats.

Finally, have you been seeing dead rats in the field/road during your quail sojourns? Was it disease? Thrill-killing by raptors? Other ideas?

---
Camera-trapping

Are you old enough to remember the cartoon series "Tom & Jerry?" This photograph from RPQRR's Jason Davis' study of visitations at our quail feeders here at RPQRR reminds me of the cartoon. Got a good game-camera photograph? If so, please send it to drollins@quailresearch.org.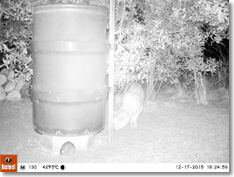 ---
51.8% - That's the number of quail bagged at RPQRR (a total of 106 birds taken across three hunts) that were leg-banded. We typically think we catch about 80% of the quail here at RPQRR during our intensive fall- and spring-trapping sessions (we have 296 trap sites scattered across the ranch). The trap take last Nov-Dec was 3,139 birds, but our hunting data suggest our trapping take was conservative, i.e., we had a good many more than 3,139 birds on the Ranch. Viva la difference! The hunter sample showed a J:A ratio of 7.8:1 (87% juveniles). Two independent helicopter surveys (Nov and Jan) suggested just over 1 bird per acre.
See my post of 21 January for a short video clip of a nice double on a covey rise during a recent hunt at RPQRR. Buster Netherton of Bossier City, LA purchased a quail hunt in 2012 at the Park Cities Quail banquet, but low quail abundance didn't permit us to redeem his hunt until this year. I think it was worth the wait . . . we put Netherton and his guest on 44 coveys over a morning and evening hunt.
.
Got a new e-mail address? Please [Click Here] to update your information if you wish to continue receiving e-Quail.
Forwarded from a friend? Please [Click Here] to sign up for the RPQRR e-Quail Newsletters!