Who's got the blues?
by Becky Ruzicka, Ph.D. candidate, Colorado State University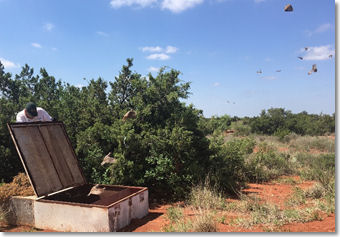 On April 19th, we began releasing translocated scaled quail at our Knox County study site and will continue releasing through May 1st. The birds we are releasing have been held on site from 1 to 9 weeks as part of our "soft release" treatments. We trapped a total of 525 scaled quail this year, bringing our two-year total to 913. As the summer progresses, we will be monitoring survival, reproduction, and dispersal of 113 radio-marked hens translocated this year to build on our dataset of 98 radio-marked hens from last year. This is without question the largest scaled quail translocation effort ever. Thanks to our "quail donors" who continue to share their quail with others less fortunate.

One of the reasons we chose to translocate so many quail is that our study site is also very large – approximately 75,000 acres. The two release sites are focused in the middle of the larger study area and on opposite ends of the South Fork Wichita River Drainage (see map). All of the quail translocated were released from these two locations. We can monitor the spread of newly released individuals in the short-term using radio-telemetry. Last year, we documented scaled quail dispersing, surviving, and nesting over 35,000 acres. There is no substitute for radio-marking birds when the objective is to gather precise data on vital rates and individual movements. However, radio-marking and monitoring is incredibly work intensive and expensive. To document the long-term spread of the population within the drainage, we to need to employ a method that is less intensive but more easily applied to a large area. Consequently, we are complementing our radio-telemetry dataset with multi-year occupancy surveys.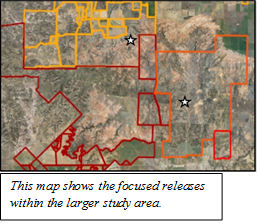 Occupancy analyses utilize a simple dataset, presence/absence over multiple visits to a single site over multiple years, to draw inference on where animals occur on the landscape and what the probability of detecting them is during a single visit to a site. Occupancy is well suited as a long-term monitoring option for this project because our release site is large and there were few scaled quail on site prior to release (we confirmed this during last year's occupancy survey). We completed this year's occupancy survey in April. In short, the survey didn't tell us anything we didn't already know from our telemetry efforts, but the 2016 and 2017 surveys provide crucial baseline data going forward. Scaled quail occupy approximately 10% more of the study area than last year. We detected almost all the known coveys (missed one covey that we know of) during the course of the survey. This confirms the usefulness of the technique going forward into years where we will not have radio-collared birds and lends credence to our pre-release estimate of occupancy that was less than 1%.

This month we will be diving head-first into our telemetry monitoring efforts and looking forward to bringing on two new technicians to assist with these efforts. In addition to hen survival and nest survival, we will be testing a new technique for brood monitoring in scaled quail. I also wanted to recognize and express my gratitude for our volunteers from the Rolling Plains Chapter of the Texas Master Naturalists who helped with occupancy surveys: Larry Snyder, Judy Snyder, Lynn Seman, and Kay Murphy. These surveys are no 'walk in the park' and we surely needed the assistance! This research is sponsored by Texas A&M Agrilife Extension Service's Reversing the Decline of Quail Initiative, TPWD's Upland Game Bird Stamp fund, along with contributions from private landowners, quail hunters, and several chapters of Quail Coalition (Big Covey, Cross Timbers, and Park Cities chapters).

---
Song of the month

Behind blue eyes by The Who

---
Sponsor Spotlight

Quail Coalition has tremendous momentum with over 5,000 active members in 13 chapters throughout the State of Texas. There is a renewed commitment among quail enthusiasts to "bring back bobwhites." The mission statement of Quail Coalition is "to sustain and restore huntable wild quail populations, to encourage and educate interested youth, and to celebrate our quail hunting heritage in this region." Quail Coalition works toward this mission by minimizing overhead, and targeting approximately $1 million annually towards quail research, education and conservation. The Cross Timbers chapter has been an important partner for RPQRR, most recently with our efforts with blue quail restoration in Knox County (see Becky's report above). FMI see http://crosstimbersquail.com/.

---
Enigma (or enema?) of the month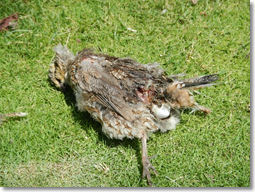 Anytime you're tracking radio-marked quail around you're going to encounter some strange things. Two years ago, we found an "egg-bound" bobwhite dead on one of our release sites in Stephens Co., and I had a similar blue quail (pen-reared) die that I had in a cage in San Angelo. Were these just isolated incidents? What Brad Kubecka describes here may be near the top of the list of enigmas . . . have any of you observed this phenomenon in wild or pen-reared quail?

When tracking birds with radio telemetry, most mortalities are found as a pile of feathers from depredation. Last week, 3 whole hens (1 bobwhite and 2 scaled) were found "egg-bound and down." The birds weren't on a nest, but were found in random open areas. Finding whole, dead birds, in itself, is interesting because 1/3 of all bobwhite carcasses at RPQRR are scavenged within 24 hours of dying (Ruzicka et al. 2013).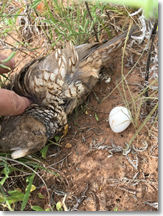 Sudden death syndrome (SDS) occurs when birds die from having trouble laying for various reasons. Hypocalcemia, aka calcium tetany, Vitamin D deficiency, and undeveloped hens pushed to lay (by artificial lighting) are all causes of paralysis and SDS in commercial layers. Other hypotheses that explain SDS include an object obtruding the vent. However, none of these hypotheses seem biologically sound for wild bobwhites. Photoperiod does not randomly increase and overstimulate hens as would artificially lighting of a commercial laying pullet. Likewise, all hens that were found were somatically developed (>10 months). Additionally, as with the recent spring green-up, vitamin and calcium deficiencies do not seem plausible, especially on alkaline soils. (by Brad Kubecka)

We're stumped on this one.

---
Got broods?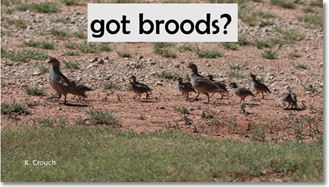 Got any brood sightings yet? My first report of a brood of blue quail was by QuailMaster Eddie Everett on April 4 in Upton Co. . . . that's pretty early. Keep us posted as you see your first one.

We documented our first nest here at RPQRR on April 19—a radio-collared bobwhite hen with a clutch of 18 eggs, which seems large, but is typical for early nests. With time and additional attempts, clutch sizes will diminish.

Though abnormally large clutches (> 20 eggs) have been reported for bobwhites, they are not always the product of a single hen (Stoddard 1931:27, Rosene 1969:69, Klimstra and Roseberry 1975, Faircloth 2008). In 1931, Herb Stoddard wrote about a clutch of 28 eggs he confirmed (by observation from a nearby blind) to be laid by 3 hens. New genetic methods have confirmed the behavior of intraspecific nest parasitism, aka "egg-dumping" or "conspecific brood parasitism," in bobwhites (Faircloth 2008). This reproductive strategy likely enhances fitness. Hens that egg-dump do not have the costs of incubation, and if nest success of the incubating hen is not affected, a net gain occurs. Some literature suggests egg-dumping is the result of a hen whose nest was depredated or abandoned during laying (Rosene 1969:68). In this case, the net gain is probably trivial. (Thanks to Brad Kubecka for fleshing out the details here.)

---
Word of the month

bucolic - adjective; typical of rural life; pleasing in natural simplicity. For example, what is more bucolic than listening to the plaintive "poor-bob-white" song from one's back porch at daybreak?

---
RPQRR's Wish List – Can you help?

Our support for quail research comes almost exclusively from private donors. Perhaps you would like to help us help quail. We have need for various pieces of equipment. If you would like to donate, RPQRR is a 501(c)(3) nonprofit foundation, so your donations (cash or in-kind) are tax deductible. Alternatively, if you'd like to make a cash donation and have it earmarked for one of these items that's great too. Here's our current list of needs:

| | |
| --- | --- |
| Item | Need |
| ¾ ton pickup truck | Pulling trailers, carrying pumper unit for prescribed burns |
| 100-hp tractor | Food plot preparation, shredding |
| 15' batwing shredder | Shredding |
| Flagpole | Demonstrating our pride |
| Rear-tined PTO tiller | Renovating spreader dams |
| 12-ft tandem disc | Discing field prep |
| Sea container | Storage of equipment |
---
Quail calendar
June 10-14, 25th Batt. Rolling Plains Bobwhite Brigade, Valera; fmi see texasbrigades.org

August 16-18, Statewide Quail Symposium, Abilene; fmi Amanda Gobeli, agobeli@tamu.edu; see more details of the schedule at http://statewidequailsymposium.com/index.html ; it's going to be a great meeting featuring a lot of research updates and 4 topical "point-counterpoint" arguments (I just love these!)
---
Intern diaries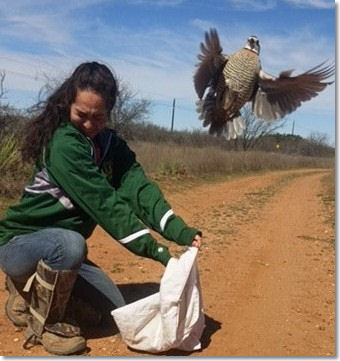 Our internships give budding professionals a chance to get some OJT and a taste of quail research. I require each intern/seasonal technician to leave me with an essay describing their experience at RPQRR. Here is Tierni Chun's story. Tierni is from CO and earned her B.S. from Unity College. Her tour of duty here was relatively short (2 months) as she was brought in to specifically assist with quail trapping during March and April. She was our most prolific "Facebook poster" during her time here. We wish her the best! - DR

One of the memorable quotes presented at the recent 2017 QuailMasters class was by legendary US Olympic hockey coach Herb Brooks: "great moments are born from great opportunity." Though he spoke of the immeasurable physical and mental obstacles that led his team to an incredible Olympic win over the Soviet Union in 1972, such great opportunities can materialize at the unlikeliest of times in the strangest of places. What I found here at the Rolling Plains Quail Research Ranch, in the most improbable place imaginable, was nothing short of exactly everything that Brooks described.

It is difficult to summarize the complete skillset that I have gained with such a short time to do so, but the insertion of another silver bullet spoken at QuailMasters sure makes it easier. When Vernon Law spoke of experience, he described it as "the hardest teacher," because it "gives the test first and the lesson afterward." While I may have not discovered this trait here on a small ranch in Roby, Texas, I have learned about myself that I am unable to produce an emotional response to a monumental feat—say, my first fieldwork position—or revel and process what I have been taught until days or even weeks later.

I could start with the obvious, the technicalities of fieldwork—namely, bird-banding. There are many ways to hold a quail, but there are only a few approaches of how to do it safely. Finding the perfect balance between a secure grip and still ensuring that no harm is to come to the bird is tougher than one might initially think. And not surprisingly for me, it took a longer time to get the technique down than I would like to admit. I was on pace to have the highest number of birds dropped in the trapping season. What this instance taught me was that I am more reward (or punishment) driven than I thought I was. With a steak dinner on the line, I finally etched it into my system that I had no more room for error. I would do anything and everything I could to ensure that the quail I was holding remained in my possession, even if it meant causing a feather tornado!

There is a vast amount of effort, time, and dedication that makes up a task. For example, trapping is mere two-syllable verb that appears to be simple in theory, but there are many aspects that encompass it. First, one must be well versed in actually locating the trap site. Something else that I learned during my stay here in Texas is that I have the worst sense of direction ever planted in a human brain, lest my supervisors and coworkers let me forget it. Additionally, the embarrassingly long process of learning how to maneuver around this landscape and running my specific routes correctly has taught me to celebrate the small victories, though the term "small" is flexible.

I have learned more about humility and how to be hushed about it, even in the face of what I consider to be a triumph. Arriving at each of the trap sites, completing them in order, and setting out on a fuel-efficient course for the way back was a duty that was expected of me without question, and while I did not expect praise for undertaking this assignment, I have learned to balance self-admiration with monotonously taking things in stride and moving on. It is unfair of me to compare my chapter two to someone else's chapter twenty in the realm of reaching goals, but knowing that my appalling lack of direction has always in some form or another held me back, I am proud of myself for somehow, miraculously, making the paper map, GPS, and dirt roads unraveling in front of my eyes mold together into one big picture.

It should not come as a surprise that when being thrown into a brand new position and attempting to pair actions with words that I had only heard about, mistakes are bound to happen. I am being reminded time and time again that I am a very slow learner, and this quality of mine was only reinforced here. This earned me a spot as the subject of many "mess-up" stories, and a nickname ("Compass"). I have learned to reassure myself that when others make fun of me, it is only that—just fun. I learned to allow myself to absorb the embarrassment I was feeling in those moments and to use it as inspiration to do better in the future.

Through my unfortunately ephemeral state so far in relation to post-graduation jobs, a valuable tool in the field of wildlife—or in any career path really—is the ability to adapt to any setting. Moreover, to get the best experience out of any new location is to take advantage of what that place has to offer. This includes the lights, the sights, and the sounds of any new city. Well, here in rural Roby, Texas, those things are few and far between. This has taught me to entertain myself in different ways; I have learned that if I really want to see something accomplished, I will find some method to get it done, even if it means finding time to run 3 miles after working an 11-hour day, fighting my heavy legs and soggy brain. The force of self-motivation has revealed itself to be a powerful one indeed.

I could describe endlessly the rigors of telemetry and the importance of knowing the routes to an exactness to save myself from walking more than I need to. I could detail the art of perfecting bird banding, and how one gets faster with it every day. I could reiterate the significance of ensuring that the quail-trap site is placed on the flattest part of the dirt, and to block the tunnel entryway so that none of birds fly out again. I could recite the ratio for the fuel we used for prescribed burning, the steps it takes to record something in CyberTracker, and the Chinese proverb on which QuailMasters is based on. These are abilities that I had always wanted to test my hands at, but my hands are where they are: limited. Although I am endlessly grateful to add desirable new standout words to my resume, what will make those capabilities endure is coupling them with the knowledge that they will remain both in my brain and my heart. My time here in Texas was all-too-short, but these great skillsets born from great opportunity will be carried with me with every step I take, in whatever direction I am propelled next.

---
22 - That's the largest clutch of bobwhite eggs we've found at RPQRR (in 2016).
Q: GC asked recently "Do you believe that chicks hatched in early May could mate and reproduce in late fall after a hurricane or wet August September-specifically in S Texas?" (Brad Kubecka's reply is copied here:

A: The short answer is no… It takes approximately 3-4 months for bobwhites to become "somatically" mature. At this age, size and plumage are the same between hatch-year (HY) and after-hatch-year (AHY) birds. When artificially lighted, pen-raised bobs begin laying anywhere from 5-7 months of age, but photoperiod is the ultimate stimulus driving the pineal and pituitary glands to produce reproductive hormones in the wild. Given that day length is shorter in the fall, quail lack their "mojo," even in South Texas. That being said, late hatches by AHY birds are not uncommon in South Texas. As a matter of fact, laying has been documented in every month of the year in South Texas. To my knowledge, wild HY bobwhites laying within the same year has never been documented. IF this instance does occur, its effect on the population would be negligible.
Want RPQRR's printed newsletter?
Texas Quail hunters are, as a rule, an older lot. Older men (aka potential donors!) don't always use the internet for their communications, e.g., e-Quail News. So, we decided to offer a quarterly printed newsletter as a supplement to the e-version. If you'd like to be on the mailing list for the printed newsletter send your name and mailing address to RPQRR, PO Box 220, Roby, TX 79543-0220
Got a new e-mail address? Please [Click Here] to update your information if you wish to continue receiving e-Quail.
Forwarded from a friend? Please [Click Here] to sign up for the RPQRR e-Quail Newsletters!