Eyeworm updates

"Anyone who thinks we don't have a problem with eyeworms should 'open their eyes." – Joe Crafton

"Tell me, and I forget. Show me, and I remember. Involve me, and I understand." – Chinese proverb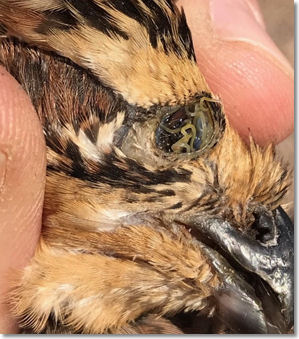 This proverb serves as the motto for the Bobwhite Brigade. It's also a proper epithet for this month's lead story on eyeworms. Much of the information herein stems from a couple of recent hunts in Stonewall Co. by RPQRF Board member Joe Crafton; Crafton also serves as Chairman of Park Cities Quail.

"I have been talking about the eyeworm since I first heard about it 4 years ago. I have read technical papers, listened to presentations and made presentations. I have been to Dr. Ron Kendall's laboratory and looked through microscopes at the little buggers I have even filmed video about them. However, I must admit, I have not regularly examined the birds that I harvested. But that changed this past month.

I was hunting in Stonewall County. The first bird that I inspected gave me chills. It had numerous eyeworms of enormous size. As I looked through the 30 birds that day, I found 8 with eyeworms and another 4 who were missing an entire eye. All they had was one good eye and an empty eye socket. Keep in mind, these are the ones I could see on the surface of the eye. I will never again enjoy angel hair pasta!

I have come to realize that it is important to inspect them while the body is still warm so that the parasites do not leave the body. I put them in separate zip-top bags and sent them to the lab for study. Even though I only spotted eyeworms in 8 of the 30 samples. Dr. Kendall's lab performed necropsies and found them in 100% of the samples. One of these birds had 76 eyeworms. Another had 966 cecal worms. In the future I plan to give each eye a look before dropping them in the box.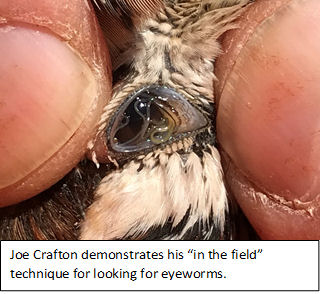 See this video (https://youtu.be/VSfwWONuU0Y of a different quail than the one I sent last week. The first thing I notice when I am looking at a heavily infected bird is the milky, inflamed nictitating membrane around the edge of the eye. If you notice from this video, when I applied pressure on the membrane, it is full of worms. Next hunt, I am going to experiment to see if it makes a difference in checking right away or an hour after the bird dies to see if more worms emerge from the back of the eye. I suspect that is the case.

When I showed the video to hunters from Shackelford and Clay counties, they wondered if they had a problem. I think it would be extremely helpful if we had similar indisputable proof from all over West Texas and Oklahoma.

To twist an old phrase "a problem is when your friend's ranch has parasites…an epidemic is when your ranch has parasites!"

Our recent posts regarding eyeworms have really "moved the needle" with you all. One post (by Crafton on 12/18) garnered more than 49,500 views, 200+ comments and 240 "shares" so far. We appreciate your help spreading the word about eyeworms and quail. If you encounter any quail with eyeworms (or missing an eye), we encourage you to post the information to our Facebook page (we'd love a photo or two, as well). Alternatively, feel free to email us at drollins@quailresearch.org to let us know your findings.

As a reminder, the key to checking a quail for eyeworms is to stretch the eye open and apply downward pressure with your thumbs on both edges of the eyes. Sometimes worms will immediately come out from the third eyelid (the "nictitating membrane") and move around on the surface. We look forward to hearing what you all are seeing afield!

---
And from Dr. Kendall's lab

In terms of eyeworm infection in wild Northern bobwhite quail, we generally find the worms located in the lacrimal duct and associated ducts in the rear of the eye. Therefore, the eye would need to be removed to get a complete count—heavy infections can be seen quite easily with the naked eye. In addition, say for instance in a hunter-shot bird, the body temperature of the bird will begin to drop rapidly and we believe this may cause the worms to move more into the frontal part of the eye, like under the nictitating membrane. However, at times, we see worms on the surface of the eye, particularly under the nictitating membrane, in wild-trapped quail.

What we are starting to observe is that these infections, say in the case of the eyeworm as well as the cecal worm, are not necessarily evenly distributed across the Rolling Plains. For instance, we have seen significant differences in quail infection with even a 15-20 mile difference in location. We are beginning to learn much more on this situation with the full deployment of the Mobile Research Laboratory, where we will be able to acquire extensive wild quail parasitic infection data in order to better evaluate the epidemiology of these infection events.

What we do know now is that once infection occurs within a wild Northern bobwhite quail, these nematode parasites are very long-lived and will probably be within the wild quail even to the quail's death, either by environmental stress or predation.

We are learning more and more on the degree of, and implications of, parasitic infections in our wild quail in the Rolling Plains ecoregion of West Texas. We do know that it occurs widely, can intensify quickly, and the field and laboratory evidence is mounting that there are serious consequences for our wild quail with these infections. I know that everyone wants answers to all of the questions tomorrow, but the good science that we are trying to do is laborious, and time-consuming. Staying the course requires patience, tenacity, funding, and the wherewithal of the Wildlife Toxicology Laboratory at Texas Tech University to get the job done. You can follow our scientific publications and lab progress at www.tiehh.ttu.edu/rkendall. For a list of scientific publications arising from Dr. Kendall's work on the eyeworm, see http://www.tiehh.ttu.edu/rkendall/grants---publications.html.

---
Song of the Month

Living on the edge by Aerosmith. Pay attention to the first sentence "there's something wrong with our eyes". Now, if you're "living on the edge", i.e., among a sea of predators, just how much must you be "off" to be "over the edge", i.e., in the canines of a bobcat or the talons of a Cooper's hawk? Our premise is that heavy infections of eyeworms (and cecal worms) are debilitating to quail. Hence, working in conjunction with Dr. Ron Kendall and the Wildlife Toxicology Laboratory at Texas Tech University, our goal is have an FDA-approved medicated feed available a year from now. Thanks to Rolling Plains Quail Research Foundation ($947K donated), Park Cities Quail ($993K donated) and Texas A&M Agricultural Extension Service ($248K) for their support of this research.

---
FAQs about eyeworms

These frequently asked questions were gleaned from our Facebook page.

How do quail become infected with eyeworms? Quail must consume an infected "intermediate host" (e.g., grasshopper, cricket, cockroach). Once inside the quail's crop, eyeworm larvae from the intermediate host escape, make their way into the esophagus, and move up to the lacrimal ducts, then migrate up into the eye. This process can occur in less than 30 minutes.

Are these eyeworms only in quail? No, they have been found in pheasants, lesser prairie chickens, mockingbirds, and several other species. Interestingly, we surveyed for their presence in wild turkeys on a site that had "high" infection rates of eyeworms. While the turkeys were eating arthropods (presumably infected with eyeworm larvae), only 1 of 104 turkeys had an eyeworm. Explain that discrepancy??

Is the eyeworm native to North America? Parasites aren't typically classified as native or exotic. Skrjabin (1929) first characterized O. petrowi in Northeastern Europe, and early reports in the U.S. date back to the 1940s.

I've only heard of this in Texas—is it limited to there or does it occur elsewhere? While the Rolling Plains ecoregion of Texas appears to have the highest infection rates, we have also found them in bobwhites from AL, OK, and VA. They likely occur in KS and NE but we have not examined birds from those states.

Do eyeworms cause blindness in an infected quail? They can irritate (i.e., cause inflammation) to the optic nerve and associated glands situated behind the eyes. They can also produce scarring of the cornea. Such pathology likely affects the quail's vision. Odds are it would be preyed upon before it became "blind."

What percentage of bobwhites have eyeworms? Since we began studying them in 2009, we typically find that 50-60 percent of the bobwhites harbor eyeworms. Some sites have upwards of 80 percent infection. Infections in the Rolling Plains are about 8X greater than bobwhites from south Texas. Adult quail typically have greater infections than juvenile birds.

Is there any chance of the worms transferring to the bird dogs and harming them? No.

Are the birds okay for human consumption if they have eyeworms? Yes, no concerns for human consumption . . . most of us don't eat the heads anyway!

How do I know if my quail have eyeworms? For initial inspection in the field, see Joe Crafton's technique above (https://youtu.be/VSfwWONuU0Y ). Also watch the video "How to Search for Eyeworms in Quail". Be aware however that both of these techniques underestimate the number of eyeworms, as many (probably most) reside behind the eyeball itself. A complete dissection of the head is needed to get an accurate count.

So do you think eyeworms are worse now than in times past or is it just that we are aware that they exist now and know how to check for them? We've known about eyeworms since early 1960s in bobwhites; they were noted in pheasants in the Midwest earlier than that. Information about them in quail essentially lay "dormant" for the past 50 years, because most parasite studies don't look at/in/around the eyes--looking typically in the GI tract. Our "Operation Idiopathic Decline" study (initiated in 2011; see video at https://www.youtube.com/watch?v=xUfqw8dGk5E ) resulted in newfound interest in eyeworms.

Is there any credibility to the rumor that wild hogs assist in the spread of eyeworms? I am not aware of any connection/rumor of feral hogs being involved in transmission of eyeworms--I don't see any connection between the 2.

What's the answer? We are working with the Wildlife Toxicology Lab at Texas Tech to develop a medicated feed that will kill the eyeworms and cecal worms. Hope to have it commercially available in early 2019.

---
Flies on quail?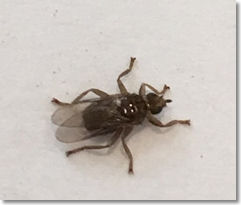 While banding bobwhites last month, technicians reported what they considered to be a "notable" presence of parasitic louse flies. The flies (Hippoboscidae), aka "flat-flies" are similar to deer keds. Hippoboscids are very mobile — most species can fly. But despite their mobility, they rarely spend any time off of their hosts. A fly dislodged from its host will quickly fly back to it or the next closest host. This ability to move easily from one host individual to another makes hippoboscids an effective vector for blood-borne pathogens like avian malaria. You're unlikely to see these flies as you handle a dead bobwhite, but if you handle live birds you may get to know these flat-flies up close and personal.

---
2017 Annual Report

For a review of RPQRF's various research and management efforts, see http://www.quailresearch.org/wp-content/uploads/2017/12/RPQRF-Annual-Report_2017.pdf . This pdf is undergoing a facelift as I write, and the "new" version should be posted by 5 Jan. Thanks to Becky Ruzicka for compiling and editing the report.

---
Tall Timbers researchers visit RPQRR
Two researchers from the Tall Timbers Research Station, Clay Sisson and Reggie Thackston, made a tour through west Texas last week for some quail hunting. One of those days they hunted at RPQRR. They were impressed with our quail abundance and habitat efforts in general—we moved 34 coveys on that day; it was their best covey count of the week. I dubbed it the "Herschel Walker hunt" in honor of UGA's all-American running back.

Sisson, who worked for the Albany Quail Project before joining TTRS, now manages the station's Dixie Plantation, a 6,500 acre research and management facility. Last week I received this letter from him.

"Thanks for hosting Reggie and myself on our trip to Texas last week. It was a great experience to see and hunt that part of the country with people who really know the ecology of the area and quail management. I have a much greater appreciation now for west Texas quail issues and am also much more informed.

I was especially impressed with the Rolling Plains Research Ranch and the staff there. Of the 5 properties we visited it was the best looking habitat we saw (at least from a southeastern quail biologist's perspective). This was reinforced by the fact that the day we spent hunting there was the best of the 5 days hunting we had. It was spectacular in every way. The staff there could not have been any nicer, welcoming, and informative. They obviously have a passion for west Texas quail and it shows. The work you are doing there is important to the area and very grounded, which I like. We try and do the same thing here. I appreciate very much the time and effort you put in to make our trip a very memorable and informative one."

---
Word of the month

Maieutic: resembling the Socratic method of eliciting new ideas from another. It comes from maieutikos, the Greek word for "of midwifery." In one of Plato's Dialogues, Socrates applies maieutikos to his method of bringing forth new ideas by reasoning and dialogue; he thought the technique analogous to those a midwife uses in delivering a baby (Socrates' mother was a midwife). A teacher who uses maieutic methods can be thought of as an intellectual midwife who assists students in bringing forth ideas and conceptions previously latent in their minds.

---
Trapping Tidbits

by Trey Johnson, Technician



Our annual fall trapping effort provides RPQRR with multiple useful metrics for monitoring bobwhite and scaled quail populations on the Ranch. These include population structure (age-sex ratios), abundance estimates, and even survival. Trapping occurs during late November – early December at 296 stationary trap sites in which each trap is set for a total of 5 occasions.

Minimum Known Population – during the trapping interval (15 days), this is the unique number of individuals caught and banded:
Bobwhites: 2,126
Blues: 156
Total: 2,282

Estimated Abundance (birds/acre) – based off of capture and recapture probabilities, this is the number of birds we estimate to be in the population at RPQRR:
Bobwhite – 3,338 (0.76 birds/ac)
Blues – 271 (0.06 birds/ac)
Total – 3,609 (0.82 birds/ac)
Age and Sex Structure

Notice the preponderance of adult males in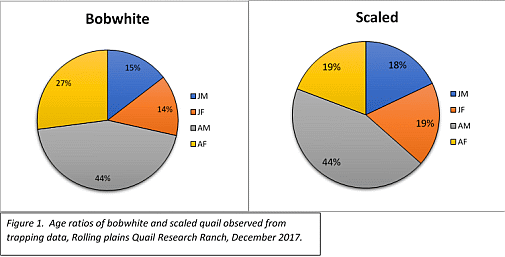 both the bobwhite and scaled quail populations. The lack of juveniles is easy to interpret (i.e., our YTD rainfall was only 14 inches), but ponder why so many more "old" males than "old" females. Hens have been shown to be more vulnerable to hunting than males, and as hens do most of the incubation, they are also more vulnerable to mammalian predation. For those of us who practice "quail snooker" (only shooting the cocks) while hunting, looks like we're in a target-rich environment at RPQRR!

Age Ratios (juvenile: adult) – Age ratios are a metric often used to gauge reproduction within a year. However, age ratios are far from flawless (see later). This year's age ratios are the lowest we've observed since 2011.
Bobwhites 0.40 : 1
Blues 0.58 : 1
How many birds do you need to age to get a good estimate of age ratios? In our sample about 100 birds. Our modeling suggests age (juvenile or adult) does not affect capture probability. Therefore, trapping data seem to be an unbiased estimate of age ratios.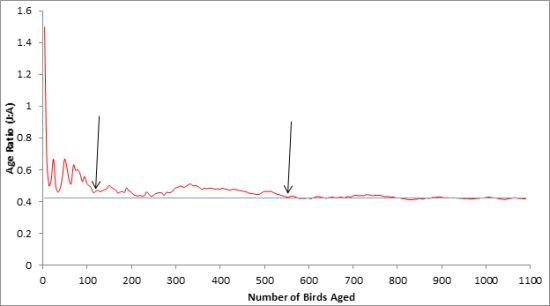 Figure 2. Age ratios as a function of number of randomly-aged bobwhites.
Age Structure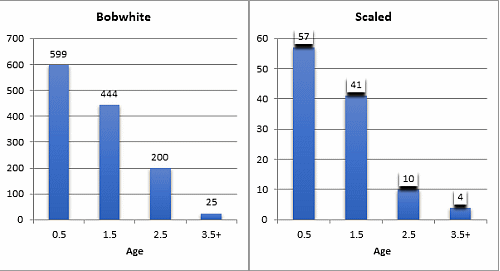 Figure 3. Age structure of bobwhite and scaled quail populations at Rolling plains Quail Research Ranch, Dec ember 2017. Some individuals were not caught as juveniles, so these estimates are conservative.

Unique Observations

Wicked Feet

Rasorial or "raptorial?" This bobwhite was noted for his excessively long 'talons.' He was one of only 2 birds that tended to have this keratinized endowment. If you've ever hunted Montezuma quail these are the types of claws they possess? Do you know why?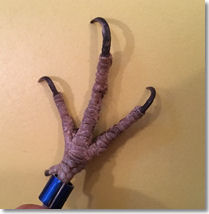 Scaly Leg Mites. Though not a certain diagnosis, a few birds tended to show signs of mild (left) to strong (right) infestations of scaly leg mites (Knemidocoptes mutans). Scaly leg mites are microscopic mites that burrow under the scales on birds' feet.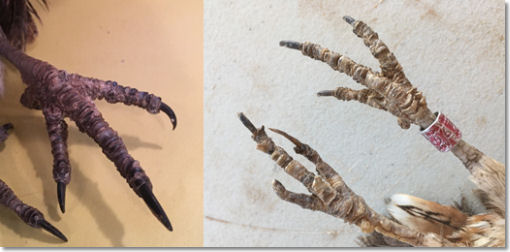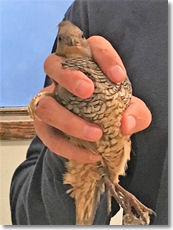 Check out 'Old Faithful.' This adult male scaled quail was caught during last month's trapping session and dates back to our 2014 scaled quail translocation at RPQRR. In March 2014, 'Old Faithful' was caught near Big Lake, brought to the ranch, and aged as an adult. Given he was aged as an adult in March 2014 means he must have been hatched in or before 2012. Primary coverts used for aging aren't replaced until quails' first post-nuptial molt (Aug-Oct), at about 15-17 months of age. That means "Old Faithful" was at least 5.5 years old. Assuming a constant annual survival rate of 25% only about 5 birds in 10,000 would be expected to live this long in the wild.

---
APB on "Strange" Mortalities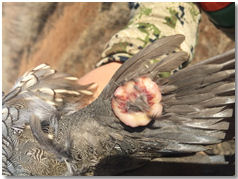 Here at RPQRR we have a standing "All Points Bulletin" (APB) for any "unusual" field sightings regarding bobwhite and blue quail. Over the past month our FB page has featured several "blobs" (blue X bobwhite hybrids), a ptarmigan-like plumaged bobwhite from south Texas, and a blue quail (seen here) with some type of strange growth on its wing. Whenever you flush a hawk from a kill site do a little "Quail CSI" investigation. Your camera is in your pocket (i.e., smart phone).

---
Covey rise videos sought

If you enjoy a good covey rise (and who on this mailing list doesn't??), see a compilation of good rises shown last March at Park Cities Quail's annual banquet at https://youtu.be/puOGVAD6PbY . They are soliciting good covey rise videos for this coming March's banquet. Sounds easy, but getting a decent covey rise on camera is a tall order. I prefer to stay about 10 feet behind "my" hunter as if I'm looking down the barrel of his shotgun, and not zoom in too closely. Your goal is a covey rise against blue sky, else the birds are basically invisible. Carry your camcorder for a while, and you'll better appreciate the above compilation of covey rises.

---
RPQRR's Wish List – Can you help?

Our support for quail research comes almost exclusively from private donors. Perhaps you would like to help us help quail. We have need for various pieces of equipment. If you would like to donate, RPQRR is a 501(c)(3) nonprofit foundation, so your donations (cash or in-kind) are tax deductible. Alternatively, if you'd like to make a cash donation and have it earmarked for one of these items that's great too. Here's our current list of needs:

| | |
| --- | --- |
| Item | Need |
| 100-hp tractor | Food plot preparation, shredding |
| 15' batwing shredder | Shredding |
| Shop-style drawer toolbox | Tool storage |
| Sea container | Storage of equipment |
| 12-ft tandem disc | Discing, field prep |
---
Bon voyage Brad!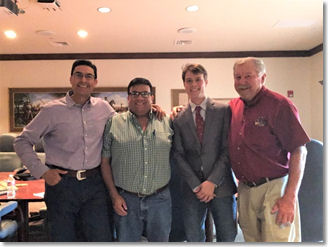 We bid adieu last month to graduate student Brad Kubecka who completed his Master's degree at Texas A&M-Kingsville. Brad started his tenure with RPQRR in 2012 as an intern which then led to his Master's research. Here he is (third from left) with his graduate committee (from left) Drs. Fidel Hernandez, Humberto Perrotto, and yours truly. We have much appreciated Brad's skillsets, from welding to GIS to parasitology to entomology. Brad is headed to the University of Florida for a PhD working with Dr. Theron Terhune at Tall Timbers Research Station. Brad exemplifies the quote by G. K. Chesterton "there is a great deal of difference between the eager man who wants to read a book and the tired man who wants a book to read." We will miss him—when Becky Ruzicka inquired recently "what are we going to do when Brad leaves?" I simply replied "less." Best of luck Brad!

---
Coming soon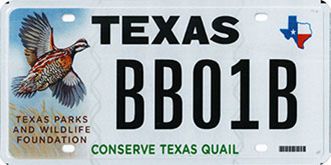 (details to follow soon!)


---
14.72 - That's our 2017 annual rainfall (inches) received at RPQRR. We've been in a "dry hole" all year. Given the low rainfall, I think the Ranch looks very good habitat-wise. My mantra for last year was whether we could "insulate our quail crop", i.e., sustain the record numbers we saw in 2016. We lost about 50% of our birds, but given the dearth of precipitation (and recruitment of new birds), I think we did pretty well. Our estimated abundance of 0.82 birds/acre is nothing to be ashamed of.
January is a time to say "goodbye to the old and (b)ring in the new", technicians that is. Skyler Henderson and Trey Johnson will be leaving this month and we'll be bringing in 3 new technicians to assist with ongoing efforts. Check our FB page for reports from each of them. They'll hit the ground with our semi-annual small mammal trapping and mesomammal camera-trapping efforts.
See Brad Kubecka's trilogy of various predators that threaten our quail when we're trapping. See www.facebook.com for a beautifully-spotted bobcat harassing some quail.
Got a new e-mail address? Please [Click Here] to update your information if you wish to continue receiving e-Quail.
Forwarded from a friend? Please [Click Here] to sign up for the RPQRR e-Quail Newsletters!